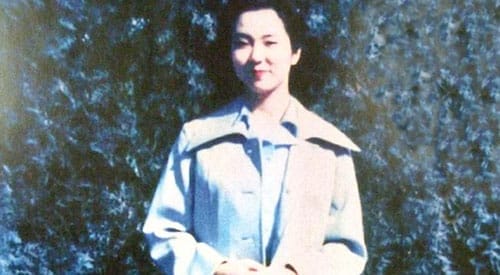 (PCM) Back in 1977 a 13-year old girl by the name of Megumi Yokota was said to have been abducted by North Korean agents. Yokota was a native Japanese citizen and reports claim that she sadly passed away back in 1994 while still being held in North Korean captivity, however the girls parents and many others in Japan still believe that she is alive and still continue to campaign for her safe return back to Japan.
Yokota was abducted on November 15, 1977 at the age of thirteen while walking home from school in her seaside village in Niigata Prefecture. North Korean agents reportedly dragged her into a boat and took her straight to North Korea to a facility in which North Korean spies were taught about South Korean customs and practices. There she was taught the Korean language. Also at the facility were two South Korean high school students, aged 18 and 16, who had been abducted from South Korea in August 1977. In August 1978, three more 16-year-old South Korean students were abducted from South Korea and taken to the facility. The three included Kim Youngnam, who would reportedly later marry Yokota.
It is rumored that Yokota was later forced to train North Korean spies to pass as Japanese citizens. The mystery deepens when in January 1997, nearly 20 years after Yokota's initial disappearance, her parents were contacted via phone call from Tatsukichi Hyomoto, a secretary to a Diet member Atsushi Hashimoto, with details regarding her abduction.  In 2002, North Korea admitted that she and others had been abducted, but claimed that she had committed suicide on March 13, 1994 and returned what it said were her cremated remains. Japan stated that a DNA test proved they could not have been her remains, and her family does not believe that she would have committed suicide. The DNA samples were said to be contaminated and when another sample was tested it was said to be inconclusive, again due to sample contamination.
There are scarce details regarding Yokota's life during the years of her disappearance and time spent in captivity. What is known it that she did marry South Korean national Kim Young-nam, who was also an abductee in 1986 and the two had a daughter Kim Eun-gyong in 1987. When Young-nam, who has since remarried, was allowed to have South Korean family visit with him in June of 2006, he confirmed that Yokota died after committing suicide in 1994, as she was suffering for many years with mental illness. He went on to claim that the cremated remains that were sent to Yokota's family were real, however both Yokota's family and others in Japan feel that his comments are only more Pyongyang propaganda, as he was never allowed to speak freely and during his interview he appeared to be reading scripted answers.
In June 2012, Choi Seong Ryong, head of a support group for relatives of South Koreans abducted to the North, said that he had obtained North Korean government documents which stated that Yokota had died from "depression" on 14 December 2004, which would be another ten years later than the date that the North Koreans claimed she had passed. This is why Yokota's parents and other feel that she may still be alive. North Korean government officials released three photographs to Yokota's family that appears to show her as a young woman. There has been some debate, however over the authenticity of these photos, especially one of the them, where it appears to show Yokota standing in front of bunch of trees on a concrete path. Experts who analyzed the photo claim it had been doctored as the shadows in the photo are pointing in two different direction. You can see a break down of their findings here.
According to a Wikipedia page dedicated to Megumi Yokota's disappearance, in November 2011 a South Korean magazine, Weekly Chosun, stated that a 2005 directory of Pyongyang residents listed a woman, named Kim Eun Gong, with the same birth date as Yokota. The directory gave Kim's spouse's name as "Kim Yong Nam". Japanese government sources verified on November 18 2011 that they had reviewed the directory but had yet to draw a conclusion on the identity of the woman listed. Sources later indicated that Kim Eun Gong was actually Yokota's 24-year-old daughter. In 2012, it was reported that North Korean authorities were keeping Kim under strict surveillance.
In August 2012, Choi Seong Ryong stated that sources in North Korea had told him that Kim Eun Gong had been placed under the supervision of Kim Jong Un's sister, Kim Yeo Jong, and that the North Korean government may be planning on using Yokota's daughter as a "card" in future negotiations with Japan. Reportedly, in 2010 the North Korean government offered to allow Yokota's parents to visit Kim Eun Gyong in a country "other than Japan" but the Japanese government and Yokota's parents were wary about the offer, suspecting it as a ploy by the North Korean government to seek an advantage in ongoing diplomatic negotiations. In March 2014, the parents of Megumi Yokota met their granddaughter Kim Eun Gyong for the first time in Mongolia, along with her own baby daughter, whose father was not identified.
Over the years there have been many documentary film created about the strange disappearance of Megumi Yokota, as well as, various songs dedicated to her memory and hopefully safe return. There was even a Japanese manga created with the assistance of Yokota's parents titled "Megumi" that shared the story of her disappearance/abduction with the masses. We can only one day hope that this mystery will be fully solved and Yokota's parents have finally receive some closure and be able to know the true story about what happened to their daughter.
The post The Mysterious Disappearance Of Megumi Yokota! Could She Still Be Alive? appeared first on Weird But True News.