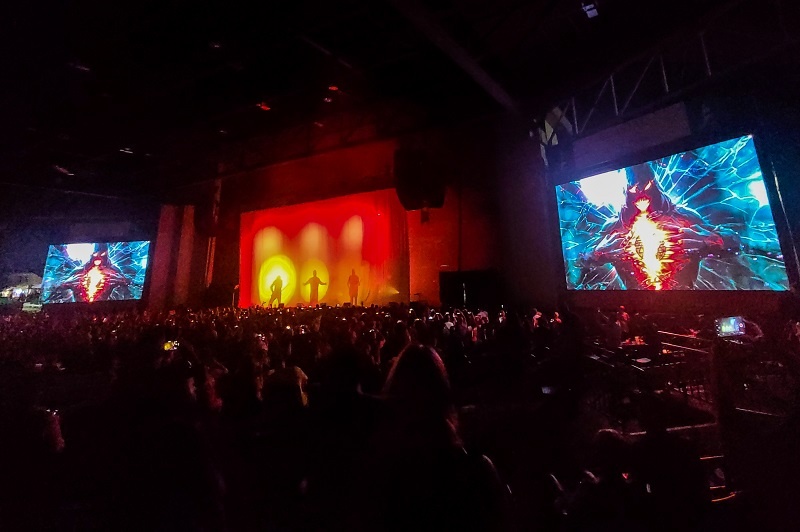 Disturbed was originally set to play Coastal Credit Union Music Park at Walnut Creek on August 7, 2023. On that day, fans waited around for several hours of weather delay, only to ultimately be told to go home, and that the concert would be rescheduled. Many of us got there using ride shares, were stuck out in the open when the storm hit with considerable fury, and we left soaked and disappointed. For me, it was a depressing end to a night that held such promise – the chance to see one of my favorite metal bands and to feel uplifted as I rocked out with a great friend and fellow metalhead.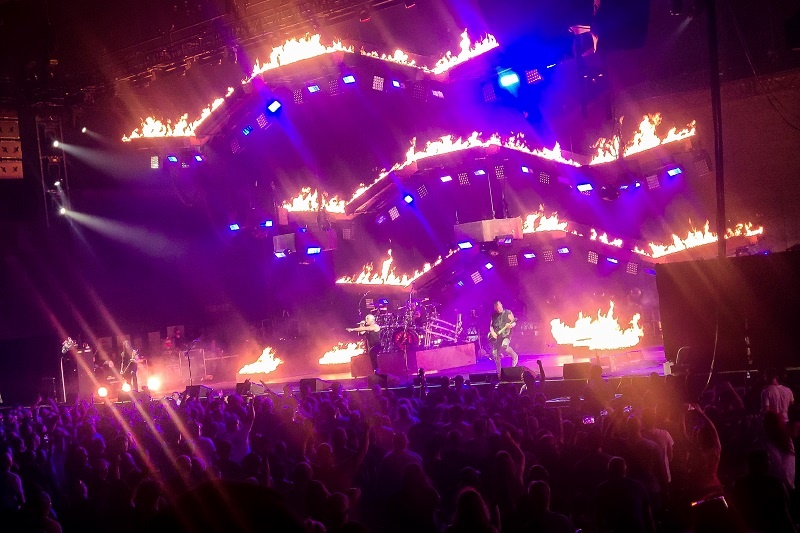 On September 6, almost a month later, we returned on a sultry but dry night, and this time the fury came not from the storm but from the band that we had waited for so long to see and hear. Since the tour had ended the previous week, the scheduled support acts Jinjer and Breaking Benjamin were not available to perform. On this night though, we were not disappointed. After Wage War did the opening honors with a scorching set of hard-driving metal, including the fan-favorite "Circle the Drain," you could feel the anticipation of thousands of die-hard Disturbed fans as the minutes ticked by, closer and closer to the projected 8:30 start time.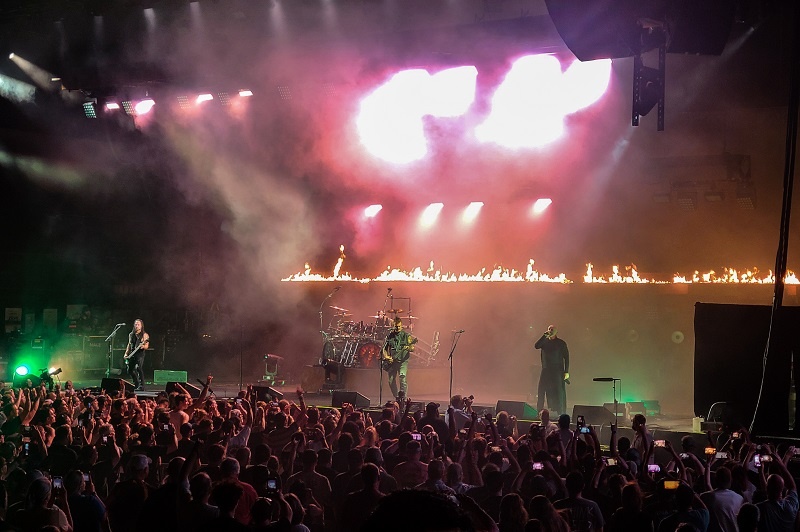 Disturbed hit the stage like a hurricane and opened with "Hey You" off their Divisive album, flames roaring in the background on three moving platforms. Just when you thought flames on stage were passe, we have something new with three moving walls of fire being choreographed with the scorching rock emanating out into the horde of metal-hungry fans. It was a warm night, made hotter by the radiating heat from these flames, but somehow it felt good and it felt right. I didn't mind the sweat pouring down my back as I rocked out to some of my favorite metal songs of all time. In contrast to August 7, when we were cold, wet, and disappointed; tonight we were warm and rocking hard to one of the best metal bands in the world. And it was clear they were giving it everything they had.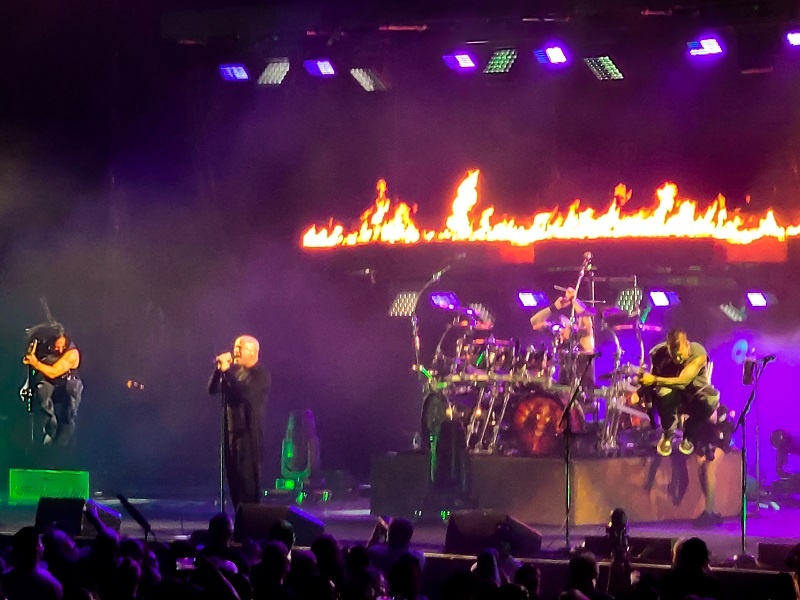 Disturbed continued to rock their fans with songs like "Ten Thousand Fists," "Stupify," and "Indestructible." One of the most poignant parts of the two-hour jam was when David Draiman stopped the music for a moment to talk about his personal life. He talked about interactions with his son (now about 10 years old), including his son's introduction to Disturbed's music (a funny moment). He then got serious and mentioned that many people are dealing with addiction and depression, and that he has been down that path too. He said that this past February was an especially dark time for him. The audience nodded, knowingly, as many of us have been down that dark path as well. It was as if, for a moment, there was a giant support group of 10,000+ people, all looking at each other and saying: "Hey I have been there, you got this, you can make it through." And the truth is, as rockers, our music does help us make it through. This music. Disturbed music. Because, we are all Disturbed. And with that, they ripped into "The Light," as every voice in the crowd sang along, from the heart, uplifting the whole support group. It was a rock concert moment I will never forget.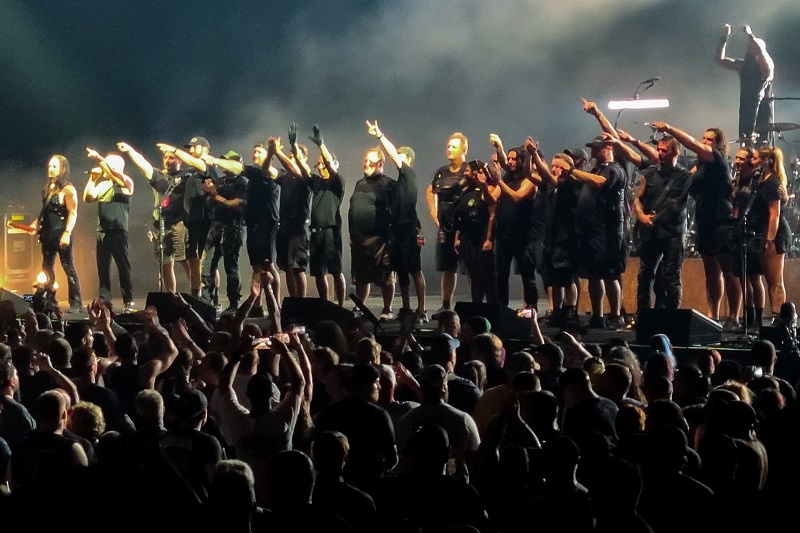 The Coastal Credit Union Walnut Creek amphitheater shined brightly this night, and the staff kept everything on-track and orderly. The food and drinks were easily accessible, and the weather was fine. As we rocked out to incredible tracks like "Down with the Sickness" and "Stricken," you could feel the pent-up energy from both the band and the audience, as if we were all trying to erase the memory of August 7. I think we accomplished that. When you include Wage War's set, it was three hours of great metal music. That is just what the doctor ordered. As Draiman said, many of us are dealing with all kinds of crap. We need music sessions like this to heal our heart and soul. We have to keep rocking! Great metal, and perhaps a few walls of flame, may be exactly what you need to "ignite the fire within you."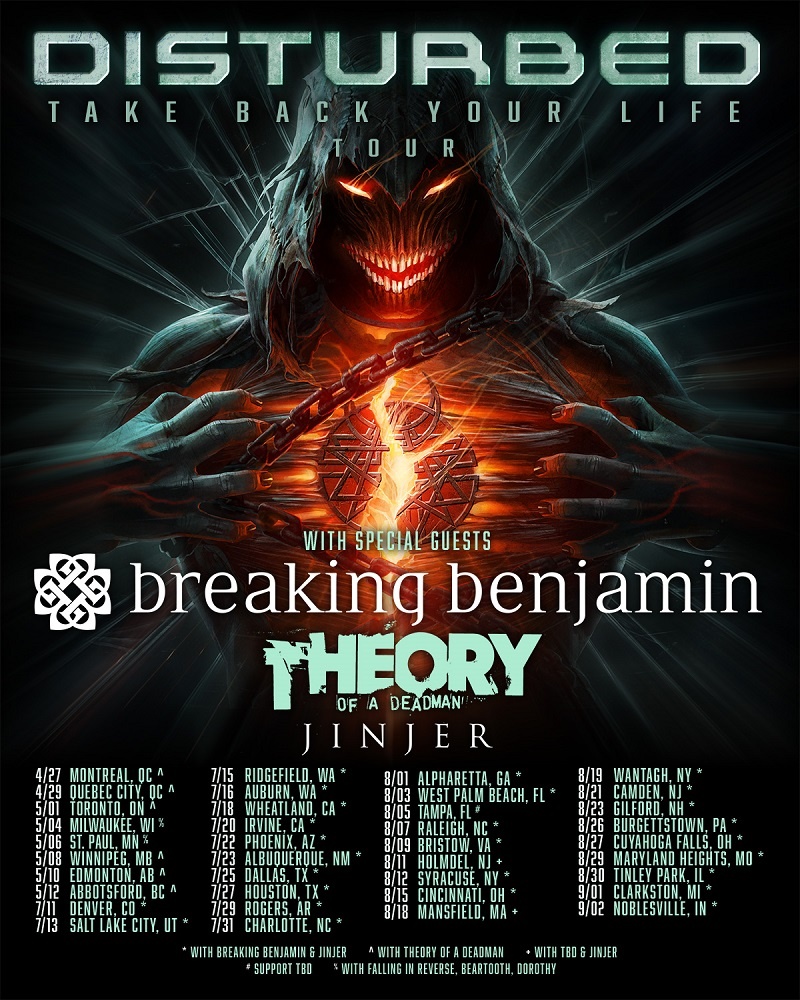 Disturbed Returns to Raleigh to Finish Take Back Your Life Tour 2023 first appeared on Game On Media.