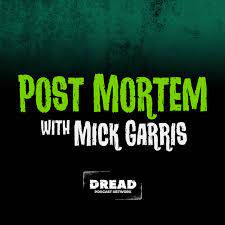 Post Mortem is celebrating its seventh and final season. Post Mortems host writer/director Mick Garris recently sat down with legendary director John Carpenter to celebrate the forty-fifth anniversary of Carpenter's classic film Halloween. Carpenter recently returned to the director's chair with Suburban Screams, which explores true tales of terror that took place in seemingly perfect small towns. Suburban Screams is now streaming on Peacock.
John Carpenter and Debra Hill created a film dynasty with Halloween back in the late seventies. The pair wrote the screenplay originally titled "The Babysitter Murders," which later turned into Halloween. Carpenter directed the film which gave birth to Michael Myers and its numerous sequels. Give the podcast and listen to how the birth of Michael Myers came to be.
Sad to hear the Post Mortem is leaving us at the end of the year. Mick Garris and producer Joe Russo have given us insight into the filmmaking process that anybody trying to break into the film business should listen. But we will always have the past episodes to go back to and listen to some of the greatest creators in horror.
To hear the John Carpenter interview. Check out the link below:
https://podcasts.apple.com/us/podcast/post-mortem-with-mick-garris/id1204949508
The post John Carpenter Is The Latest Guest On Mick Garris's Podcast "Post Mortem" appeared first on Age of The Nerd.