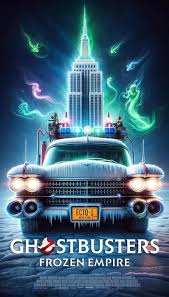 A teaser trailer for the new Ghostbusters movie titled Ghostbusters: Frozen Empire is now out. The film will be a sequel to Ghostbusters: Afterlife which came out in 2021. Ghostbusters: Afterlife follows a single mom and her two kids who arrive in a small town, they begin to discover their connection to the original Ghostbusters and the secret legacy their grandfather left behind. The film starred Paul Rudd, Bill Murray, Dan Aykroyd, Ernie Hudson, and Finn Wolfhard.
Ghostbusters: Afterlife was liked by fans and critics alike. The film made 204 million dollars in the US on a 75 million dollar budget. Ghostbusters are a family thing for many reasons. One of those reasons is that Jason Reitman directed Ghostbusters: Afterlife if you don't recognize the last name you should. Because Jason Reitman is the son of director Ivan Reitman who directed the very first Ghostbusters way back in 1984.
Jason Reitman has returned to the director chair for the latest film which will follow, The Spengler family returns to the iconic New York City firehouse where the original Ghostbusters have taken ghost-busting to the next level. When the discovery of an ancient artifact unleashes an evil force, Ghostbusters new and old must unite to protect their home and save the world from a second ice age.
Check out the teaser trailer below. Ghostbusters: Frozen Empire will hit theaters on March 29th, 2024:
The post A New Ghostbusters Film Is On The Way appeared first on Age of The Nerd.