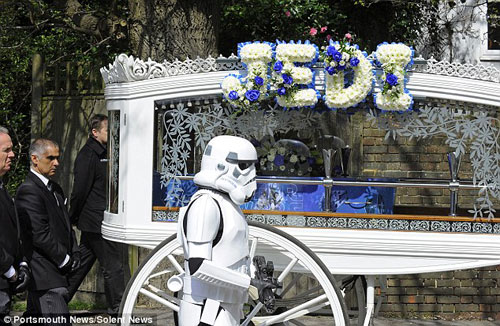 (PCM) Jack Robinson, the 4-year old who tragically lost his battle with an inoperable brain tumor, had his final wish granted in the form of a Star Wars themed funeral.
His family and friends gathered together to make his final wish a reality, as his body was carried in a Star Wars coffin by horse drawn carriage flanked on all side by storm troopers and the word "Jedi" spelled out in a gorgeous floral arrangement on the side. Other floral arrangement included a light saber, and replicas of R2D2 and Yoda.
Inside the church the brass band played Luke Skywalker's theme and the program read "Master Jack Robinson, joined the force 1st April 2014.
Prior to his passing young Master Robinson had several other wishes granted including a hospital meet and greet with Gary Barlow, host of the UK version of The X Factor and lead vocalist for Take That. Also, being that Robinson was a huge Dr. Who fan, he also received a personalized video message from Dr. Who's Matt Smith.
It is incredibly touching to know that some of this young boy's dreams were able to come to true! May the force forever be with his family and friends!
The post Star Wars Themed Funeral Fulfills A Four-Year Olds Final Wish also appeared on .