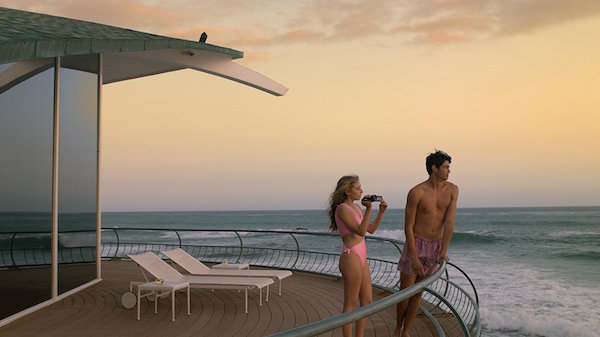 From acclaimed L.A.-based artist Alex Israel comes 'SPF-18'. This will be Israel's first foray into feature films, as his career has mostly comprised of making splashes in the LA art scene. The film itself includes elements of his gallery shows, and Israel describes the film as "An artwork for teenagers, who watch movies at school, on iTunes, and on Netflix." This trailer for 'SPF-18' seems reminiscent of recent coming of age tales like 'The Kings of Summer' and 'The Way, Way Back', mixed with the cheekiness of a show like 'The O.C.'.
'SPF-18' is sure to follow in the same vein, albeit providing a more millennial approach. The film stars Carson Meyer, Noah Centineo, Bianca Santos, Jackson White, Sean Russel Herman, Rosanna Arquette, Molly Ringwald, Keanu Reeves, Pamela Anderson, and Goldie Hawn.
Here's the official synopsis:
When you grow up in LA, real life and the movies can get a little mixed up. Eighteen-year-old Penny Cooper (Carson Meyer) spent years pining for high school heartthrob Johnny Sanders Jr. (Noah Centineo) before his father's tragic death brought them closer together. When a mysterious country musician Ash Baker (Jackson White) comes to town, Penny is torn. Sandwiched between her free-spirited cousin Camilla (Bianca Santos), and self-absorbed mother (Molly Ringwald), Penny turns to her camera for answers, because sometimes things feel more real on video than they do in real life.
'SPF-18' will be released exclusively on iTunes September 29, 2017, and is set to be released on Netflix a month later.
The post 'SPF-18' Trailer appeared first on Age of The Nerd.