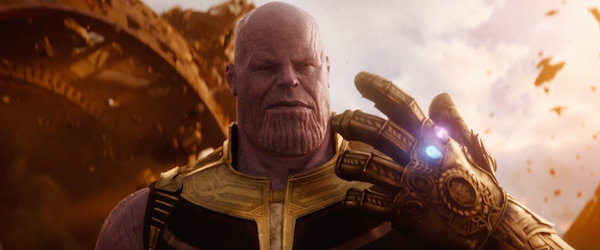 The first trailer for 'Avengers: Infinity War' has arrived, and it is absolutely glorious. The Marvel Cinematic Universe as we know it began in 2008 with 'Iron Man', and will go through a massive change when 'Infinity War' hits theaters nearly 10 years later. After 18 movies of build-up that includes a trio of trilogies (Captain America, Iron Man and Thor), and two and a half 'Avengers' movies, we finally get to see how all of this work will finally come together.
In a recent Vanity Fair piece with Kevin Feige, the Marvel mastermind detailed how 'Avengers: Infinity War' would change the landscape of the MCU as we know it, serving as a "Finale" of sorts. It's pretty common knowledge that many of the actors from the Phase 1 films are nearing the end of their contracts, so it seems natural that 'Avengers: Infinity War' and the as-of-yet untitled 'Avengers 4' will serve as a bridge to a new era of the MCU in Phase 4. Although much of the cast doesn't even know how it's going to play out, we can be sure that it will be bittersweet saying goodbye to some of our favorite heroes of the last 10 years.
'Avengers: Infinity War' was directed by Joe and Anthony Russo, and written by Christopher Markusand Stephen McFeely. The film stars pretty much every main character we've seen so far (sans Nick Fury), including Robert Downey Jr., Chris Hemsworth, Chris Evans, Mark Ruffalo, Scarlett Johansson, Jeremy Renner, Chris Pratt, Zoe Saldana, Dave Bautista, Bradley Cooper, Vin Diesel, Don Cheadle, Anthony Mackie, Sebastian Stan, Paul Bettany, Elizabeth Olsen, Tom Holland, Benedict Cumberbatch, Paul Rudd, Tom Hiddleston, and Josh Brolin.
Here's the official trailer, along with a newly released synopsis and poster:
An unprecedented cinematic journey ten years in the making and spanning the entire Marvel Cinematic Universe, Marvel Studios' "Avengers: Infinity War" brings to the screen the ultimate, deadliest showdown of all time. The Avengers and their Super Hero allies must be willing to sacrifice all in an attempt to defeat the powerful Thanos before his blitz of devastation and ruin puts an end to the universe.
The post First 'Avengers: Infinity War' Trailer Signals the End of an Era appeared first on Age of The Nerd.