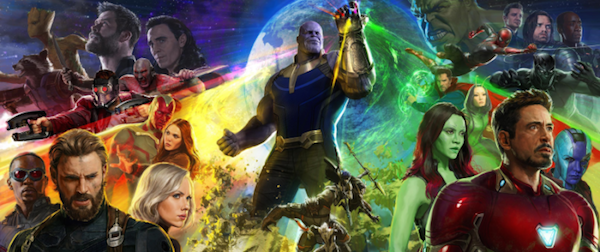 WARNING: POTENTIAL SPOILERS BELOW!!!
A new set photo from 'Avengers 4' has surfaced, and to be quite honest, it raises more questions than it answers. Since 'Avengers: Infinity War' and the as of yet untitled 'Avengers 4' were announced as two separate films, it's been many people's assumption that Chris Evans' Captain America would be one of the sure-fire candidates to bite the dust under the wrath of Josh Brolin's Thanos. But the new image, which features Cap's costume from the first 'Avengers' film upon closer inspection, seems to imply a set of wide-ranging possibilities for the plot of 'Avengers 4', including the potential for time travel.
There's not really much that we know so far about 'Avengers 4', other than the fact that it will serve as a "soft reboot" of the MCU into Phase 4. We do know that Samuel L. Jackson's Nick Fury will not be making an appearance in this film or 'Avengers: Infinity War', and that Brie Larson's Captain Marvel will make her team debut in 'Avengers 4'. Beyond this, we literally know nothing about the film, not even the title (apparently it's a spoiler). Part of this is extremely refreshing, but part of it is also frustrating.
The image (via TMZ) can be seen here, along with my interpretation of all of the possibilities that it may imply below:
So, now that we've all had the time to inspect the image thoroughly, there seems to be three potential answers that 'Avengers 4' may end up providing. While TMZ speculates the context of this scene to be a flashback, both Slashfilm and Nerdest think that it might involve time travel. Both of these theories seem to each hold their own weight but the time travel aspect to this seems the more likely of the two, considering the evidence. But what if, in actuality, this was neither of those. What if this was a scene where Cap simply decides to return to his costume in the original, maybe right before he goes into their fatal battle with Thanos? The idea that Cap might indeed don his original 'The Avengers' uniform is a bold one, because that would mean that cap would bite the dust not in 'Infinity War', but rather 'Avengers 4'. Yeah it seems outlandish, but that's also why I often try to stay away form too much speculation based on early set pictures such as this one.
Either way, 'Avengers 4' is directed by Joe and Anthony Russo, and Joe and Anthony Russo, and written by Christopher Markus and Stephen McFeely. The film stars Robert Downey Jr., Chris Hemsworth, Chris Evans, Mark Ruffalo, Scarlett Johansson, Jeremy Renner, Chris Pratt, Zoe Saldana, Dave Bautista, Bradley Cooper, Vin Diesel, Don Cheadle, Anthony Mackie, Sebastian Stan, Paul Bettany, Elizabeth Olsen, Tom Holland, Benedict Cumberbatch, Paul Rudd and Tom Hiddleston. The film is set for release on May 3, 2019, but in the meantime you can check out the trailer for 'Infinity War' here. Let us know what your theory about the set photo in the comments below!
The post New 'Avengers 4' Set Photo Raises Many Questions appeared first on Age of The Nerd.