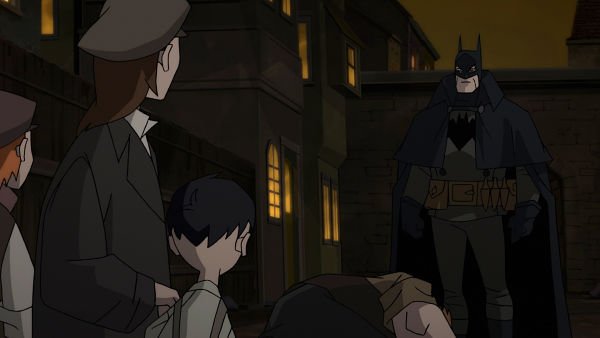 DC animated's upcoming film, Batman: Gotham by Gaslight will be available from Warner Bros. Home Entertainment January 23, 2018, on Digital and February 6, 2018, on Blu-ray and DVD. In the animated feature which is based on Elseworlds tale by Brian Augustyn and Mike Mignola, we see Batman in the turn of the century as he attempts to protect Gotham City from Jack the Ripper. In the all-new clip (posted below) we get a glimpse of children with some very familiar names.
Did you happen to catch those names? Batman fans will recognize Dickie as in Dick Grayson, Jason as in Jason Todd and "Little Tim" as in Timothy Drake, all who have taken the code name of Robin in the Batman lore.
The film stars Bruce Greenwood as Batman, Jennifer Carpenter as Selina Kyle, Scott Patterson as Jim Gordon, Anthony Head as Alfred Pennyworth, Yuri Lowenthal as Harvey Dent, John DiMaggio as Chief Bullock, William Salyers as Hugo Strange, and Grey Griffin as Sister Leslie. The film is directed and produced by Sam Liu. Liu has directed other DC animated films such as Batman: The Killing Joke, Justice League vs. Teen Titans, Justice League: Gods and Monsters, Batman and Harley as well as a few others.
For more info on the upcoming Batman: Gotham by Gaslight click here.
The post Three Robins Appear in New 'Batman: Gotham by Gaslight' Clip appeared first on Age of The Nerd.