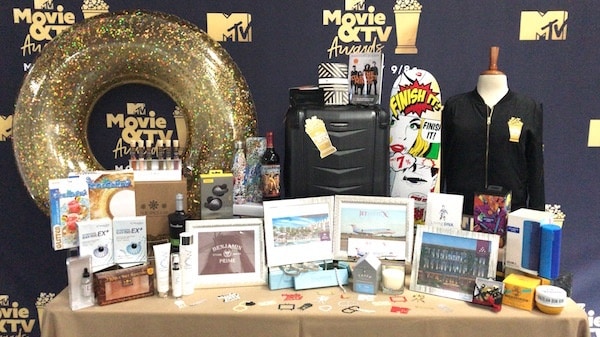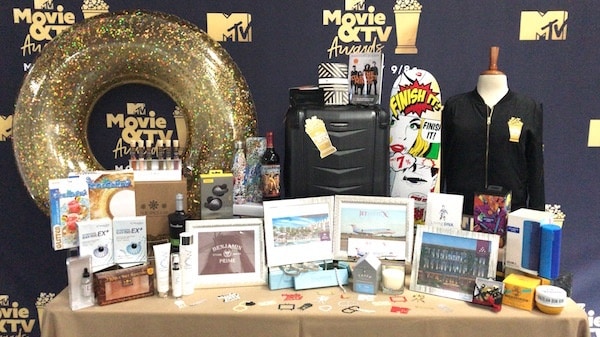 Backstage Creations today revealed the exclusive contents included in the custom-designed 2018 "MTV Movie & TV Awards" gift bag for attending celebrity nominees, presenters and performers. Produced by Backstage Creations, this year's gift bag contains some of the most sought-after items including a three night stay at Planet Hollywood Costa Rica and Six Senses Duxton Singapore, Swarovski Crystal's Tri-Wrap Bracelet, Jabra headphones, Living DNA kits, Ultimate Ears speakers and more. Hosted by Tiffany Haddish, the 2018 "MTV Movie & TV Awards" will air from the Barker Hangar on Monday, June 18 at 9:00 p.m. ET/PT.
The 2018 "MTV Movie & TV Awards" gift bag includes:
 "http://www.benjaminsteakhouse.com" Benjamin Steakhouse Prime– Benjamin Steakhouse Prime combines modern elegance with steakhouse classics by serving only the best USDA prime steaks, succulent seafood and more from the grill.
Disney Publishing Worldwide- "The Darkest Minds" by Alexandra Bracken.
"http://www.flowhaircare.com" Flow Hair Care– Flow is a new, sustainable salon hair care brand that is re-defining great hair with its exceptional selection of professional products that include the ground breaking best seller, The 30 Second Treatment!
"http://www.invitationconsultants.com" Invitation Consultants– Online destination for unique invitations, stationery and gifts to suit any occasion.
"https://www.jabra.com/bluetooth-headsets/jabra-elite-65t" Jabra– Jabra Elite 65t is engineered for a superior true wireless calls and music experience.
"http://www.jetsuitex.com" JetSuiteX- JetSuiteX is a semi private air carrier that provides the experience of private flying for the price of commercial.
"http://www.LIVINGDNA.com" Living DNA– Living DNA provides the most detailed DNA test for ancestry which not only covers your family line ancestry, but unlike others, the test also includes your motherline and your fatherline ancestry.
"https://www.mc2beauty.com/" MC2BEAUTY Skin Care- Longevity serum is an all-in-one plant-based, de-aging, anti-pollution and detox serum for face and neck that improves wrinkles, fine lines, hyper-pigmentation, collagen production and is intuitive for all skin types.
"http://www.michaeldavidwinery.com/wines/" Michael David Winery– 750ml bottle of Freakshow Cabernet Sauvignon wine by Michael David Winery in Lodi, CA.
"http://www.beautydiary.com.tw/" My Beauty Diary– Duo Brightening EX+ Black Pearl Facial Mask increases moisture +102% and brightness +2.5% in only 5 minutes!
"http://www.pasolivo.com" Pasolivo– The Pasolivo award winning lime olive oil is made by blending California produced extra virgin olive oil with the oil from the zest of limes.
"http://www.planethollywoodhotels.com" Planet Hollywood Beach Resort Costa Rica– A three-night/4-day stay at Planet Hollywood's newest first ever all-inclusive resort, Planet Hollywood Costa Rica, located on the exclusive Peninsula Papagayo in the Guanacaste region of Costa Rica.
"http://bit.ly/2s023rP" PoolCandy- Add some glitz and glam with PoolCandy's Jumbo Gold Glitter tube, filled with holographic gold glitter that sparkles in the sun.
"http://www.robertgraham.us/robert-graham-water-bottle-2.html" Robert Graham– Channel color while you hydrate in this all-over pixelated multi-color splash print bottle which is beautifully crafted and helps to keep your beverage of choice hot or cold.
"http://www.sixsenses.com/hotels/duxton/destination" Six Senses Duxton– Six Senses Duxton is set in a row of trading houses in Singapore's colorful Chinatown and restored under the designer Anouska Hempel
"http://www.soldejaneiro.com" Sol de Janeiro, USA Inc.– Sol de Janeiro Brazilian Bum Bum Cream, fast-absorbing allover body cream that helps tighten and smooth like no other.
"http://www.spices.com" The Spice Lab– Gourmet Collection of sea salts and peppercorns in sleek metal base and set of four Himalayan Salt Tequila Shot Glasses, hand-carved from highest quality food grade Himalayan salt
"http://www.touchstonecrystal.com"Touchstone Crystal by Swarovski– Touchstone Crystal's Tri-Wrap Bracelet features 3 bracelets in one, designed with a grey suede band and a trio of grey Swarovski Crystals for an ombre effect, and also included is the elegant White Ice Bracelet, designed with a sparkling row of Swarovski Crystals and a single fold–over rhodium clasp.
"http://www.trappcandles.com" Trapp Fragrances – Candles guaranteed to fill your room with fragrance!
"https://www.travelerchoice.com/" Traveler's Choice– Serving more than 30 million happy travelers, Traveler's Choice is an award-winning manufacturer and distributor of premium luggage and travel goods ranging from innovative smart luggage to carry-ons with a fully customizable design, providing high-quality travelware brands made to suit any lifestyle and every destination.
"https://www.thetruth.com/" truth® Custom truth branded skate deck.
"http://www.ultimateears.com" Ultimate Ears– Designed for any adventure, Ultimate Ears BOOM 2 is a portable, waterproof, virtually indestructible Bluetooth speaker that blasts insanely great 360-degree sound, wherever you bring music to life.
"http://www.westcoastvibes.com" West Coast Vibes– California style clothing, trendy yet fashionable, that brings on that West Coast Vibe feeling.
"http://www.WrapturesbyJN.com" Wraptures by JN– MTV Themed Personalized Confetti Gift Box with Promotional Offer.
Items in photo subject to change based on availability- some colors and styles may vary. 
Courtesy of  HYPERLINK "http://www.backstagecreations.com" Backstage Creations
The post Sammi's Favorite Things: MTV Movie and TV Awards Goodies appeared first on TV Grapevine.