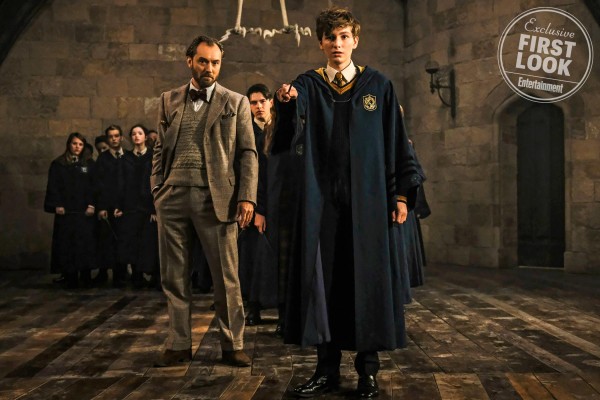 Although it was revealed last year that Jude Law would be inhabiting the role of a younger Albus Dumbledore in the forthcoming sequel to 'Fantastic Beasts', titled 'Fantastic Beasts: The Crimes of Grindelwald'. For the most part, the actor has been relatively quiet when it comes to playing the character. Stepping into the shoes of the late, great Richard Harris and Michael Gambon, we've already seen teases of Law's take on the character in the first trailer. Despite this, however, a lot of questions remained about how Law's interpretation of the character would factor into the plot.
Now, some of those questions are beginning to be answered, as the actor has finally opened up about how Dumbledore will play into 'Fantastic Beasts: The Crimes of Grindelwald'. Speaking with EW (via Collider) here's what Law had to say about meeting with creator/screenwriter J.K. Rowling to get a baseline for the character:
I had the good fortune and opportunity to sit with [author and screenwriter] J.K. Rowling shortly after we started work on it. She gave me a very good sense of Albus' life journey and who he was and what was happening in his head and his heart and his world for this particular story…
The one thing that came out was the sense of play. He has a youthful mercurial approach to life, but that there's something that hangs heavy in his heart, in his past, that underlies all of that. There's a root of good humor and good heart and sense of self and a sense of past.
When asked about how his interpretation of the character would differ from past iterations, the distinction of this being a younger version of the character naturally came up:
This is a man with almost 100 years ahead of him before he became that character so we wanted to look at who he was in this moment and construct our own version. It makes me laugh when he's called "Young Albus" because I'm 45, so I'm more in the middle of a midlife crisis, but I'm happy to hold onto that as long as I can!
As I mentioned before, there's a sense of humor and mischief, a dash of anarchy, a sense of what's right and what he believes in, and a sense of mystery. There's also how he comes around to get people onto his way of thinking—which is rather indirectly. He also has a certain heaviness about him that I don't want to reveal too much about—and that's something he has to overcome, or hopes to overcome. He's also got a great passion for sharing his knowledge, he's a powerful and inclusive teacher.
While it's been known that Dumbledore was a teacher before becoming headmaster, what he's actually teaching in the film has yet to be revealed:
He doesn't teach Transfiguration, actually, not at this stage … in his career, he's not. I'm not sure I'm allowed to say what he teaches … I only get to cast one [spell]. There's a lot you don't know about Albus in this film. And there are certain restrictions in storytelling — you'll see, it all makes sense. You don't see him in full flow yet.
Albus doesn't have the Elder Wand yet, no. I have a wand. It's very reflective of him, beautiful dark wood root with a stone on one end.
Law also addressed Dumbledore's sexuality in 'Fantastic Beasts: The Crimes of Grindelwald', which will be an unfolding arc throughout the rest of the franchise:
Jo Rowling revealed some years back that Dumbledore was gay. That was a question I actually asked Jo and she said, yes, he's gay. But as with humans, your sexuality doesn't necessarily define you; he's multifaceted. I suppose the question is: How is Dumbledore's sexuality depicted in this film? What you got to remember this is only the second Fantastic Beasts film in a series and what's brilliant about Jo's writing is how she reveals her characters, peels them to the heart over time. You're just getting to know Albus in this film, and there's obviously a lot more to come. We learn a little about his past in the beginning of this film, and characters and their relationships will unfold naturally which I'm excited to reveal. But we're not going to reveal everything all at once.
The trailer for 'Fantastic Beasts: The Crimes of Grindelwald' revealed that Newt is a former student of Dumbledore's, while only hinting at the his beef with Johnny Depp's Grindelwald. Here's what Law had to say about Dumbledore's relationship with both characters:
I think he admires in Newt this sense of moral code that he will always do the right thing because he can't do anything but the right thing. I think he likes that Newt finds beauty in beasts because I think occasionally Dumbledore feels like a beast. And there's a master and mentee kind of relationship. And Newt isn't afraid to say when he thinks Dumbledore is wrong, it's not servitude.
I don't actually have any scenes with Johnny. As I said before, this is only Part 2 of a longer story. I've always admired him from afar, but we don't know each other, and I've not yet met him on this. In many ways that suits the relationship as it's been many years since they've seen each other. So there's complexity in that that's fun to mine. Again, the past will reveal itself.
It's not entirely surprising that Law and Depp don't have any scenes together, as the franchise has been positioning itself to play the long game sine the first entry was released in 2016. In addition to Law and Depp, the film stars Eddie Redmayne, Zoe Kravitz, Callum Turner,Katherine Waterston, Dan Fogler, Ezra Miller and Alison Sudol. 'Fantastic Beasts: The Crimes of Grindelwald' hits theaters on November 16, 2018.
The post Jude Law Dishes Playing Young Dumbledore in 'Fantastic Beasts: The Crimes of Grindelwald' appeared first on Age of The Nerd.