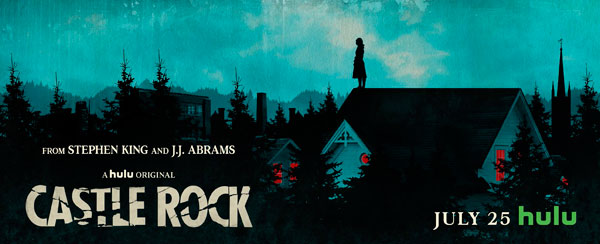 Talk about a town that will give you chills! Welcome to Castle Rock! This is truly the place where nightmares really do come true. The Hulu Original Series "Castle Rock" is a pure psychological thrill ride set within the Stephen King multiverse and we have had the best time delving head first into this series.
While of course we found ourselves desperately searching for each and every little Easter egg that ties the series to King's massive body of work, we soon realized that this series can very much stand on its' own creating a new story of its' very own. Of course there are numerous nods to King's novels such as "Needful Things", "Cujo", "IT" "The Shawshank Redemption" and "The Shining" to only name a few, but the references are made very subtlety and it quite clever ways.
We are now eight episodes deep in the series and it continues to tighten it's grip, as we can't get enough of attempting to decipher the bigger mystery that is happening the nightmarish little woodsy town Castle Rock, Maine. While the series was a bit slow to start, the more we continued to watch the more and more hooked we became and a lot of times that is the same mindset we were in when starting some of Stephen Kings greatest novels.
He has a way of sucking you in and once that grip takes hold, watch out because there is no getting out! Kind of like Castle Rock itself, huh? The cast is doing an absolutely brilliant job taking on some of most complicated characters we have seen in a series for quite some time. Both Bill Skarsgard and Sissy Spacek are no strangers to the Stephen King universe as Skarsgard recently portrayed Pennywise the evil clown in the remake of "IT" and of course, Sissy Spacek played the title role in "Carrie".  While we won't give away any spoilers there is one scene in particular between Skarsgard and Spacek that will be particularly mind-blowing to King aficionados. And seriously, Skarsgard has really nailed creepy, his icy stares will chill you to the bone!
It is also worth nothing that Andre Holland, Melanie Lynskey and Jane Levy all also deliver tremendous performances as well. All of these characters carry some kind of dark past and the cast is doing an amazing job at showcasing their deep-rooted emotional baggage.
We recently had a chance to catch up with "Castle Rock" cast members Bill Skarsgard, Melanie Lynskey, and Jane Levy, as well as, creators and executive producers Sam Shaw and Dustin Thomason at San Diego Comic Con. Check out the video interviews below to gain some insight into the series directly from the cast themselves:
"Castle Rock" is now streaming on Hulu!
The post Our Thoughts On Hulu's 'Castle Rock' And What We Learned At SDCC appeared first on Age of The Nerd.