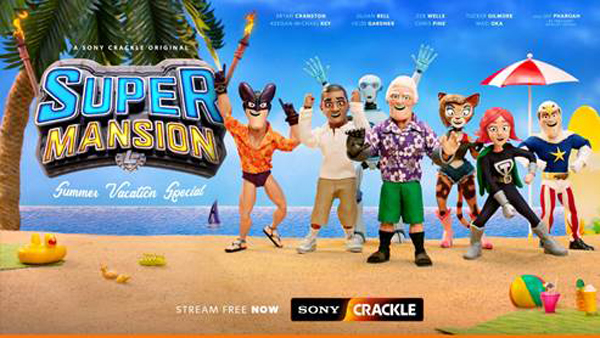 Sony Crackle's "SuperMansion: Summer Vacation Special" is currently available to stream for free today.  In the stop-motion animated special, the team heads to Hawaii where Titanium Rex (Bryan Cranston) runs into a vacationing former President Barack Obama (Jay Pharoah), Black Saturn (Tucker Gilmore) and Lex (Jillian Bell) teach Cooch (Heidi Gardner) how to swim, and American Ranger (Keegan-Michael Key) attempts to perform in a USO show while an evil threat brews under the sea.
The original special features voice actors Bryan Cranston ("Breaking Bad"), Keegan-Michael Key ("Key & Peele"), Chris Pine ("Star Trek"), Jillian Bell ("22 Jump Street"), Heidi Gardner ("Saturday Night Live"), Tucker Gilmore ("Frozen") and Zeb Wells (also writer). Additionally, newcomers Jay Pharoah ("White Famous") guest stars as Barack Obama, and Masi Oka ("Heroes," "Hawaii Five-0") as Toko.
Sony Crackle also released it's first-ever free "SuperMansion" Augmented Reality App today. Featuring characters from the Sony Crackle original series, this AR app experience allows you to pose, take pictures and record videos with Titanium Rex, voiced by Bryan Cranston. Dab with Rex or capture his fun observations in video and photo modes, then share with your friends and family on Facebook, by text message and more!  Use the touchscreen on your device to turn Rex into a towering giant, or even make him tiny to fit into the palm of your hand. Fans can download the app in the App Store and on Google Play now.
"SuperMansion" is created by Zeb Wells and Matthew Senreich ("Robot Chicken"), who also act as executive producers under their production company Stoopid Buddy Stoodios alongside Seth Green, John Harvatine IV, Eric Towner and Tom Root.  Bryan Cranston and James Degus also serve as executive producers under their production banner Moonshot Entertainment. The special is directed by Alex Kamer, written by Tom Sheppard and Zeb Wells, and distributed by Sony Pictures Television Inc.
Follow "SuperMansion" on Facebook, Instagram and Twitter. Join the conversation with #SuperMansion and #SonyCrackle.
The post SUPERMANSION: SUMMER VACATION SPECIAL' AVAILABLE TO STREAM FREE NOW ONLY SONY CRACKLE appeared first on Age of The Nerd.