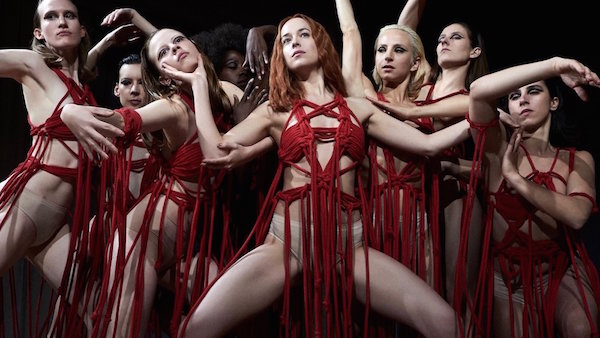 It's been a while since a horror movie's remake achieved the levels of anticipation like the kind Luca Guadagnino's forthcoming remake of Suspiria has wracked up this last year. Since its official announcement two years ago, many questions and equal the trepidation about what the Call Me by Your Name director could possibly bring to the Dario Argento classic have been raised, from the general "Why does it need to be remade" all remakes are understandably haunted by and theories about what techniques and throwbacks would be invoked to replicate the original's iconic visuals and Goblin soundtrack. When the first teaser debuted earlier this summer, many's fears were quelled and replaced with a new possibility: not only could the film actually be good, it now had the potential to be equal to its inspiration, perhaps even… surpass it.
As the world premiere this weekend at the Venice International Film Festival is a stone's throw away, Amazon Studios has really gotten the marketing ball rolling with the release of numerous character posters, a full trailer and the first clip from the 152 minute film, all certain to hook people's interest a little more between now and its release this fall.
While the teaser focused exclusively on tone, ambiance and surreal imagery, drawing comparisons to the infamous teaser trailers for The Exorcist that left their marks on 1973's unprepared audiences, the new trailer is more narratively focused with a tinge of the macabre and surreal, giving us a little more of what Mr. Guadagnino and screenwriter David Kajganich (also scribe of the upcoming Pet Sematary remake due next spring) have in store, which couldn't be any further from Mr. Argento's where style is concerned. And that's still the best decision that could be done for a horror remake as controversial as this: pay respect to the original while making this its own beast.
The general premise remains identical to its predecessor: young dancer Susie Bannion (Dakota Johnson, finally "freed" from the "darker" recesses of the Fifty Shades of Grey trilogy) arrives in Berlin at the rise of the German Autumn to perfect her abilities with the Markos Tanz Company and slowly uncovers its witchy secrets and plans. From the start of this trailer, Ms. Johnson's Susie already distances herself from Jessica Harper's portrayal of the young ballerina in an important area (Ms. Harper, who's been confirmed to appear in the film, has not been featured in any of the trailers or posters yet, aside from billing on the first poster and her character's name of "Anke"). A brief montage shows a young girl, certain to be young Susie based on her hair and clothing, roaming what appears to be a religious home, suggesting an Amish or Mennonite background, seemingly followed by flashes of light. As Laurie Strode's English teacher would suggest if the universes Suspiria and Halloween existed in collided with the other, Susie's arrival may not be circumstantial, but fate.
Mr. Guadagnino and Amazon's marketing team also furthers the mystery of Dr. Jozef Klemperer and that of his performer, 82 year old Lutz Ebersdorf, who is most definitely not Ms. Swinton in elderly makeup and putting on a masculine German accent (wink wink). Dr. Klemperer, a psychoanalyst caught up in the growing world of the supernatural in a world already fraught with the unease of political turmoil, past and present, right outside his door, serves as a voice of comfort and expositional rationality, expanding on the history of the Three Mothers to his patient, the paranoid – and soon to vanish – Patricia (Chloë Grace Moretz) and dancer Sara (Mia Goth, Marrowbone), embroiled in the mystery that's affecting her friends. Back when Suspiria was in Mr. Argento's hands, each Mother was the basis of a trilogy, beginning in 1977 with the fall of Mater Suspiriorum (Suspiria), the Mother of Sighs, the fall of Mater Tenebrarum (1980's Inferno; not to be mistaken with the third entry in the Robert Langdon series), the Mother of Darkness, and concluding with the return and, you guessed it, fall of Mater Lachrymarum (2007's Mother of Tears). What this means for the future has yet to be seen, but the seeds have certainly been planted for a new interpretation of the Three Mothers Trilogy.
And have no fear (well, some fear should be had). Despite all the talk of characters and dramatic motivations, this is still a trailer for a horror movie and some heavy scares are teased throughout. Back in April, a new level of interest was stoked and provoked after news from CinemaCon of a scene featuring Susie's intense dancing intercut with ballerina Olga (dancer Elena Fokina) being supernaturally assaulted and mutilated beyond human recognition by the power of the dance in a studio made entirely of mirrors hit the internet. Here, more of the sequence is teased and it's once Olga's jaw starts moving in an ungodly direction, coupled with the faint image of her left arm going in the wrong direction, you know there's going to be some visuals that will be hard to shake off once the theater lights are turned up. And when it isn't the misfortunes of ballerinas being led to the slaughter, be it Olga and the dance or Sara exploring the hidden chambers behind the studio to certain doom, its expansions of the teaser's already unsettling iconography, now with properly mixed and edited sound, really bring the discomfort levels up, to visual shots harkening back to Luciano Tovoli's color-saturated photography from 1977 and a unique blend of tonal references from New German Cinema legend Rainer Werner Fassbinder's films to the classic animated Sleeping Beauty, courtesy of DP Sayombhu Mukdeeprom, really make the point that this is working hard to earn its place of horrific reverence. And of course, that creepy rib-shaped hook makes a few equally creepy appearances.
Also expanded on to further establish the sinister undercurrent before bringing the "really scary stuff" are the school's matrons, instructors and staff, played by Tilda Swinton and a company of Europe's most revered actress of the period, including Angela Winkler (Volker Schlöndorff's The Tin Drum) as the stern-faced instructor wonderfully brought to life originally by Italian screen legend Alida Valli (and whose horsehair dress in her poster is one of many showcases for costume designer Giulia Piersanti), Renée Soutendijk (Paul Verhoeven's The 4th Man), Ingrid Caven, a stalwart presence in Mr. Fassbinder's professional and personal life, and Vanda Capriolo, who rose to prominence last year after making her debut performance in Call Me by Your Name. It's nothing overt, either. Just simple looks and movements. Not since the heyday of Roman Polanski have older women standing around with subtle malcontent in their eyes made one feel such chills.
And as earlier noted, not only was there the new trailer, but the first official clip premiered online, too. In it, Madame Blanc (Ms. Swinton) proposes the students practice "Wieder Öffnen" ("Open Again"), a new dance that serves as a visualization for the inescapable notion of rebirth. As the students, flanked by the observant matrons, practice their first moves, all attention is directed at Susie, whose own improvised movements are less of expressionist dance and something deeper, raw, sexual and primordial. Madame Blanc notices it. The other matrons feel it. And whatever the demonic creature the new trailer teased sure as hell senses the power from whatever dark cavern in the school it lies in wait. Whether this is the dance that will reduce Olga to a messy pile of skin and gore, time has yet to establish, but between Mr. Mukdeeprom's intimately gliding camerawork and another hint of whatever musical nightmares Them Yorke has set for the score, mood and tension are certainly on point for endless minutes of blood pressure rising tension.
"When you dance the dance of another, you make yourself in the image of its creator," Madame Blanc advocates to her students early in the trailer. There's certainly a touch of irony to be appreciated in that dialogue, for a remake to postulate the idea of an artist ultimately challenging or altering their known style to achieve success that another has done in the past. In Mr. Guadagnino's case, if he can deliver on his promise from this week that he wants this to serve "as the most disturbing experience you can have" at the movies, then he certainly has molded himself in the creator's image and his Suspiria will certainly garner a special place as both tribute to the past and groundbreaker for the future. Now let's see what the first reactions reveal this upcoming Saturday and if hope inspired by these images and clips is warranted or misplaced.
"As a darkness builds at the center of a world-renowned dance company, its artistic director, a young American new to the troupe, and a grieving psychotherapist become entangled in a bloody, sighing nightmare." – Amazon Studios
Suspiria, courtesy of Amazon Studios, will now open in limited release on October 26th before expanding wide the following week.
The post Trailer Breakdown: On Venice's Eve, The Witches Are Back in 'Suspiria' Marketing Blitz appeared first on Age of The Nerd.