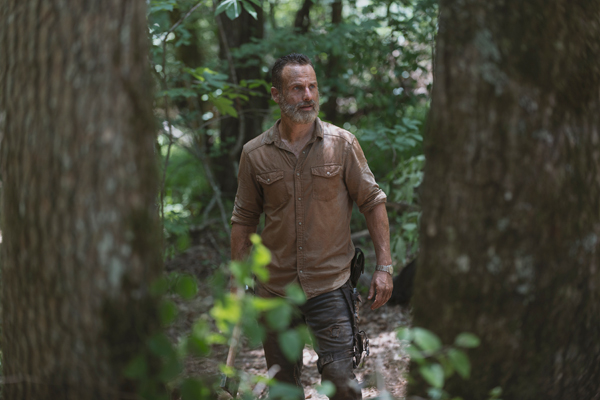 "The Walking Dead" season nine continues on Sunday, October 28th at 9:00 p.m. ET/PT. On the all-new episode, "The Obliged," Rick's vision of a civilized future is threatened by a sudden reckoning with past sins that remain unavenged and unforgiven. The episode is written by Geraldine Inoa and directed by Rosemary Rodriguez.
Based on the comic book series written by Robert Kirkman and published by Image Comics, "The Walking Dead" reigns as television's most watched drama for Adults 18-49. "The Walking Dead" tells the story of the months and years that follow after a zombie apocalypse, and follows a group of survivors, led by police officer Rick Grimes, who travel in search of a safe and secure home.  The series is executive produced by showrunner Scott M. Gimple, Robert Kirkman, Gale Anne Hurd, David Alpert, Greg Nicotero and Tom Luse.
Following the episode, viewers can catch an all-new episode of "Talking Dead" hosted by Chris Hardwick at 10:05 p.m. ET/PT, featuring "The Walking Dead" showrunner Angela Kang, series star Jeffrey Dean Morgan and former cast member Michael Rooker.
Then late night, "AMC Visionaries: Eli Roth's History of Horror" continues on Sunday, October 28th at 12:10 a.m. ET/PT. On the all new-episode, "The Demons Inside," Eli Roth discusses the fear that demons will enter our bodies and make us do terrible things.  This has inspired some of the most frightening films ever made, including the masterpieces Rosemary's Baby and The Exorcist. This episode is written by Kurt Sayenga.
Guests this week include: Jordan Peele, Leonard Maltin, Linda Blair, Scott Kosar, Tony Timpone, Jack Black, Ernest R. Dickerson, Bruce Campbell, Father Ian Elliott Davies, Leigh Whannell, Ben Raphael Sher, Amanda Reyes, Mick Garris, David J. Skal, Joe Dante, Jason Middleton, Jamie Lee Curtis, Sara Paxton, Quentin Tarantino, Alex Winter, Jason Blum, Oren Peli, Elijah Wood, Diablo Cody, Karyn Kusama, Greg Nicotero, Rob Zombie, Bryan Fuller, Bob Murawski, Kier-La Janisse, Tom McLoughlin, Mary Harron, Chris Dumas, Saul "Slash" Hudson, Richard Donner, Marcus Henderson, Tananarive Due, Elijah Wood, Lil Rel Howery.
Executive produced by award-winning horror film director, writer, producer and actor, Eli Roth, the documentary series brings together the masters of horror – the storytellers and stars who define the genre – to explore its biggest themes and reveal the inspirations and struggles behind its past and present.
"AMC Visionaries: Eli Roth's History of Horror" is produced by The Content Group's Asylum Entertainment and Marwar Junction Productions. Executive producers are Eli Roth, Steven Michaels, Jonathan Koch, Joseph Freed, Allison Berkley and Kurt Sayenga.
AMC continues to celebrate the 20th anniversary of 'FearFest' this weekend, with the most iconic horror films ever made including a Stephen King Movie Marathon, featuring the 35th anniversary of Christine, Slasher-thon and the AMC Premiere of Abraham Lincoln: Vampire Hunter.
FEARFEST PROGRAMMING SCHEDULE:
Halloween Marathon – Monday, October 29 at 9:00 a.m. ET/PT through Wednesday, October 31. featuring, Halloween 1-6, Halloween H20: 20 Years Later and Halloween (2007)
AMC Premiere Event: Abraham Lincoln: Vampire Hunter – premieres Wednesday, October 24 at 8 p.m. ET/PT.
Demons Inside Marathon – Thursday, October 25 at 10:00 a.m., featuring Annabelle, Exorcist II-III, The Exorcism of Emily Rose, The Omen (2006), Prince of Darkness and the 45th Anniversary of The Exorcist.
Hellraiser Marathon – Friday, October 26 at 9:00 a.m. ET/PT, featuring Hellraiser, Hellraiser III, Hellraiser: Revelations and the premieres of Hellraiser IV-VIII.
Friday the 13th Marathon – Saturday, October 27 beginning at 5:00 a.m. ET/PT continuing through Sunday, October 28. Featuring Friday the 13th I-IX andFriday the 13th (2009).
The post AMC's 'FearFest' Continues And The Countdown Is On For Rick Grimes Final Episodes Of 'The Walking Dead' appeared first on Age of The Nerd.