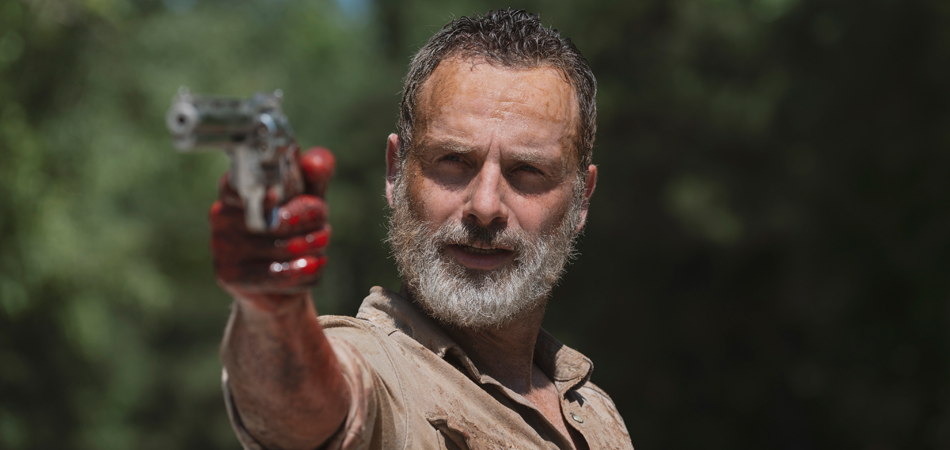 I am not even going to lie …. there were definitely some tears shed after last night's episode of AMC's "The Walking Dead" as we bid farewell (sort of…but more on that later) to our beloved character Rick Grimes. While I am not sure that everyone out there will agree with me, but I thought that showrunner Angela Kang and director for the episode Greg Nicotero did a fantastic job of showcasing Rick's past, present and future by interweaving various key moments throughout Rick's timeline and bringing him back to interact with several departed cast members who each shared their insight with him on love, happiness and wisdom.
[Spoilers contained below]
The series also perfectly laid the groundwork for what is to come with a coda that introduced us to the anticipated group of new characters, most likely known as The Whispers, and most shockingly, a six year time jump that gave us our first look at a grown up Judith Grimes, who certainly appears to be carrying on her father (and brothers) legacy as the story progresses. As, Daryl nicknamed her early on in the series, she definitely appears to be "a lil a**kicker" and I am immediately in love!
For a few short moments I definitely thought that Rick was truly gone for good after blowing up the bridge and the scene was truly heart-wrenching, especially seeing the tears shed by Daryl and the utter agony on the face of Michonne as she is held back by both Carol and Maggie. For the viewers, however, the agony didn't last very long, as they soon cut to scene showing Jadis radioing the helicopter and noticing Rick barely clinging to life of the side of the river bank. The final scene shows the helicopter landing and then Rick being transported along with Jadis to who can only imagine where, but that brings us to the news that was released by AMC Networks following tonight's episode!
This will not be the last time we see Rick Grimes! While he may not be appearing on "The Walking Dead" any longer, his story is certainly far from over! AMC has announced the first projects in development from Chief Content Officer Scott M. Gimple for The Walking Dead Universe. A series of AMC Studios Original Films, starring Andrew Lincoln and written by Gimple, are planned to continue the story of Rick Grimes, with the first expected to begin production as early as 2019. The first film will explore the story of where Rick is taken and what he faces in a new corner of the zombie apocalypse.
As part of Gimple's multi-year plan for The Walking Dead Universe, there are other projects currently in development, including additional films, specials, series, digital content and more. Some of the stories will relate to The Walking Dead as fans know it while others will be standalone stories that break into new creative territory.
"We have a lot on the horizon – starting with a new epic featuring one of the greatest leading actors in television history and one of the best people I've ever met," said Gimple. "These films are going to be big evolutions of what we've been doing on the show, with the scope and scale of features. We're starting with the first part of the continuing story of Rick Grimes, and there is much more on the way, featuring yet-unseen worlds of The Walking Dead and faces from the show's past, as well as new characters we hope to become favorites, told by TWD veterans and emerging voices. We want to break new ground with different, distinct stories, all part of the same world that's captured our imagination for nearly a decade of the Dead."
"We believe this is a world and narrative with many possibilities and opportunities for character development and we're excited to expand the series into a franchise that can live across multiple formats," said David Madden, president of original programming for AMC, SundanceTV and AMC Studios. "For many years, fans have talked about things in the apocalypse they want to see and now we have an opportunity to explore those stories, beginning with the character who started it all, Rick Grimes."
Andrew Lincoln had the following commentary from tonight's episode of "Talking Dead" saying, "It's not the beginning of the end, it's the end of the beginning. And I like the idea that we get to tell a bigger story, maybe with a sort of wider vista. And I've always been interested in what's going on out there, you know, whether or not there is contact with the wider world. I want to know the meta of it all. And I suppose to be able to kind of touch upon that in a contained story for me is a very exciting proposition … Maybe it's the start of a bigger story."
As a fan, I find myself with a renewed excitement for where 'The Walking Dead" universe is going to take us and it is wonderful to see the series take on a fresh start!
The post Saying Goodbye To Rick Grimes And Hello To The New AMC Walking Dead Universe appeared first on Age of The Nerd.