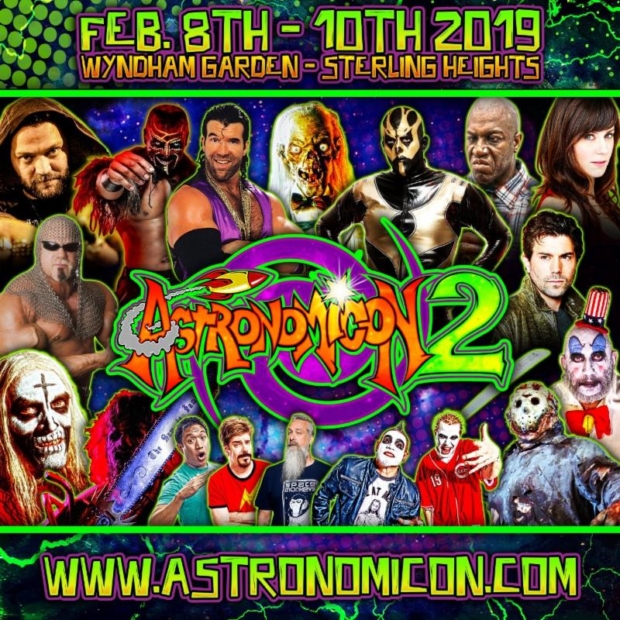 February 8-10, 2019 | All Ages | Wyndham Garden Sterling Heights
Featuring Guest Appearances, Signings and Photo Ops with Pop Culture Icons, Professional Wrestlers, Horror Film Elite and More: Including Bam Margera, Dustin "Goldust" Rhodes, Tiny Lister, Sid Haig, Bill Moseley, Scott Hall, Kane Hodder, Twiztid and More
+ Musical Performances, Cosplay and Tattoo Contests, Q&A Panels, Game Rooms and Beyond!
Everyone's favorite demented duo, Detroit natives Twiztid, will once again host metro Detroit's newest pop culture convention, Astronomicon 2, at the Sterling Heights, MI Wyndham Garden hotel from February 8-10, 2019. Promising once again to fulfill the pop culture cravings of fans attending from far and wide, the ALL AGES event will not only feature appearances, signings and photo ops with pop culture icons, professional wrestling stars, horror film elite and beyond, but also many additional activities – including live music performances, Q&A panels, cosplay and tattoo contests, a free play game room and tournaments, a scavenger hunt and trivia.
Astronomicon 2
 early bird tickets are on sale now! Don't hesitate to get your tickets now and take advantage of this great sale. Weekend passes are the best value at $60! Otherwise, per day ticket price breakdowns and children's ticket prices can be viewed here: 
www.astronomicon.com/tickets
Additional information on tickets, lodging, VIP options, vendors and more can be located at
www.astronomicon.com
.
This year, in partnership with VetTix, 
Astronomicon 2
 is giving away free Sunday passes to veterans. VetTix cites their core values are patriotism, support and recognition, quality of life, and family for veterans. For more information VetTix, visit 
www.vettix.org
.
In its inaugural year – even in the midst of a blizzard that dropped over 14 inches of snow on the metro Detroit area on the same weekend – the event drew 2,000+ attendees from all over the world, selling out the hotel in less than one day and playing host to 20+ celebrities.
Special guests who are scheduled to appear for photo ops, signings, activities and/or appearances at Astronomicon 2 include reality star and pro skater Bam Margera, wrestling legend Dustin "Goldust" Rhodes, actor and wrestler Tiny Lister, Texas Chainsaw Massacre 2 and House of 1000 Corpses actor Bill Moseley, Devil's Rejects, House of 1000 Corpses and Halloween 2007actor Sig Haig, wrestling legend Scott Hall, wrestling legend Scott Steiner, horror icon Kane Hodder (primarily recognized as his role as Jason Voorhees of the Jason film franchise), Tales from the Crypt actor/voice actor John Kassir, Texas Chainsaw Massacre 3 actor R.A. Mihailoff, Ming Chen of AMC's Comic Book Men, Mike Zapcic of AMC's Comic Book Men, wrestling star The Boogeyman, House of 1000 Corpses actor Robert Mukes, comic book writer Dirk Manning, comic book illustrators Alessandro de Fornasari and Marianna Pescosta, horror DX specialists Get Dead Crew, tattoo model Caroline, tattoo artist Saint Karlos and more! And of course, last but not least, our hosts – Astronomicon masterminds Twiztid.
More special guest stars from the music, wrestling, film and entertainment worlds are scheduled to be announced as Astronomicon 2 approaches, so stay tuned!
Twiztid says: "It's amazing to be able to host this annual event! This was a dream of ours and now to see it become a reality for a second year is a huge accomplishment for us. Bringing all these different forms of entertainment together for one weekend is a great feeling."
Returning Astronomicon celebrity guest Bill Moseley says, "Astronomicon gonna be Astronomical! Like a punch in the kisser, you'll be seeing stars! Otis Driftwood, Captain Spaulding and a whole lot more. Come on down and meet the clown!"
Another returning guest, Ming Chen of AMC's Comic Book Men, adds, "Astronomicon has been one of the most fun events that I've ever been to and it's made even better because it's located in my home state of Michigan. I had a great time last year meeting fellow guests, amazing vendors and most importantly, the fans. I can't wait to go back this year with my fellow Comic Book Men."
Sid Haig, better known as his character Captain Spaulding and longtime friend of Twiztid, says, "Twiztid is the real deal. They are great musicians, and great guys. Get your asses to Astronomicon!"
Stay tuned for more news coming soon from Astronomicon 2!
For more information, visit:
Astronomicon 2 Pop Culture Convention Announces Additional Special Guests and Details first appeared on Game On Media.