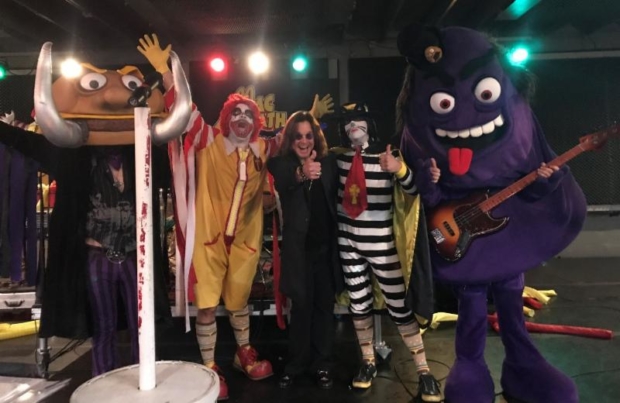 MAC SABBATH to Perform at Pre-New Year's Eve Show @ Fonda Theatre in Los Angeles, December 28
Mysterious MAC SABBATH frontman Ronald Osbourne emerged from his basement bunker to tell Rolling Stone, "Being Ronald Osbourne, the front-clown for Mac Sabbath, isn't easy. I have to meet all these fry-by-night 'Drive-through metal' icons like Burger King Diamond, Cinnibon Jovi and KFCC DeVille, look them in the eye and pretend like my indigestion is not acting up. Today is quite different. Today I met Ozzy Freaking Osbourne. Some big clown shoes to fill."
Los Angeles area 
MAC SABBATH
 fans – don't miss your chance to see the band headline their Pre-New Year's Eve show with support from the legendary Dickies, PPL MVR and Captured by Robots on December 28 at 8:00 PM (doors at 7:00 PM) at the Fonda Theatre! Read more about the show here:
www.fondatheatre.com/events/detail/363056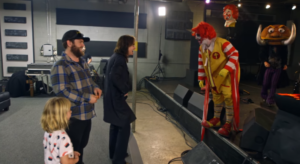 Mixing raucous comedy with borderline-horrific theatrics, the only thing more petrifying than impending health problems resulting from years of overeating is a 
MAC SABBATH
show. Show attendees should be prepared to partake in the fun – 
MAC SABBATH
 puts on a theatrical, multimedia stage show – complete with a smoking grill, laser-eyed clowns, bouncing burgers and many more magical surprises… basically anything and everything an unwary show-goer could ever want in their wildest dreams. 
Named by
Buzzfeed
as one of the "13 Metal Bands You Didn't Know How to React To" + Named as LA's "Best Tribute Band" by
LA Weekly
.
"… one of the most interesting bands to come around in a long, long time. They have Dead Kennedys' outrageous sense of humor mixed with total irreverence and ornate style on top of a solid, engaging performance (even if the crowd is reluctant to respond). So while this whole thing was probably thought up after eating too many pot brownies, it is one of the most brilliant ideas in a long time."­ – Troy Farah, Phoenix New Times
"This is not a drill. Be it exchanging Black Sabbath's "Paranoid" for a "Pair-a-buns" or "Iron Man" for a "Frying Pan," these food-focused musical dweebs are cooking up something hot 'n' ready just for you."– Alicia Lutes, MTV.com
"The most impressive-and terrifying-thing about Mac Sabbath is that they're actually really good. Ronald channels his inner Ozzy onstage, from the manic jumping to the frantic hand waving…" – Bryan Rolli, Paste Magazine
"Even if the songs are dripping with onions and extra cheese, Mac Sabbath put on one righteous stage show, complete with smoke machines, gritty power chords, and endless head-banging." – Chris Coplan, ConsequenceofSound.net
Twitter: @macsabbath
Tumblr: macsabbath
IG: @officialmacsabbath
Exclusive New Video Shows Ozzy Osbourne Witnessing Mac Sabbath For The First Time first appeared on Game On Media.