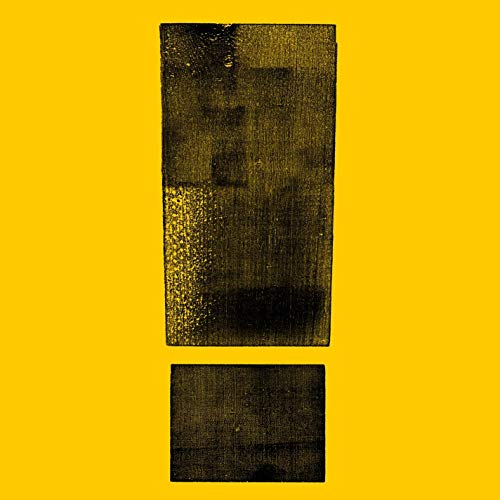 2018 was one of the best years in recent memory when it comes to quality album releases from some of the biggest names in hard rock. The most common theme was struggling with the past couple of years, both internally and externally, while searching for a path to better days and a hopeful future.
Most people don't listen to music on hard media these days, but if any of you happen to have any of these on vinyl, give it a spin and let us know how much better it sounds.
Here are our 33-1/3 favorite hard rock albums of 2018.
1. Shinedown – ATTENTION ATTENTION

Not only a great collection of individual songs that grow on you as time passes, but a concept album exploring the human condition and fragile state of mind.

Best song: GET UP

2. Tremonti – A Dying Machine

On Mark Tremonti's 4th solo album, the band is at the top of their song writing game, and Mark's vocals are his best yet.

Best song: Bringer Of War

3. Halestorm – Vicious

Halestorm continues to elevate, expanding their style and always delivering substance. Lzzy Hale's voice reaches insane heights on this album, full of swagger and a wink of the eye.

Best song: Do Not Disturb

4. Bullet For My Valentine – Gravity

A biting tale of betrayal and redemption, with gnarly guitars and snarling sing along choruses.

Best song: Over It

5. Adelitas Way – Live Love Life

An exploration into sound and instrumentation, with a lot of heart. A band that keeps getting better with time.

Best song: Still Hungry

6. Atreyu – In Our Wake

This album just moves you physically and emotionally, a nonstop assault on your senses.

Best song: Anger Left Behind

7. Sevendust – All I See Is War

Some bands improve with age, and Sevendust is one that keeps writing better and better songs.

Best song: God Bites His Tongue

8. Godsmack – When Legends Rise

Godsmack returned with their best work since the first two albums. Killer lyrics and a few chances vocally and musically that really pay off.

Best song: Under Your Scars

9. Like A Storm – Catacombs

If you don't know this New Zealand band of brothers, you are missing out. Creative sounds and meaningful lyrics.

Best song: Complicated (Stitches & Scars)

10. Judas Priest – Firepower

The Metal Gods put together their best album since Painkiller, almost 3 decades ago. Shreds upon shreds, and Rob Halford just killing it.

Best song: Rising From Ruins

11. Disturbed – Evolution

Disturbed extended themselves on Evolution, exploring new sounds while addressing the lost of loved ones to addiction and depression. While not quite the grand slam that Immortalized, it is still another home run from a band who is now 7 for 7.

Best song: A Reason To Fight

12. Pop Evil – Pop Evil

Pop Evil self titled this album, fittingly so as it sums up all of the best qualities of the band. Tight musicianship, inspiring vocals and meaningful lyrics.

Best song: Be Legendary

13. All That Remains – Victim Of The New Disease

The mysterious death of founding guitarist Oli Herbert shortly before the album's release lends an otherworldly quality to this powerful performance. The songs are full of guitars and intense vocals.

Best song: Everything's Wrong

14. P.O.D. – Circles

P.O.D. knocks it out of the park on this one, mixing old school hip hop into their Cali vibe rock and roll.

Best song: Soundboy Killa

15. Alice In Chains – Rainier Fog

The last ones standing are still setting the bar for the Seattle sound.

Best song: Never Fade

16. Ghost – Prequelle

Perhaps the first concept album based on the Plague and the Black Death which killed off half of Europe, Prequelle is spooky, spiritual and catchy.

Best song: Dance Macabre

17. Nonpoint – X

Nonpoint continues their unique phrasing and riffing on their 10th album, another stellar effort.

Best song: Fix This

18. Red Sun Rising – Thread

Red Sun Rising continues the hit-making momentum on their second effort, proving that they will be around for a long time.

Best song: Veins

19. Parkway Drive – Reverence

This is the heaviest album on the list, and probably tops most metal lists for the year. Very aggressive, but also full of hooks.

Best song: The Void

20. Ice Nine Kills – The Silver Scream

Each song is based off of a classic horror movie, a concept that could get corny but never does here, as the tunes stand on their own and the lyrical content touches on an aspect of the movie without becoming cliff notes.

Best song: A Grave Mistake

21. Slash featuring Myles Kennedy and the Conspirators – Living The Dream

One of the most complete albums that Slash has delivered in some time. The Conspirators are a tight band and this sounds most like a band album, rather than a solo act.

Best song: Mind Your Manners

22. Five Finger Death Punch – And Justice For None

5FDP has a formula and they are sticking with it. Fast songs, ballads, and interesting cover songs.

Best song: When The Seasons Change

23. Breaking Benjamin – Ember

The band who practically invented the rock radio sound does it again, showcasing their immense vocal talent and musicianship.

Best song: Torn In Two

24. Three Days Grace – Outsider

Three Days Grace finally comes into its own with this version of the band, ditching the self-loathing for an optimistic view on life.

Best song: The Mountain

25. The Alarm – Equals

Legendary rebels The Alarm returned with an outstanding record, still questioning the status quo and pushing for peace.

Best song: Peace Now

26. Dorothy – 28 Days In The Valley

Dorothy Martin has one of the best bluesy rock voices that you will ever hear. This trippy album could be the soundtrack to a Quentin Tarantino movie.

Best song: Ain't Our Time To Die

27. Jonathan Davis – Black Labyrinth

The leader of Korn has been quietly working on his solo album for years, and we finally got to experience the fruits of his labor. Very personal and very deep.

Best song: Basic Needs

28. Myles Kennedy – Year Of The Tiger

Somehow Myles Kennedy found time between Alter Bridge and Slash commitments to put out a solo album. This is all Myles, which means it is amazing.

Best song: The Great Beyond

29. Suicidal Tendencies – STill Cyco Punk After All These Years

A sort of new album, which is actually a re-recording of an old Mike Muir solo album. Doesn't matter, it's new to me and it is infectious.

Best song: Ain't Gonna Get Me

30. Avatar – Avatar Country

Dilly Dilly! Avatar returned with an album exclusively about the King. Always heavy and always fun.

Best song: The King Wants You

31. Amaranthe – Helix

Amaranthe fears nothing, blending all kinds of music, with three vocalists getting into the mix.

Best song: Inferno

32. Skillet Side Dishes: Ledger – LEDGER, Fight The Fury – Still Breathing

The members of Skillet took a hiatus and produced 2 separate EP's. Drummer/vocalist Jen Ledger put out a strong solo album, co-produced by guitarist Korey Kooper. Bassist/vocalist John Kooper got his metal on with guitarist Seth Morrison.

Best song: Not Dead Yet, My Demons

33. Greta Van Fleet – Anthem Of The Peaceful Army

Hot newcomers Greta Van Fleet, the family band with the Zeppelin sound, put out their first full album. While not as strong as their EP From The Fires, it still boasts some great tracks.

Best song: Lover, Leaver (Taker, Believer)

33-1/3. Them Evils – Rollin' Stoned and Livin' Free (EP)

Them Evils is a throwback rock band on the rise. This EP showcases the promise of what is to come, real rock and roll shaking our asses.

Best song: Practice What You Preach
33-1/3 Best Hard Rock Albums Of 2018 first appeared on Game On Media.