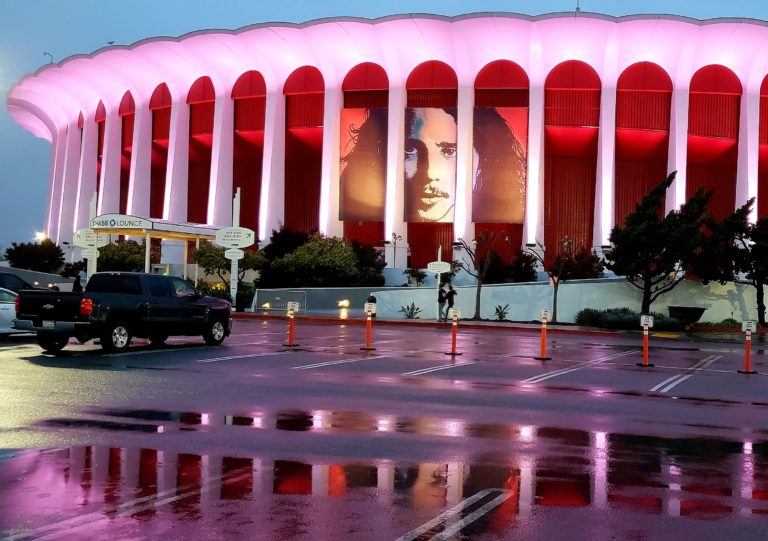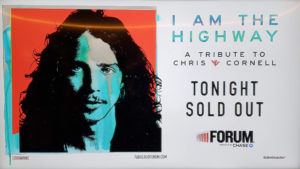 The I Am The Highway: A Tribute to Chris Cornell concert was held at The Fabulous Forum in Inglewood, California on January 16, 2019. Chris Cornell died by suicide on May 18, 2017, after an extensive career with 3 bands that were worshipped by fans – Soundgarden, Temple Of The Dog and Audioslave. He also had a successful solo career, with memorable acoustic tours and soundtrack contributions. His friend Chester Bennington, lead singer of Linkin Park, also died by suicide 2 months later on what would have been Chris' 53rd birthday, July 20, 2017. While the Chester Bennington tribute concert touched long and often on the topics of suicide prevention and mental health awareness, the Chris Cornell tribute was focused on the music that Chris created over the course of 33 years.
The Chris Cornell songbook spans so many styles and contains so many well-loved songs that it took 5 hours to do it justice. It also took an unprecedented combination of artists who crossed all artificial boundaries of music to offer their take on this classic material. Hollywood's biggest stars showed up to introduce musical collaborations between members of Cornell's family, his bands and admirers from the metal, rock, alternative, country, pop, reggae and R&B worlds. Fans braved the rain and Los Angeles traffic as they travelled from all around the globe to be part of this special night.
The show began with an introduction by Soundgarden members Kim Thayil, Ben Shepherd and Matt Cameron. Matt Cameron spoke about the journey to this night, and how he gained the strength to put this together by listening to all of Chris' music. He introduced the first performers of the evening, The Melvins, one of the founders of the Seattle sound. The band featured Buzz Osbourne on vocals and guitar and Dale Crover on drums and vocals, along with 2 bass players, Jeff Pinkus and Steven Shane McDonald. They launched into a tight medley of grungy songs – "The Kicking Machine", "With Yo' Heart, Not Yo' Hands", "Leech", "Let It All Be", "Honey Bucket" and Soundgarden's breakout hit "Spoonman".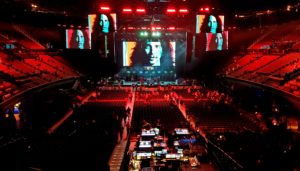 The organizers used a rotating stage with a center barrier of lights, so that they could quickly break down and set up while performers were playing. They also used videos on the large screens to help distract the viewers during transitions. The first video featured Cornell's wife and children, along with many musicians and actors, who shared their love of Chris and vowed to keep the promise he made to protect the innocent and vulnerable. See https://thepromisetoact.org/ and #keepthepromise for more details. Pete Thorn played acoustic guitar, as Rita Wilson sang "The Promise", from the movie of the same name, about the Armenian genocide.
Jimmy Kimmel emerged as emcee of the evening and reminisced about moving to Los Angeles 25 years ago to work at KROQ radio, about the time when Spoonman came out. He was very busy throughout the night, as the crew worked hard to set the stage between acts. Nearly every song had a different ensemble of musicians, so this was no small feat. During large changes, videos of some of Cornell's greatest performances were shown, including a live video of "Ritual", a live acoustic rendition of Michael Jackson's "Billie Jean", candid photos shown with his acoustic rendition of "I Am The Highway", Soundgarden's "My Wave", and "Scar On The Sky" live.
Nikka Costa and Alan Johannes performed "Disappearing One", a Chris Cornell song. Courtney Cox and Kaley Cuoco came out to speak about https://ebmrf.org/, the charity beneficiary of the evening. Chris Stapleton played another Cornell song, "The Keeper". Then things turned up several notches as Foo Fighters took the stage. They tore through Soundgarden's "No Attention", "Girl U Want" and "Earache My Eye". The band left the stage but Dave Grohl said he could not leave without playing one more song for Chris. He led the crowd through an emotional "Everlong" on electric guitar.
John Carter Cash talked about getting to know Chris when his father Johnny recorded "Rusty Cage", how he could see that there was love inside. Josh Homme of Queens Of The Stone Age performed the song after explaining how people die but great music lives forever. Next to the stage was Adam Levine and Jesse Carmichael of Maroon Five and Stone Gossard of Pearl Jam who performed "Seasons" from the Singles soundtrack, which was one of the best moments of the night.
Miley Cyrus was the most surprising performer of the night, delivering a powerful rendition of Cornell's "As Hope And Promise Fade" AKA "Two Drink Minimum". She has come a long way since her Hannah Montana days, and she impressed everyone with her ability to deliver this song.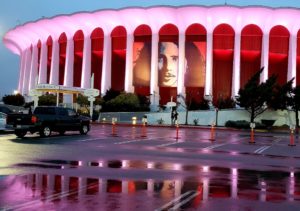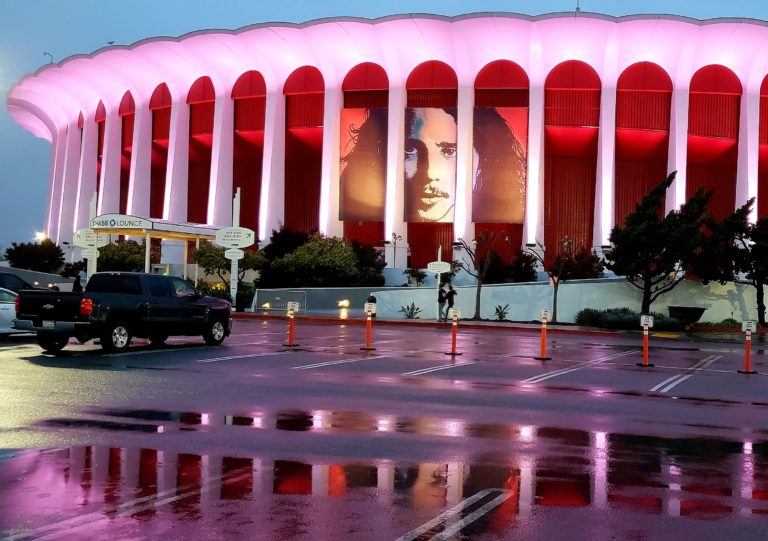 The next extended set was Audioslave with Tom Morello on guitar and Brad Wilk on drums. They rotated singers and bassists throughout their set. First up was Perry Farrell from Jane's Addiction on vocals, and Black Sabbath's Geezer Butler on bass for "Cochise". Actress Juliette Lewis replaced Farrell for "Be Yourself", giving her all with a spirited performance. Jane's Addiction's Chris Chaney took over on bass as Rise Against's Tim McIlrath belted out "Set It Off" with help from Sam Harris, and Brandi Carlile led the crowd through a heartbreaking "Like A Stone". Dave Grohl of Nirvana and Foo Fighters blasted "Show Me How To Live" with Robert Trujillo of Suicidal Tendencies and Metallica on bass. Tom Morello took a moment to talk about his friend Chris, and how he had his demons, but he rode them for 52 years as a rock legend. His light will never be outshined. We will always have his beautiful voice and our love for him.
Showcasing how much of an impact Chris Cornell had on this world, some of Hollywood's heroes stepped up to contribute. None other than Brad Pitt came out to introduce Chris and Vicky's 14 year old daughter Toni Cornell, who performed "Redemption Song" (which she had performed with her Dad) with Ziggy Marley on guitar and backing vocals. Jack Black came out next, fawning over how Chris could sing a note that doesn't even exist, which once sung, opened a portal to another dimension. He spent a few minutes chatting with the audience and the stage manager, giving the crew time to set up for the next act. Metallica's James Hetfield strolled out for an impromptu jam of "One" with Jack.
Hetfield explained that they were grateful to be a part of this event, and there to have fun celebrating life. They had dedicated several songs to Chris during their 2017 performance at Rock On The Range, which Soundgarden had been scheduled to play the day he died. He also commented on how he absolutely loved the lyric "All your fears are lies" and how the band loved Soundgarden's earliest, heaviest material. Metallica sandwiched 2 Soundgarden songs from their first album "Ultramega OK" – "All Your Lies" and "Head Injury" – around their own classics "For Whom The Bell Tolls" and "Master Of Puppets".
Josh Brolin came on to announce that the Chris and Vicky Cornell Foundation had raised over $1 million for homeless, poor, abused or neglected children. Vicky Cornell, was clearly overwhelmed with emotion, but she gave thanks to everyone for coming, and noting how the event showcases Chris' contributions to music history across genres and generations. Ryan Adams came out with a full string section playing "Dead Wishes" and "Fell On Black Days".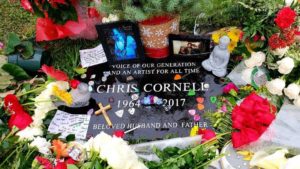 Jimmy Kimmel thanked all the artists and all the fans for attending, and then introduced the Temple Of The Dog set. Stone Gossard represented throughout on guitar, with Jeff Ament on bass for the final five songs. Matt Cameron, Josh Freese and Matt Chamberlain alternated on drums throughout the set. Alain Johannes handled most of the lead guitar duties. Nikka Costa sang "Preaching The End Of The World" with Brendan O'Brien on bass, and "Can't Change Me" with Eric Avery on bass. Jerry Cantrell and William DuVall of Alice In Chains ripped through "Hunted Down". Fiona Apple gave a classy, sultry turn on "All Night Thing". Nikka Costa returned to back up Miguel, who gave perhaps the best vocal performance of the night on "Reach Down", leading the arena through the soaring chorus. If that wasn't the best performance, then it was Miley Cyrus rocking "Say Hello 2 Heaven", with a heartfelt performance saying it was an honor to have sang this song and thanking Chris for bringing everyone together as he always had. Cyrus showed rock vocal chops and stage presence on this one. Brandi Carlile and Chris Stapleton finished the set with "Hunger Strike".
Stone Gossard gave a speech, touching on how we were all there to share, grieve and celebrate a bluesman who turned his feelings into songs, and he thanked the universe for a complicated man who gave us all so much. Lilly Cornell-Silver, his eldest daughter shared that he loved what he did and he only did it because he loved it. Jimmy Page pre-recorded a video admiring Chris and his music and thanking him for his contributions to the rock canon. Christopher Cornell then introduced his Dad's first band, the one that started it all, Soundgarden.
Matt Cameron, Kim Thayil and Ben Shepherd played 8 songs with all of the passion and desperation as if it were to be for the last time. Taylor Momsen of The Pretty Reckless, who had been opening for Soundgarden on their final tour, opened things up with "Rusty Cage". Marcus Durant sang on "Flower" and "Outshined", which featured Stone Gossard. Taylor Momsen returned for an intense "Drawing Flies" with 2 saxophone players, and "Loud Love" with Tom Morello and Wayne Kramer. Foo Fighters drummer Taylor Hawkins sang lead for "I Awake" and "The Day I Tried To Live", both with Buzz Osborne of the Melvins. Brandi Carlile finished things off with Tim and Phil Hanseroth offering backup vocals on "Black Hole Sun", and Peter Frampton joining in on lead guitar. Everyone left the stage, except for Kim and Ben, who played feedback through their instruments for what seemed like forever, with nobody wanting this night to end, and the finality of the loss of the greatest rock voice of several generations being gone forever hitting hard. After 5 solid hours of music, it was staggering to think of all of the legendary songs one man created, and all of the incredible tunes that were not even played that night. One thing was abundantly clear – Chris Cornell's music, artistry and vibrations will surely live on.
The I Am The Highway tribute was a celebration of the life and music of Chris Cornell and benefitted the Chris and Vicky Cornell Foundation as well as The Epidermolysis Bullosa Medical Research Foundation, a nonprofit dedicated to raising funds and awareness for this painful and debilitating genetic disorder. This was one of the causes that Chris cared deeply about and supported through his commitment to helping others. Ticket purchases also included a complimentary CD, Chris Cornell Career Retrospective Album, which features over 60 songs spanning his career with Soundgarden, Temple of the Dog, Audioslave, and his solo work. It is the first new Chris Cornell release since his death in May 2017.
Chris Cornell Tribute Unites Artists From All Genres first appeared on Game On Media.