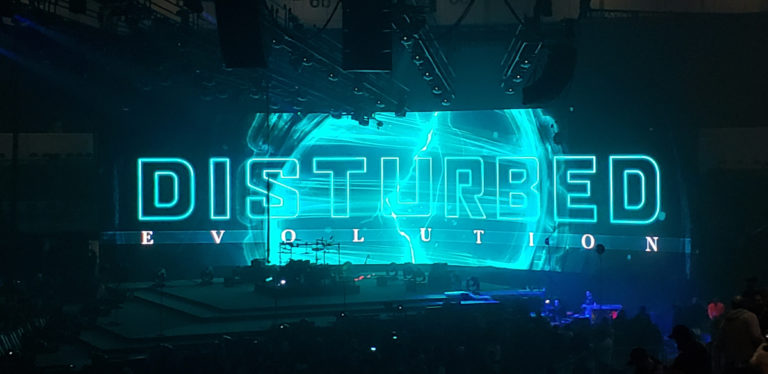 The Pechanga Arena in San Diego, California was full of Disturbed Ones on January 9, 2019, as Disturbed kicked off their Evolution Tour. Their massive stage protruded out into the middle of the arena, a multi-level angled structure that resembled an Imperial Star Destroyer, providing plenty of front of the rail spots. There was a massive curved screen behind the stage, basically the biggest TV you have ever seen. The show began with a lengthy introduction video, featuring video footage of the band through the years, narrated by vocalist David Draiman. The theme was deciding how to overcome your demons and darkness, using music as a weapon. Quotes were displayed over the images, such as:
WHEN MUSIC IS THE WEAPON, WE ARE ALL INDESTRUCTIBLE
WHEN MUSIC IS THE WEAPON, YOU MUST BELIEVE IN THE CAUSE
WHEN MUSIC IS THE WEAPON, THE SICKNESS IS THE CURE
WHEN MUSIC IS THE WEAPON, A WORLD ARMY UNITES
WHEN MUSIC IS THE WEAPON, EVERY FIST HAS A VOICE
WHEN MUSIC IS THE WEAPON, WE MUST EVOLVE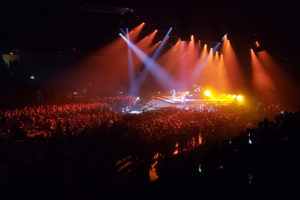 The band then emerged from the darkness, blasting into "Are You Ready", the lead single off their latest album. This was followed seamlessly by "Prayer". Draiman welcomed the excited crowd with his immortal greeting, "My brothers and sisters, my blood!" before launching into "The Vengeful One" which brought the first flashes of fire into the arena.
The video screen was used to great effect, adding visual texture to the light show, combining recorded clips and distorted footage of the actual performance. The energy was highest during this stretch, with much of the floor section turned into a swirling mosh pit as they played "The Animal", "Immortalized", "Stupify" and "Voices", which opened with a Dan Donegan guitar solo that turned into an instrumental as bassist John Moyer and drummer Mike Wengren joined in.
Disturbed Photos by Matthew Belter: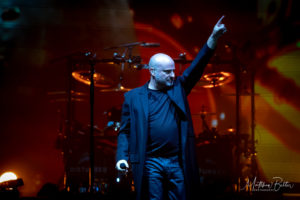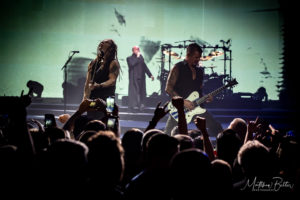 Draiman apologized for not being his best self, as he is still getting over pneumonia. You would have never known that anything was wrong if he hadn't mentioned it. His voice was outstanding throughout the night. He immediately proved that by adding an acapella intro to "Land of Confusion". That was followed by a new acoustic song, "Hold On To Memories" accompanied by a touching video montage of photographs of the band members with their families and friends interspersed with live footage of some of their musician friends who have left us too soon, including Chris Cornell, Chester Bennington, Scott Weiland, Dimebag Darrell and Vinnie Paul. Draiman explained the song's meaning by asking us to remember our lost loved ones – "Hold them in your heart. Hold them in your soul. They are always with you."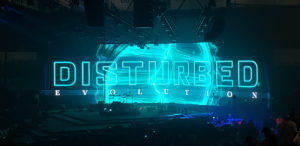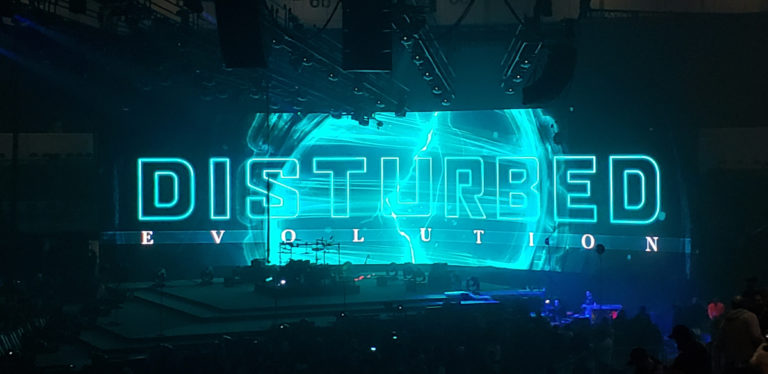 With the crowd's emotions running raw, John Moyer changed the mood with a funky bass solo, which lead into a Mike Wengren drum solo, which turned into the funky dance tune from the first album, "The Game". After that emotional release, it was right back to heartfelt pleas to intervene, with a pre-recording asking fans to help those who are in crisis and fighting battles for their very lives. Hotline numbers were shown, along with a call to action:
IT'S UP TO US TO SHOW THEM THAT THEY AREN'T ALONE, THAT THEY HAVE NOTHING TO BE ASHAMED OF, THAT WE UNDERSTAND, AND THAT WE WILL FIGHT WITH THEM, AND FOR THEM. FOR THOSE YOU KNOW, WHO ARE WAGING THIS INTERNAL WAR, THE TIME TO BE A TRUE FRIEND AND ADVOCATE, AND TO INTERVENE, IS NOW. TO HESITATE, IS TO LOSE A CHANCE TO SAVE THEM YOU MAY NEVER GET AGAIN.
National Addiction Hotline – 1-800-662-4357
National Suicide Prevention Lifeline – 1-800-273-8255
Disturbed then emerged on a second, hidden stage in the middle of the arena, to deliver the powerful new ballad "A Reason To Fight". They then made their way back to the main stage, where a piano had been placed for a Dan Donegan piano solo intro to "The Sound of Silence". They were joined by an acoustic guitarist, string players, and timpani drums for Mike Wengren. The song continued to build in drama, when the piano burst into flame which burned through the rest of the song! Draiman's vocals were insanely powerful despite his illness and having already performed a full set.
They kicked things back into high gear with "Indestructible" and "Inside The Fire", quite literally with fire bursts behind the drum kit and all around stage that lit up ropes hanging from rafters. After the song, the crew set out fire boxes for the still burning ropes to drop into and then extinguished them off stage, thus completing more than 90 minutes of passion and emotion.
They were not done yet. Draiman joked that "No sickness, no injury shall stop me from my scheduled duties of rocking you." The crowd provided the special effects for the next song, shining their phone flashlights during each chorus of "The Light". To top it all off, everyone was "Stricken" "Down With The Sickness". As everyone already knew, WE ARE ALL DISTURBED!!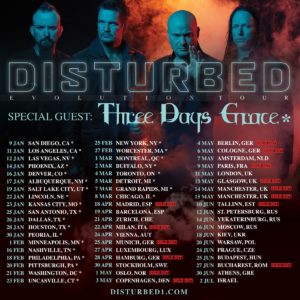 Do NOT miss this tour. With Three Days Grace opening up, this is one of the best nights of rock you will ever witness. Find tour dates on the Disturbed website.
http://www.disturbed1.com/
Three Days Grace Photos by Matthew Belter: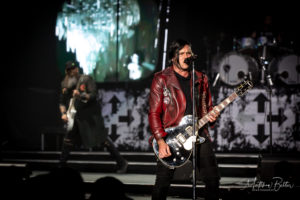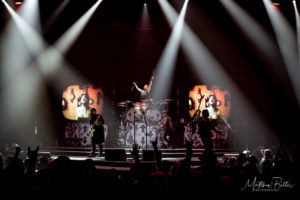 Disturbed Kicks Off Evolution Tour in San Diego first appeared on Game On Media.