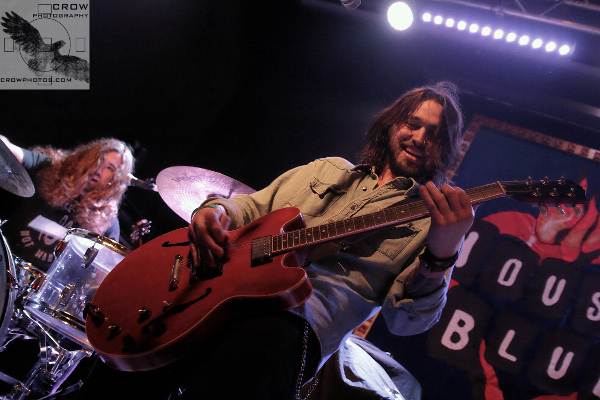 Them Evils set to tour with Pop Evil, appearing on ShipRocked Cruise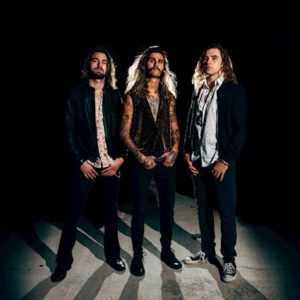 Them Evils is:
Jordan Griffin– Guitars/Vocals
Jake Massanari – Bass
David Delaney II – Drums
Southern California based Them Evils are heading back out on tour to kick off the New Year in direct support for Pop Evil.  Along the way they will be setting sail on the ShipRocked Cruise, where two live performances are slated.  The band continues to promote their "Rollin' Stoned and Livin' Free" EP as they add the track "Practice What You Preach" to their live shows and put the finishing touches on a new song to be released in the late 1st quarter of 2019. The band played more than 100 dates in 2018, including a national tour with stops at Welcome To Rockville, Carolina Rebellion, and main stage @ Rock On The Range.
Them Evils had a breakout year in 2018 with 1st single and video "Got Me Rockin'", which premiered @ Loudwire. Key playlist adds including Spotify, Rock Hard & Riffsplaylists, Alternative Press Discover, and Loudwire Wired Weekly; Apple Music Breaking Hard Rock; Pandora New Rock channel; Google Play Music Rock Hotlist and Hard Rock Hotlist radio, and Slacker radio New Rock Now helped the band gain momentum.  Press looks have included Kerrang, Loudwire, AXS, Rock Revolt, Alternative Addiction and others that added to the bands critical acclaim.
Them Evils' late-night joyride through Rock N' Roll's seedy underbelly was born in the shadows of neon vice and nocturnal living in Las Vegas, when Jordan and Jake met in High School.  They started writing and playing together and knew that they had a chemistry that was undeniable. In 2013 they made the move to Southern California to pursue their music professionally – with nothing to fall back on other than their drive and belief in their music and each other. They connected with David through a friend that worked at a bar with Jordan and who knew they were looking for a permanent drummer. Delaney auditioned for Griffin and Massanari, and all 3 knew it was a good fit immediately. The nasty energy befitting their name grew from there.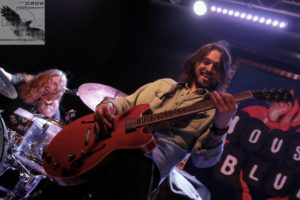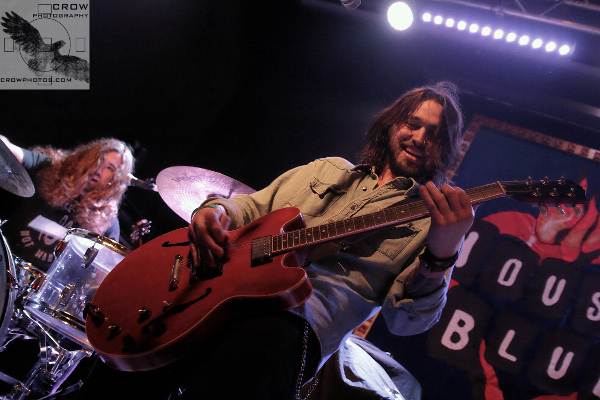 Inspired by equal parts of rock giants like Led Zeppelin, AC/DC, and Queens of The Stone Age, among others, the band pays tribute to their roots while carving out their own unique sound.  Them Evils music is at times throwback without being too derivative and is thoroughly modern. "We pretty much made our own scene," Griffin says. "We started out doing straight up rock and roll, and that's what we're still doing… That said, we're always evolving."
The band has previously released Two EPs: their debut Cold Black Love (2015) and the self-titled Them Evils (2016). They made inroads @ Active Rock Radio in 2017 with "She Got Nothin", which peaked @ #22 on the BDS Rock Indicator chart.
They were born for the stage and have been road warriors for the past 4 years – the band have caught the ear of no less an icon than Zakk Wylde, who had them open for Zakk Sabbath in 2017.  They regularly do Club tours, as well as touring with The Pretty Reckless, Alter Bridge, Red Sun Rising, and 10 Years, among others. The band plans to continue touring, with breaks to finish recording additional new music to be released in the latter part of 2019.
Track Listing: 
1). Got Me Rockin'
2). She Got Nothin'
3). Gets Me High
4). Have One On Me
5). Untold
6). Practice What You Preach


Them Evils Upcoming Tour Dates with Pop Evil: 
1/16 – Lincoln, NE – The Bourbon
1/17 – Denver, CO – Summit Denver
1/18 – Wichita, KS – The Cotillion Dallas
1/19 – Oklahoma City, OK – Diamond Ballroom
1/20 – Dallas, TX – House of Blues
1/23 – Houston, TX – House of Blues
1/24 – Austin, TX – The Lost Well
1/26 – 1/31 ShipRocked – Cozumel, Mexico
2/02 – Richmond, VA – Canal Club
2/05 – Lancaster, PA – Chameleon Club
2/07 – Chicago, IL – House of Blues
2/08 – Ft. Wayne, IN – Clyde Theatre
2/09 – Peoria, IL – Monarch Music Hall
2/10 – Louisville, KY – Mercury Ballroom
2/12 – Nashville, TN – The Cowan
2/13 – Fort Smith, AR – Temple Live
2/14 – Springfield, MO – The Complex Springfield
2/15 – Kansas City, MO – The Truman
2/16 – Madison, WI – Majestic Theater
2/17 – St. Paul, MN – Turf Club
2/20 – Spokane, WA – The Pin!
2/21 – Seattle, WA – The Funhouse
2/22 – Portland, OR – Paris Theatre
2/23 – Boise, ID – The Olympic
2/24 – Salt Lake City, UT – Urban Lounge
Connect with Them Evils:
Official Band website: https://themevils.com
iTunes: https://itunes.apple.com/us/album/rollin-stoned-and-livin-free-ep/1365172355?app=itunes&ign-mpt=uo%3D4
Spotify: https://open.spotify.com/album/150BMhgTVIciTUEiGckBq8?si=_nQ1l_8oRLu-aZ9Bf7XR9g
Facebook: https://www.facebook.com/ThemEvils
Instagram: https://www.instagram.com/themevils/
Twitter: https://twitter.com/themevils
Youtube channel: https://www.youtube.com/c/ThemEvils
Bands In Town: https://www.bandsintown.com/themevils
Them Evils Set to Tour with Pop Evil, Appear on ShipRocked Cruise first appeared on Game On Media.