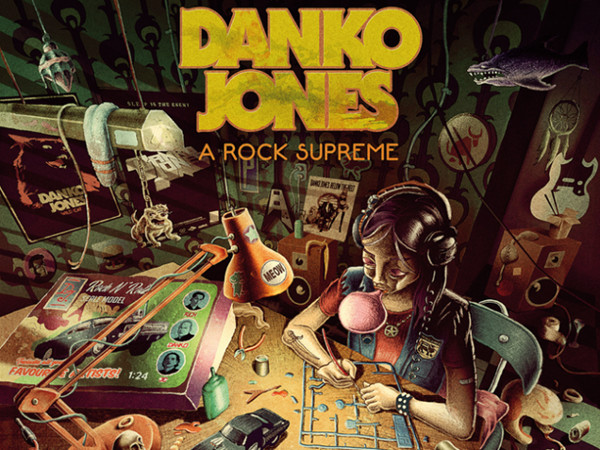 DANKO JONES Unveils 'Dance Dance Dance' Music Video
New album 'A Rock Supreme' due April 26; U.S. tour wraps up in Seattle
(Las Vegas, Nevada) – As they finish their first U.S. tour in five years in Seattle, the Canadian hard rock trio DANKO JONES has unveiled the Amir Chamdin-directed music video for their latest single, "Dance Dance Dance." The clip can be seen HERE.
Chamdin, an award-winning Swedish filmmaker who has previously helmed videos for the likes of Ghost and The Hellacopters, shot "Dance Dance Dance" last month in Stockholm and created something truly unique by combining two vastly different art forms – DANKO JONES' signature style of fist-pumping rock with an incredible single-take dancehall-inspired clip.
As longtime fans of his work, the members of DANKO JONES were excited to collaborate with Chamdin and gave him free reign to bring his vision of their song to life. Says front man Danko Jones, "We are excited to finally have Amir Chamdin directing the video for our new single, 'Dance Dance Dance.' We've been a huge fan of Amir's work for years now, and waiting to work with him was all worth it."
"Dance Dance Dance" – which premiered on Los Angeles' KLOS-FM last month, when Jones guested on the popular "Jonesy's Jukebox" program hosted by Steve Jones (Sex Pistols) – is the third track unveiled in advance of the release of the group's new album, "A Rock Supreme," which was produced by GGGarth Richardson (Rage Against The Machine, Red Hot Chili Peppers, Rise Against, Biffy Clyro). "A Rock Supreme" is due out April 26 via M-Theory Audio (U.S.), Rise Above (UK), Indica (Canada, AU, NZ) and AFM (rest of the world).
DANKO JONES – "A Rock Supreme" track listing:
1.    I'm In A Band
2.    I Love Love
3.    We're Crazy ( stream | video)
4.    Dance Dance Dance ( stream | video)
5.    Lipstick City
6.    Fists Up High
7.    Party
8.    You Got Today
9.    That Girl
10.    Burn In Hell ( stream | video)
11.    You Can't Keep Us Down
While the group's successful West Coast tour with Nashville Pussy and Prima Donna ends tonight, DANKO JONES will return to America later this year, when they will embark on the inaugural Megacruise with Megadeth, Anthrax, Testament and other legendary heavyweights. The band also has a number of high-profile European performances scheduled in the coming months, including a Helsinki date supporting The Offspring and appearances at Sweden Rock Festival and the Highfield Festival in Germany. Australian and Canadian dates will be announced shortly. A complete list of the group's upcoming shows can be seen at www.dankojones.com/tour.
DANKO JONES – whose namesake front man contributed guest vocals to Volbeat's 2017 #1 Active Rock hit "Black Rose," a song he performed live with the group at their recent stadium show in Denmark (captured on the newly-released DVD/Blu-ray "Let's Boogie! Live From Telia Parken") – has made a name for themselves over the years as a must-see live band during memorable tours with the likes of Guns N' Roses, Motörhead and Clutch. The group's best-known material includes "Had Enough," which earned the group their first gold and platinum singles in Sweden and has racked up more than 14 million Spotify streams; "Gonna Be A Fight Tonight," which WWE used as the official theme song of the 2015 Royal Rumble; and "Lovercall," their first of seven singles to crack the U.S. Active Rock Top 40.
DANKO JONES is:
Danko Jones on guitar, vocals
John "J.C." Calabrese on bass
Rich Knox on drums
Visit the band online:
dankojones.com
facebook.com/dankojones
twitter.com/dankojones
instagram.com/danko_jones
feeds.feedburner.com/dankojonespodcast
m-theoryaudio.com
DANKO JONES Unveils 'Dance Dance Dance' Music Video first appeared on Game On Media.