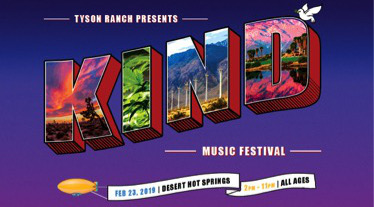 KIND MUSIC FESTIVAL
GARNERS SUPPORT FROM
CITY OF DESERT HOT SPRINGS
CHIEF OF POLICE
AND MAYOR'S OFFICE
IN ADVANCE OF THIS MONTH'S
SINGLE DAY POP-UP FESTIVAL:
SATURDAY, FEBRUARY 23
AT THE FUTURE SITE OF TYSON RANCH RESORTS
AS FESTIVAL SITE BUILD CONTINUES
In advance of the KIND MUSIC FESTIVAL–set to take place Saturday, February 23 at the future site of Tyson Ranch Resorts, a 420-acre Desert Hot Springs, CA–city officials have weighed in with their support for the inaugural event while the team continues to create a festival site surrounded by the scenic desert landscape.
"It is a great honor to host the inaugural KIND Music Festival in our City and we look forward to building a long-term partnership with Tyson Ranch through this venture," says City Manager Charles L. Maynard, City of Desert Hot Springs.
City Of Desert Hot Springs Chief of Police Dale Mondary added, "I would like to thank you for choosing the City of Desert Hot Springs to host the Kind Music Festival and it has truly been a pleasure working with you and your staff."
The one day, all-ages festival pop-up event will feature a recently updated line-up that includes performances from MIGUEL, FERG, STARCRAWLER, REESE LAFLARE, YONEE, D.I.E. and ALL MY FRIENDS HATE ME. The KIND MUSIC FESTIVAL will mark the first event at the Tyson Ranch Resorts, a 420-acre Desert Hot Springs, CA entertainment complex, luxury glamping resort, and cannabis research & design facility created and owned by Mike Tyson.
Hashtag: #KindFestival
Kind Music Festival Garners Support From City of Desert Hot Springs first appeared on Game On Media.