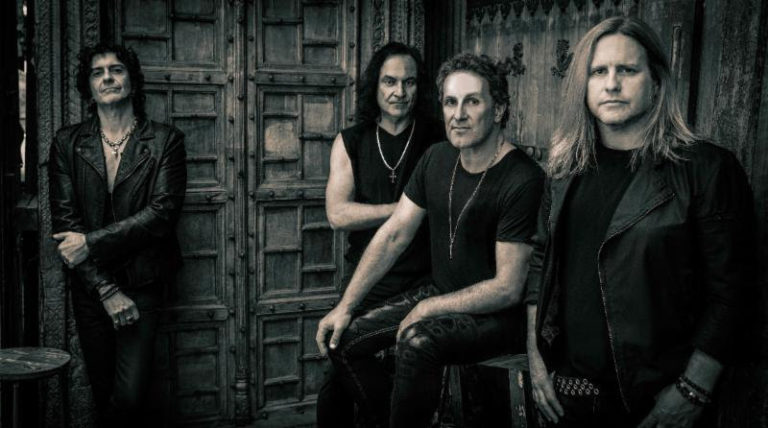 Last In Line's New Album "II" Out Via Frontiers Music Srl

New Video for "Blackout The Sun" Out Now –

WATCH
Their debut album, Heavy Crown, was a fine slab of melodic hard rock, and this new effort is arguably even better.
-LA Weekly-
An unforgettable reminder of what Vivian Campbell and Vinny Appice can do within the context of classic heavy metal.
-Metal Wani-
Campbell was one of the best riffmeisters of the 80's and he lets loose some killer guitar work here. Campbell…sounds rejuvenated, shredding like he did 35 years ago.
-Decibel-
Even Ronnie and Jimmy would agree that LAST IN LINE have come full circle on their legacy strictly on their own terms without the need to sound or flash its own horns to come from last to first.
-KNAC-
###
"I feel that the 'II' album displays a lot more confidence and ambition than 'Heavy Crown.' We've played a lot of live shows over the last 3 years and I think that we've really grown as a band and that's reflected in the song writing and playing on this record. We're a band at the top of our game," says Vivian Campbell when asked to comment about the release of "II."
Bassist Phil Soussan adds, "I feel very proud and very pleased with what we have done on 'II.' Respecting the creative roots of the DIO nucleus, it has taken from that classic style and shot it into a trajectory to create a valid contender in today's music. The album has universal appeal on the surface and depth where needed. Most of all I am thrilled about how the writing of this album was truly a collaboration between all of us and certainly nothing that could have been done any other way. This album makes a statement that LIL can be seen as an original band in its own right."
Last In Line was formed in 2011, when Vinny Appice, Jimmy Bain, and Vivian Campbell, (Ronnie James Dio's co-conspirators and co-writers on the "Holy Diver", "Last In Line" – the album from which they took their name, and "Sacred Heart" albums) teamed up with esteemed vocalist Andrew Freeman. The debut album "Heavy Crown" was released in February 2016, landing at #1 on the Billboard Heat-Seekers Chart. Initially, the release had been preceded by tragedy when bassist Jimmy Bain unexpectedly passed away at the age of 68 on January 23, 2016. Last In Line, honoring what they knew would be Bain's wish to keep the band moving, brought in renowned bassist Phil Soussan (ex-Ozzy Osbourne) and committed to sustained touring in support of the album, hitting festivals, headlining clubs, and sharing the stage with metal luminaries such as Saxon and Megadeth.
In late 2017, the band gathered in L.A. to start the recording of the second album, which was produced by the band members and Jeff Pilson (Foreigner, The End Machine, ex-Dokken), who also produced the debut album. Having really gelled as a band while touring in support of the debut album, the songwriting came readily to the members. They've created a record that shows a big progression in sound, while immediately being recognizable as Last In Line thanks to Vinny Appice's rhythms, thunderous bass from Soussan, amazing vocals from Andrew Freeman, and the roaring guitars of Vivian Campbell.
Tracklisting:
1. Intro
2. Blackout The Sun
3. Landslide
4. Gods And Tyrants
5. Year Of The Gun
6. Give Up The Ghost
7. The Unknown
8. Sword From The Stone
9. Electrified
10. Love And War
11. False Flag
12. The Light
LAST IN LINE LIVE:
3/20: Cincinnati, OH @ Bogart's
3/21: Midlothian, IL @ Cheers Live
3/22: St. Charles, IL @ Arcada Theater
3/23: Westland, MI @ Token Lounge
4/5: Golden, CO @ Buffalo Rose
4/6: Colorado Springs, CO @ Sunshine Studio's
4/26: Las Vegas, NV @ Golden Nugget Casino
4/27: Ramona, CA @ Ramona Mainstage
5/3: Wantagh, NY @ Mulcahy's Concert Hall
5/4: Poughkeepsie, NY @ The Chance Theater
5/5: Buffalo, NY @ Buffalo Iron Works
5/6: Warrendale, PA @ Jergels
5/9: New Bedford, MA @ Greasy Luck
5/11 – Teaneck, NJ @ Debonair Music Hall
5/12: Warrendale, PA @ Jergel's Rhythm Grille
6/14: United Kingdom @ Download Festival
Lineup:
Andrew Freeman – Vocals
Vinny Appice – Drums
Phil Soussan – Bass
Vivian Campbell – Guitars
For More Info Visit:
ABOUT FRONTIERS MUSIC SRL
Originally founded in Naples, Italy in 1996 by Serafino Perugino as a distribution company, Frontiers has developed into one of the premiere independent rock labels in the world. Synonymous with quality music across a broad spectrum, the company has worked with genre heavyweights such as DEF LEPPARD, WHITESNAKE, JOURNEY, YES, ELECTRIC LIGHT ORCHESTRA, RICK SPRINGFIELD, STRYPER, WINGER, MR. BIG, NIGHT RANGER and more. Aside from providing a home for classic artists, Frontiers also boasts a wealth of young, upcoming talent that, coupled with a savvy and forward-thinking A&R and marketing approach, will be developed into the future of rock 'n roll. With millions of records sold and multiple Top 10 album chart entries around the world, the label has also expanded with offices in the USA (Nashville) and UK (London). With a deep commitment to and passion for music and the artists who create it and with massive global distribution, sales and marketing channels, Frontiers is the premiere home for both established and emerging rock acts.
Subscribe to be alerted when we add new videos
Follow the 'Newest From Frontiers' playlist on Spotify
Last In Line's New Album "II" Out Via Frontiers Music Srl first appeared on Game On Media.