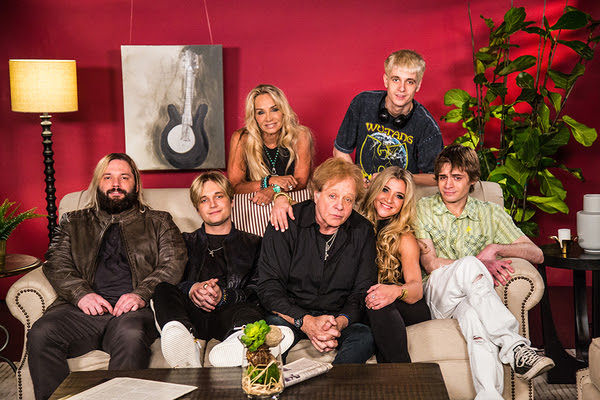 AXS TV , the premier destination for classic rock programming, announced today the Network's upcoming primetime programming lineup packed with premieres featuring returning favorites, a new addition, and a roster of legendary concerts.
Beginning May 5, the network will unveil all-new episodes of the popular music series Rock & Roll Road Trip With Sammy Hagar, following Rock & Roll Hall of Famer Sammy Hagar' s cross-country excursions as he interviews, jams, and parties with some of music's biggest names; and the original reality series Real Money , which documents the life of beloved showman Eddie Money and his talented family at home and on stage; as well as the new countdown series The Very VERY Best Of The 70s , executive produced by Katie Daryl and featuring a rotating roster of all-star guests. Also this month, the Network puts the spotlight on four unforgettable Classic Rock concerts headlined by some of music's biggest names.
"AXS TV is dedicated to giving our viewers the absolute best in classic rock and entertainment programming, and we're proud to continue that legacy with this new primetime lineup," said Evan Haiman, vice president of music programming and production, AXS TV. "This block truly has something for everyone to enjoy, whether it's following along with Sammy Hagar's rock adventures in Rock & Roll Road Trip, experiencing the heartfelt hilarity of the Money family in Real Money, taking a nostalgic trip back in time in The Very VERY Best Of The 70s, or reliving unforgettable concerts from some of rock's most influential acts. Our viewers are passionate, engaged, and incredibly receptive to our original content, and we look forward to providing them with even more of the quality programming we're known for."
AXS TV's complete schedule of May primetime premieres is as follows:
May 5
Rock & Roll Road Trip With Sammy Hagar —8pE
New timeslot, same Sammy! The Red Rocker, Sammy Hagar, returns in 12 all-new episodes as he talks and rocks with a roster of enduring icons. In the season premiere, Sammy cruises down to The World's Largest Honky Tonk, Billy Bob's in Fort Worth, TX, to take in some local bull-riding action before joining groundbreaking Country superstar Willie Nelson for a spirited conversation, and hitting the stage with Nelson for an unforgettable impromptu jam of the chart-topper's signature hit "On The Road Again." The season also features appearances and performances byVince Neil, Charlie Daniels, Maynard James Keenan, Eddie Money, Guy Fieri, Robbie Krieger, and many more.
Rock & Roll Road Trip with Sammy Hagar Presented by Seminole Hard Rock Hotel & Casino Hollywood, FL is produced in-house by AXS TV. Tom Consolo, Evan Haiman, Kari Hagar, and Sammy Hagar all serve as executive producers. The series is produced by Stephen Stormer.
Real Money —8:30pE

Real Money captures the daily lives of the Money family—which includes Eddie; Laurie, his wife of over 30 years; their five kids, Zach, Joe, Jesse, Dez, and Julian; and ten pets—as they live, laugh, bicker, and rock under one roof. Season two finds the clan attending a Money family reunion with Eddie's brothers and sisters in New York; on stage at their annual sold out concert in Detroit; hitting the lanes for a day of bowling; taking a family trip to South Dakota; and welcoming great dane puppy Bette to their growing pack.
Real Money  is produced by Enchanted Media with Victoria Levy, MJ Schirmer, and Shelley Storm as executive producers, in collaboration with executive producers Dina LaPolt, Steve Longo, Eddie Money, and Laurie Money.
May 16
The Very VERY Best Of The 70s —8:30pE

The Very VERY Best Of The 70s puts the spotlight on the enduring films, series, and pop culture moments that defined the 70s. In the season premiere, executive producer Katie Daryl guides special guests Morgan Fairchild, Barry Williams, Catherine Bach, Fred Willard, Anson Williams, David Chokachi and Mindy Cohn, to share their honest, hilarious, and always unfiltered thoughts on the classic entertainment that made this decade so groovy, as they countdown the best action TV shows of the 70s.
AXS TV Concerts: Classic Rock—Every Sunday in May at 9pE
The Eagles: Hell Freezes Over —May 5
Glenn Frey , Don Henley, Don Felder, Joe Walsh, and Timothy B. Schmitt reunite for the first time in 14 years, in this in-depth 1994 special boasting a career-spanning set that includes timeless renditions of "Hotel California," "Tequila Sunrise," "Desperado," and more.
Chicago —May 12
Soft Rock revolutionaries Chicago put their windy city sound on full display in a lively evening of hits featuring influential staples such as "Saturday In The Park," "Does Anybody Really Know What Time It Is?" and "If You Leave Me Now," among others.
Bad Company Live At Red Rocks —May 19
Bad Company rolls into one of the Country's most picturesque venues—the Red Rocks Amphitheatre in Denver, CO—unleashing a blazing set featuring signature hits including "Feel Like Makin' Love," "Crazy Circles," and "Rock 'N' Roll Fantasy."
Aerosmith —May 26
GRAMMY-winning Boston outfit Aerosmith shines in front of a sold out crowd, putting their signature blend of rhythm and blues-fueled rock on full display in this epic performance that includes "Crazy," "Dream On," "Sweet Emotion," "Livin' On The Edge," and more.
The post AXS TV Announces Slate of Primetime Premieres Coming in May appeared first on Age of The Nerd.