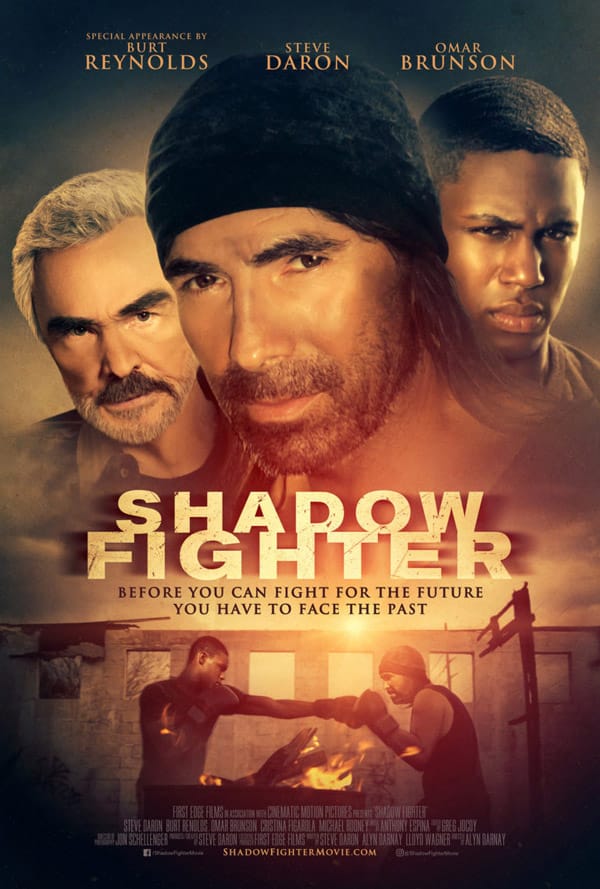 West Palm Beach, FL – (March 7, 2019) – Burt Reynold's final film, the independent urban drama, "Shadow Fighter," has now been released on all major VOD platforms after a festival run that garnered three 'Best Drama' awards.  The movie itself was a valiant endeavor by the filmmakers, but it's the story behind the picture that has captured Burt fans and moviegoers alike.
Over the past three decades Burt Reynolds was teaching post-graduate acting and filmmaking through his South Florida-based Burt Reynolds Institute, and contributing to the arts and youth education in the local communities.  In more recent years, he began taking a closer interest in some of his students; particularly in filmmaker/actor Steve Daron who trained under Reynolds for more than a decade.  As Daron was developing his second feature film, "Shadow Fighter," Reynolds got involved to lend his expertise, and perhaps to ensure at least one last ass-kicking role for the aging leading man.
Despite his older age, his spirit and drive were as young and lively as ever—as could be evidenced by the dozen films he acted in just in the past four years.  That said, to Daron and others, Reynolds voiced his frustrations about ageism in the industry, and the typecasting of senior actors into weaker, less aggressive roles. "Shadow Fighter" was having none of that—instead, it was checking all the boxes on Burt's priority list: the youth, arts, and filmmaking in Florida and the South, and of course, good old-fashioned storytelling with heart.
Following inner-city high-schooler, Reggie Hall (played by Omar Brunson from Sundance 2019's Big Time Adolescence), "Shadow Fighter" is a film about a young kid trying to avoid a life of crime, and who fortunately collides with a has-been boxer with a history of his own.  The film stars Brunson and Steve Daron, with Burt Reynolds supporting.
Burt Reynold's legacy of contribution and support of the youth & arts will continue with his long-running Burt Reynolds Scholarship which is next being presented by the Palm Beach County Film and Television Commission on April 5th, 2019.
The post Burt Reynolds Final Film Released appeared first on TV Grapevine.