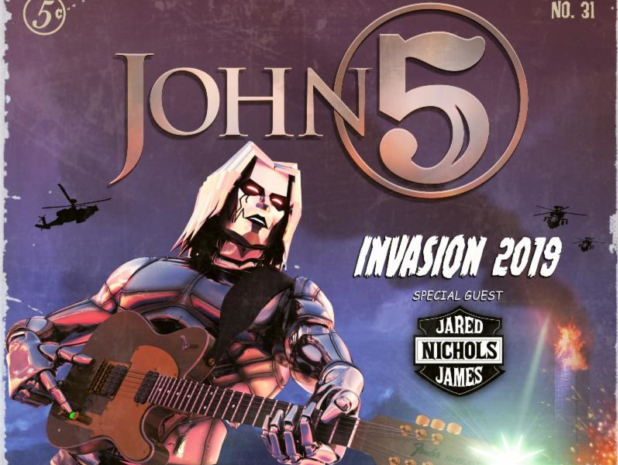 Los Angeles-Based John 5 Wraps Up North American Tour with Shows in Hollywood and Anaheim
Hollywood Show to Feature Guest Appearances by Corey Taylor, Michael Anthony, Shavo Odadjian and Fred Coury
SHOW INFORMATION:
John 5 – Invasion Tour
w/Jared James Nichols and Dead Girls Academy
April 6 @ The Whisky a Go Go
8901 Sunset Blvd.
West Hollywood, CA
Doors: 7 p.m.
Show: 7:15 p.m.
VIP Upgrades Available
Guest Appearances by Corey Taylor (Slipknot, Stone Sour), Michael Anthony, Shavo Odadjian (System of a Down) and Fred Coury
April 7 @ The Parish at House of Blues
400 W. Disney Way, Suite 337
Anaheim, CA
Doors: 6:30 p.m.
Tickets: $20
VIP Upgrades Available
World renowned guitarist JOHN 5 has worked with a varied range of artists, performing with some of the biggest headlining rock bands in the world such as Rob Zombie and Marilyn Manson, as well as playing session with Paul Stanley, Rod Stewart, Lynyrd Skynyrd and more.
Recently, JOHN 5 co-wrote three songs with Motley Crue, "Ride with the Devil," "Crash and Burn" and "The Dirt," for Motley Crue's The Dirt movie. Slash has called JOHN 5, "one of the most mind-blowing guitarists around" and Rob Zombie has dubbed him "a fucking shredder". JOHN 5 has released eight solo albums to date (including his live album, It's Alive), as well as a remix album, and has written music for the likes of Avril Lavigne, Garbage, Ricky Martin and others.
Similar to the release of 2017's Season of the Witch, the upcoming JOHN 5 AND THE CREATURES album, Invasion – scheduled for release during the summer of 2019 – will be released entirely via a series of music videos.
JOHN 5 has already revealed three videos from the Invasion. "Zoinks!" features an innovative blend of classic 2D hand drawn animation, 3D computer generated imagery and a live action performance. It also includes a cameo from Nikki Sixx voice-acting as himself, as well as additional voice acting from Susan Olsen (known for her role as Cindy Brady on The Brady Bunch) and Fred Coury.
The two-part track entitled "Crank It – Living With Ghosts" is a trippy video for a mind-boggling, hypnotic jam, beginning as a fluorescent, glow-in-the-dark extravaganza and transitioning with the music to something altogether more sinister.
"I Am John 5" acts as a sequel to "Zoinks!," once again featuring an innovative blend of classic 2D hand drawn animation and mind-blowing 3D computer generated imagery. The mad scientist in the "I Am John 5" video is voice acted by none other than Butch Patrick, a.k.a. the iconic Eddie Munster, himself.
JOHN 5 online:
Corey Taylor, Michael Anthony, Shavo Odadjian and Fred Coury to Join John 5 in Hollywood first appeared on Game On Media.