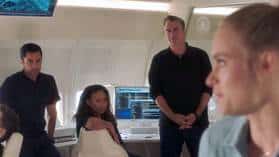 When a famous popstar's younger sister gets taken for ransom, Kit "Kick" Lannigan (Leven Rambin) and John Bishop (Danny Pino) uncover some shocking secrets within the star's inner circle. As the case unfolds, the team realizes the perpetrator may be closer to the family than they initially realized. Meanwhile, Frank (Chris Noth) worries that the mental and emotional demands of the job might be too much for Kick to handle. The all new episode, "Family Photo," airs Wednesday, April 3 at 9/8c on WGN America.
"Gone" is a 12-part limited series produced by NBCUniversal International Studios. Matt Lopez (The Sorcerer's Apprentice) serves as creator, writer and executive producer of the series, alongside executive producers JoAnn Alfano ("Resurrection," "30 Rock"), NBCUniversal International Studios' Executive Vice President of Scripted Programming, and Sara Colleton ("Dexter"), Kim Moses ("Reckless") and Barry O'Brien (CSI: Miami). The series is based on the novel, One Kick, from best-selling author, Chelsea Cain.
The post Gone Preview For 5/3/19 appeared first on TV Grapevine.