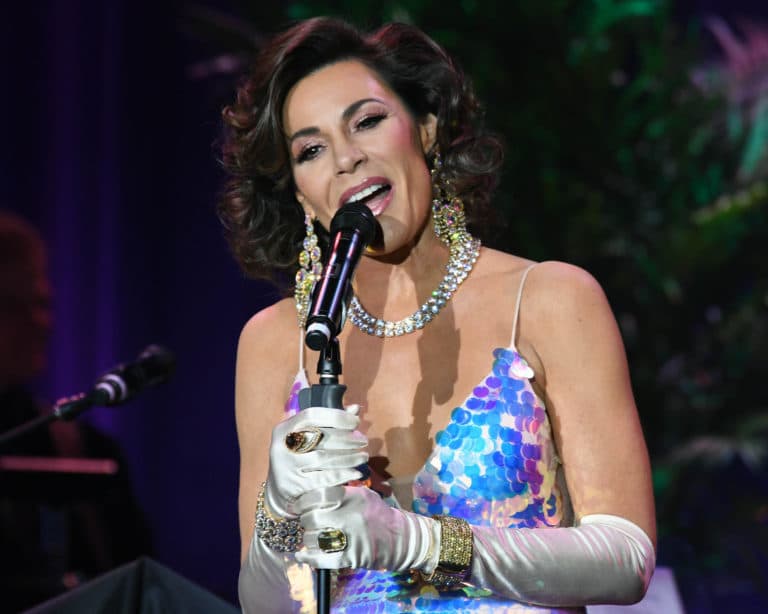 Real Housewives of New York City star Countess Luann de Lesseps performed for fans last night and had them entertained from start to finish. Here is a recap from the event.
On the heels of #lobstergate during "The Real Housewives of New York City" season 11, Countess Luann de Lesseps returned for another sold-out performance of her #CountessAndFriends Cabaret show last night at Borgata Hotel Casino & Spa in Atlantic City, NJ. "Borgata feels like home to me almost because I did my music video for Chic C'est La Vie here. It's such a great room, great ambience, and the crowd is always fantastic at Borgata," Luann shared backstage before taking the stage.
This was Lu's second time performing at The Music Box theater at Borgata after playing her biggest show yet at the casino-resort last summer. Surprise guests who took the stage throughout the evening included comedian and drag king Murray Hill and singer-songwriter Spencer Day. Luann even shared a smooch with Spencer after he serenaded her with "The Look of Love."
Countess kicked off the night with "With a Little Help from My Friends" before pulling up the bongos, a skill she currently she acquired during her most recent rehab stint, to play during "Fever." Throughout the evening, she read stories from the past 30 years from a bejeweled, homemade diary. A few highlights:
Housewives Turks and Caicos trip before breaking into a performance of "Girl Code": "After a wild night on the town, or as wild as you can get in the Turks & Caicos, I get woken up first thing in the morning, by heather having a nervous breakdown because there's a naked man in the house. I'm like, who died? Why are you crying? I mean I would have been taking selfies by now. I'm barely conscious in the morning, I have a pounding headache, the room is spinning, and Carol and Heather are slut shaming me. The guy wasn't even mine, he was Ramona's! Of course mine left at 3 a.m. in the morning — I'm no dummy. You think I'm going to let a guy wake up in a house full of housewives? Are you crazy? No way… Heather is the world's most annoying college roommate."
Her divorce to introduce "Diamonds are a Girl's Best Friend": "Dear diary, Tom and I are getting divorced. He cheated, and I'm keeping that diamond!"
Housewives Cartagena trip before singing "Something to Talk About": "Here I am with the girls in Cartagena. Everything was fine until our three hour boat ride to Gilligan's Island when all hell broke loose. I should have known the boat seemed a bit shifty to begin with. I mean quaint and charming are not things you look for in a seafaring vessel."
Memories of her mother before breaking into "Evil Ways": "I don't know how my mother does it. There are seven children in our house and one bathroom. You'd never know it though if you looked at her. She always had her hair done, she had her pantyhose on, the table was set. She's French Canadian and raising seven children in America in the 1970s. And I think her biggest fear is my brothers are corrupting me with keg parties and marijuana. I just know she wanted to see me grow up right, she was trying to set up an example. God knows, she tried."
Housewives trip to Mexico: "Everybody is drinking way too much. And Ramona and Bethenny have been in the pool for hours naked and crying. I thought I was doing okay until I fell into that bush. Tequila, yeah wasn't pretty. As I'm coming out of my face plant, Ramona offers up her immortal words of wisdom, 'you should have taken the stairs Lu' (while imitating the voice of Ramona)."
Highlights during an audience Q&A:
Her relationship with Dorinda:
"She had a bad night. We're trying to patch things up in our friendship because we've been friends for a long time. I love Dorinda, we're working on it."
Her relationship with Ramona:
"You know it's like your family. Sometimes you don't get along and you're like, "what did you just say?" At the end of the day, you have to come to the dinner table otherwise you don't eat. Don't ask me where I just got that one!"
Her least favorite New York Housewife of all time:
"I would say Alex McCord. Oh my god and Simon, oh my god!"
How to cope with getting a divorce:
"I've done it twice girlfriend — I have a little experience. Take the high road. Don't get down and dirty. And believe me, you'll get out quicker and things will be easier. You get a lot with honey. You know what I mean? Don't be mean and nasty. Always take the high road if you can."
F*ck, Marry, Kill: "Oh my god what a choice. I'm going to marry Dorinda. Yeah, I think I'd rather have sex with Ramona than with Dorinda. And yeah I'd have to kill Carol. She slept with my chef! Who was dating my niece don't forget. That's a true story."
Her biggest accomplishment:
"Performing here tonight at Borgata! If you go back in the Chic C'est La Vie music video you'll see all the chandeliers here at Borgata, and we filmed the show here in the casino. To be on stage with you guys, this is it. I've arrived!"
The last time she's seen Tom:
"To be perfectly honest, I have not seen Tom like in 18 months — a long time. But I try to avoid the Upper East Side at all costs."
How she deals with negativity from viewers/public:
"I learned a while ago, I must say after the first couple of seasons, to just block it out because it doesn't matter what people think of you. It matters what you think of you."
Where you will find her at the casino:
"I love black jack. My brothers taught me how to play — the ones that taught me how to smoke pot and drink from keg parties."
Her encore concluded the show with her fan-favorite hit, "Money Can't Buy You Class."
The post Real Housewives of New York City's Countess LuAnn de Lesseps Event Recap appeared first on TV Grapevine.