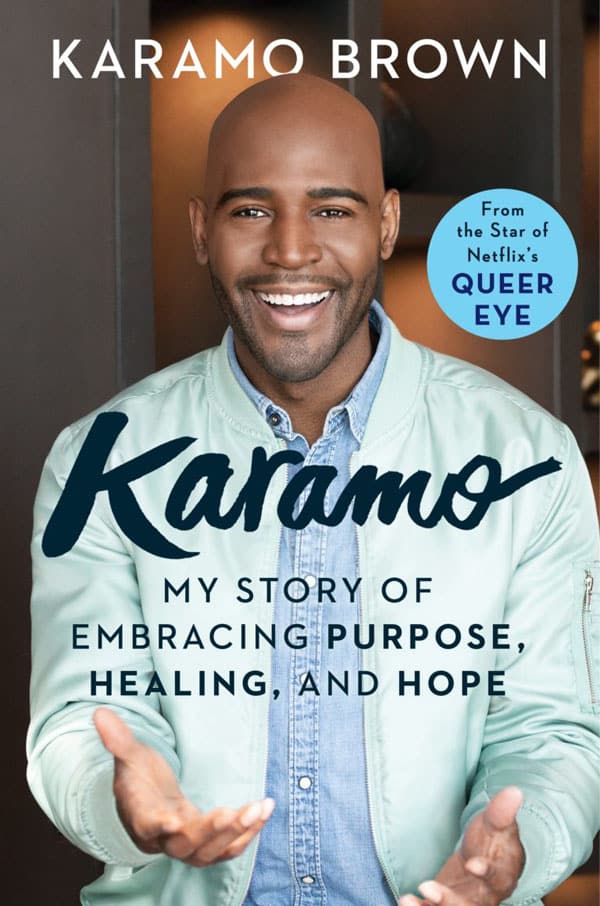 It's no secret that I am addicted to the Queer Eye for the Straight Guy franchise. I loved the original and am in the midst of binging the new season of the reboot. When I discovered Karamo Brown released a book, I was over the moon.
The book, titled KARAMO: My Story of Embracing Purpose, Healing, and Hope, goes in depth about his life, career and struggles. He holds nothing back and by the end, you feel as if you've made a wonderful friend. His incredible story will make you cry, cheer him on and leave you with a message of positivity and hope. He is a hero in his own way and made me want to be a better person.
Synopsis:
Since Netflix rebooted "Queer Eye" last year, Karamo Brown, the show's engaging, empathic resident therapist and culture expert, has helped people step outside their comfort zones and engage in the hard conversations with themselves and others to start becoming the confident, capable individuals they aspire to be.
I'd never admit this around the office, but I hadn't watched one second of "Queer Eye" before dipping into this manuscript (now I'm hooked!). Yet Karamo's strong voice and story immediately grabbed me. He writes thoughtfully and affectingly about colorism and homophobia; about addiction, abuse, and surviving a suicide attempt; about learning he was a father in his mid-twenties and the powerful bond he has forged with his son (and another adopted son) since; and – of course – about being part of the new "Queer Eye" Fab Five. A former social worker and psychotherapist, Karamo offers rare, nuanced insight into himself and others. And he's funny!
In addition to Netflix's "Queer Eye," Karamo Brown was cast as the first openly gay black man on reality television when he appeared on MTV's "The Real World," followed by "Dr. Drew on Call," "HuffPost Live," and "Access Hollywood Live." He also founded 6in10, an organization that provides mental health support and education to the LGBTQ+ community. Recently, Karamo was a keynote speaker at the 2018 Obama Foundation Summit.
Karamo really digs deep in this book. But you don't have to take my word for it. Here's what Booklisthas to say: "As the culture expert, or 'psychotherapist/life coach/emotional mentor,' on Netflix's überpopular 'Queer Eye' reboot, Brown helps the show's subjects connect with their interior selves while his colleagues in the Fab Five work on their more outward ones. His watershed casting on 'Queer Eye' came from a lifetime spent deciphering his own dreams, from when he first revered talk-show hosts like RuPaul, Oprah, and Phil Donahue as a young teen. Starting his memoir with the story of the name his father insisted on for him, and which translates to 'Educated Rebel,' Brown is candid and warm in all the ways his fans will expect. He relates a childhood filled with both love and trauma, his journey through anger problems and addiction, the stops and starts in creating a career that fit, and his unexpected path to fatherhood. Even his story's happy ending, a hit show and an upcoming wedding, is addressed with introspection. Brown states his passion for helping others find the language to communicate their emotions; readers will appreciate his openheartedness in sharing his own."
The post Sammi's Favorite Things: KARAMO: My Story of Embracing Purpose, Healing, and Hope (on-sale March 5, 2019). appeared first on TV Grapevine.