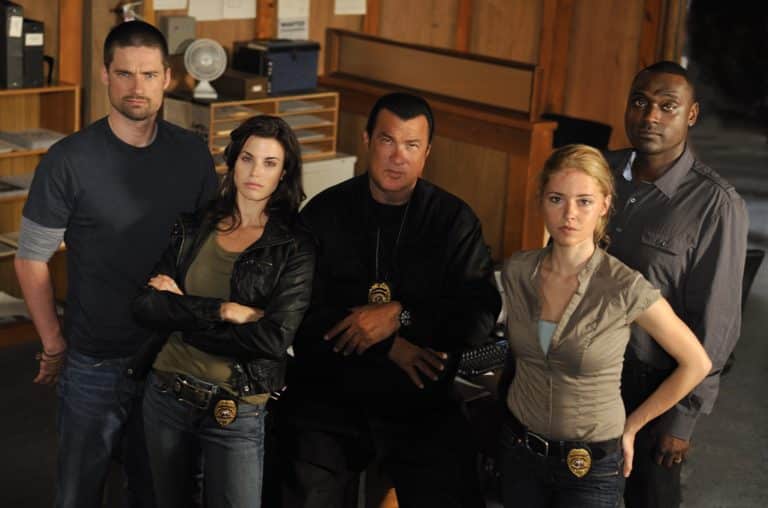 In 1988, martial artist Steven Seagal made his feature film debut in Above The Law. The story of a tough Chicago cop with a special forces background — and one heck of a roundhouse kick — was a box office smash. It launched a string of hits, including Hard To Kill, Marked For Death, Out For Justice, and the Oscar-nominated Under Siege. In just five years, Seagal had gone from an unknown Akido instructor from Lansing, Michigan to a household name and certified superstar.
A quarter of a century later, the action film icon brought his talents to television with TRUE JUSTICE, a glossy police series that returned Seagal to his cinematic roots. In March, getTV brings a double dose of TRUE JUSTICE with back- to-back episodes at 8 PM & 9 PM ET.
Seagal — who also created the series and co-wrote 10 episodes — stars as Elijah Kane, a Cajun cop running a four-person task force in Seattle. His Special Investigation Unit includes: handsome bad boy Landon Radner (Warren Christie); low-key enforcer Andrew Mason (William "Big Sleeps" Stewart); by-the-books Juliet Sanders (Meghan Ory); and Sarah Montgomery (Sarah Lind), a new member of the team who's eager to please, but not about to take any guff.
Set in fictional Everett County on Washington's Puget Sound, TRUE JUSTICE has the feel of a television version of the Mission: Impossible film series. Each specialist has his or her individual strengths, and the team shares both barbed banter and an esprit de corps. But it's Seagal and his martial artistry that seals the deal. As always, he's the closer.
The post True Justice to Air on getTV appeared first on TV Grapevine.