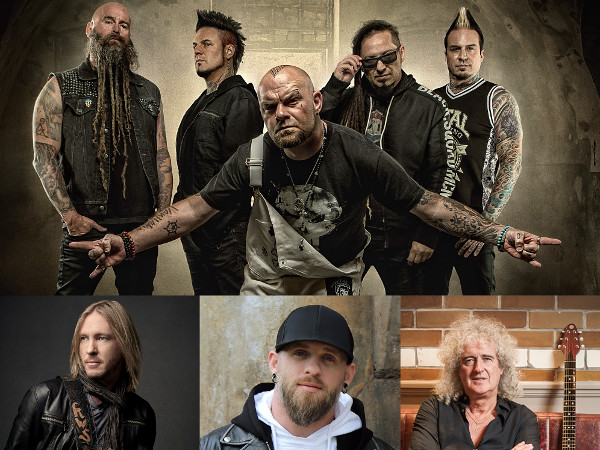 Five Finger Death Punch
Feat. Kenny Wayne Shepherd, Brantley Gilbert
And Brian May
Most Important Country Rock Collaboration In Years
Garners Massive Global Impact After Only 5 days
Single Launches At #2 On iTunes All Genres Chart Worldwide,
#2 and #3 On German And U.K. Rock Charts
"Blue On Black" Amassed Over 500K On-Demand Streams
#1 Most-Added Song At Rock Radio This Week
The most important Country Rock collaboration in years,
"Blue On Black"
by Five Finger Death Punch featuring Kenny Wayne Shepherd, Brantley Gilbert and Brian May debuted last Friday, April 12 and is now the #2 on the iTunes All Genres Top Songs chart, #1 most-added song at Rock radio and the video for the song has already garnered 9 million views across the board. The song is also holding top chart positions around the world including #2 and #3 on the German and U.K. rock charts.
Allen Kovac, CEO of Eleven Seven Label Group, Tenth Street Entertainment and Five Finger Death Punch's manager for close to a decade adds: "From Johnny Cash's 'I Walk The Line' and The Rolling Stones' 'Honky Tonk Woman' to The Eagles and Willie Nelson, country and rock have shared audience, and created some of the biggest and most successful records of all time. It's time to bring it all back again for First Responders. Let's tear down the walls!"
*****
KENNY WAYNE SHEPHERD–original songwriter, guest vocals and guitar
BRANTLEY GILBERT–guest vocal
BRIAN MAY–guest guitar
FIVE FINGER DEATH PUNCH :
BRANTLEY GILBERT:
KENNY WAYNE SHEPHERD :
BRIAN MAY :
About Five Finger Death Punch:
2018 was a massive year for FIVE FINGER DEATH PUNCH who became the #1 most-played artist on U.S. Rock Radio in year-end radio reports. The group released their seventh studio album,
AND JUSTICE FOR NONE
which marked the group's fifth consecutive Top 5 album release. The new album generated 225 million U.S. on-demand streams, over 360,000 U.S. digital song sales and became the #1 streaming Hard Rock/Heavy Metal Album of 2018. Five Finger Death Punch have amassed over 3 billion streams to date.
About Brantley Gilbert:
BRANTLEY GILBERT has penned and recorded six No. 1 songs, including the CMA Song Of The Year-nominated "Dirt Road Anthem." GILBERT has also earned consecutive platinum albums for Halfway to Heaven, and  Just As I Am .
About Kenny Wayne Shepherd:
KENNY WAYNE SHEPHERD's 20-plus year career continues to create genre-defining blues-infused rock n' roll. SHEPHERD, who co-wrote "Blue On Black" with Tia Sillers and Mark Selby, has sold millions of albums worldwide. He's received five GRAMMY® nominations, two Billboard Music Awards, as well as a pair of Orville H. Gibson awards, the Blues Foundation's Keeping The Blues Alive award and two Blues Music awards. He's had seven #1 blues albums and a string of #1 mainstream rock singles. His newest album The Traveler, will be released worldwide on May 31 st on Concord Records and Provogue Records (Europe) .
About Brian May:
Brian May, CBE, PhD, FRAS is a founding member of QUEEN, a world-renowned guitarist, songwriter, producer and performer, also a Doctor of Astrophysics, 3-D stereoscopic photographic authority and a passionate advocate and campaigner for animal rights. The following four decades have seen QUEEN amass a staggering list of sales and awards and sees QUEEN remain the most successful albums act in UK chart history. Brian has penned 22 Queen Top 20 hits, among them "Who Wants to Live Forever," "No-One But You," "Save Me," and "We Will Rock You." Brian will tour with Queen + Adam Lambert for a in North America and beyond this summer. As a producer and executive music producer with Roger Taylor of the Queen biography film Bohemian Rhapsody, Brian and Roger are responsible for one of the highest grossing films of all time across the world and winner of Oscar, BAFTA and Golden Globe awards .
The 
Gary Sinise Foundation
honors America's defenders, veterans, first responders, their families and those in need. Through its programs and events the GSF serves the children of our fallen military heroes, surviving spouses, Gold Star families and more. For more information, please visit 
The Gary Sinise Foundation
Cross Genre Collaboration Version of 'Blue On Black' Benefits Gary Sinise Foundation first appeared on Game On Media.