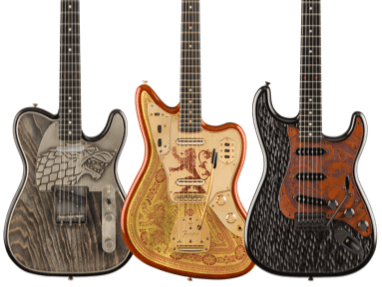 FENDER CUSTOM SHOP AND HBO®
CELEBRATE THE FINAL SEASON OF THE EPIC SERIES "GAME OF THRONES®"
WITH TRIO OF ELABORATE GUITARS
The Game of Thrones Sigil Collection by Fender Embodies Series' Most Iconic Houses with Ornate Features such as Dragon Scale Carvings, Faux Wolf Fur Cases, Custom Inlays and Gold-Plated Pickguards
HOLLYWOOD, Calif. (April 16, 2019) – Fender Musical Instruments Corporation (FMIC), in partnership with HBO Licensing & Retail today announced the introduction of three masterbuilt handcrafted Game of Thrones guitars – dubbed the Game of Thrones Sigil collection – including three models for three fan-favorite houses – Game of Thrones House Stark, Telecaster®, Games of Thrones House Lannister, Jaguar®, and Game of Thrones House Targaryen, Stratocaster®. The trio of deluxe, one-of-a-kind guitars embodies the true essence of Westeros' most iconic, notable families and are built to order via the Fender Custom Shop. Every detail of the guitars was meticulously considered and chosen to ensure that the authenticity of each house was accurately brought to life for fans of the series and guitar players alike.
"This has been a two-year journey – much of it spent in the concept phase, nailing down a cool and authentic way to bring the two properties together," said Justin Norvell, EVP Fender Products. "We worked directly and extensively with Game of Thrones' creator and avid guitar player D.B. Weiss to ensure that our vision, design and materials reflected the identity of each house. And there's no better place than the Fender Custom Shop to tackle this task with experts in not only guitar-building, but specialized skills, such as carving and engraving, that really set these instruments apart.  As existing fans of the series, we couldn't be happier with the final results and this partnership overall."
"Ron Thorn at Fender has built three beautiful, GoT-inspired works of art, and you can out-shred your enemies with all of them," said D.B. Weiss, who along with David Benioff, serves as creator and showrunner of Game of Thrones. "The craftsmanship and attention to detail reminds me a lot of what we saw in our costume and armory shops, and on our sets. I hope these make a few other people 1/1000th as happy as they make me."
Handcrafted by Principal Master Builder Ron Thorn, each guitar's design drew inspiration from the house's family sigil, costume designs, armor and weaponry, as well as each of their locations in Westeros, sparing no details. Thorn's decades-long experience in luthiery, engineering, inlay, engraving and CNC machine work made him the perfect craftsman to build this ornate collection of guitars that include the following:
Game of ThronesTM House Stark, Telecaster® – $25,000
The House Stark Telecaster guitar features a lightweight swamp ash body, weathered with inlaid sterling silver purfling that reflects the broodiness of Winterfell's landscape. The guitar features a maple neck with ebony fingerboard, hand-cut and engraved sterling silver Dire Wolf sigil inlay on the first fret in addition to an embossed nickel silver version on the pickguard. The Tele® also features hand-engraved knobs, an etched neck plate and is finished with thin lacquer over custom paints, including "Raven Black" and "Gray Wolf."Game of ThronesTM House Lannister, Jaguar® – $30,000
The House Lannister Jaguar guitar stuns with a lightweight alder body that features 24k Gold leaf with heraldry design on both the front and back, paying homage to the opulent Red Keep in King's Landing. The guitar has a maple neck with ebony fingerboard, hand-cut and engraved brass Lion sigil inlay on the first fret, a 24k leaf heraldry design carved headstock face, gold hardware and a gold-plated pickguard that is engraved with the Lannister's sigil. The Jaguar also includes an etched neck plate, hand-engraved knobs and is finished with a thin lacquer over custom paints including "Burnt Crimson" and "Lannister Gold."

Game of ThronesTM House Targaryen, Stratocaster® – $35,000
For the House Targaryen Stratocaster guitar, Thorn drew significant inspiration from the family's sigil, a three-headed dragon, as this Strat features carved dragon scales across the front and back of the guitar. The lightweight alder body is adorned with black hardware, a maple neck with ebony fretboard, hand-cut and engraved sterling silver three-headed dragon sigil inlay on the first fret, as well as a hand-tooled and stained leather pickguard that also features the Targaryen sigil. The Strat also boasts an etched neck plate and is finished with thin lacquer over custom "Dragonglass Black" paint.
Keeping in line with its mission, the Fender Custom Shop and its Master Builders remain committed to creating instruments that players never thought were possible, no matter how challenging or dream-like the project may be. The Game of Thrones guitars took an estimated 300+ hours to create, with over 100 hours dedicated to each individual instrument. "We never stop pushing the envelope at the Fender Custom Shop," said Mike Lewis, VP of Product Development at Fender Custom Shop. "HBO's Game of Thrones is an ideal collaboration for us, as the show pushes the limits of creativity and storytelling, and you never know what is going to happen next!"

Each Game of Thrones guitar will be accompanied with a bespoke guitar case that also reflects the ethos of the instrument with ornate attention to detail, as well as an El Dorado strap. Details include:
Game of Thrones House Stark Telecaster: guitar case features a faux wolf fur lining and a black suede exterior as an homage to the direwolf sigil of the Stark House.
Game of Thrones House Lannister Jaguar: guitar case features gold accents including a crushed gold velvet interior and all gold hardware.
Game of Thrones House Targaryen Stratocaster:  guitar case boasts an all-black reptile design on its exterior with red stitching accents both inside and out.
About HBO
Licensing & Retail
HBO Licensing & Retail, a division of Home Box Office, Inc., partners with best-in-class licensees around the world to give HBO's global audience new and exciting ways to engage with their favorite shows. The division leverages iconic, award-winning HBO programs such as 
Game of Thrones, VEEP, Sex and the City, Silicon Valley, Insecure, The Sopranos, Big Little Lies, True Blood
 and more to create officially licensed consumer products, innovative merchandise programs, retail activations and live immersive experiences.  HBO Licensing & Retail works across a broad range of product categories, including collectibles, apparel, publishing, live branded experiences, digital gaming, fashion and beauty collaborations, luxury accessories, and beyond. Officially licensed HBO merchandise can be purchased in retail stores around the world, online in the US at 
http://store.hbo.com
,
 and at the HBO retail hub, the HBO Shop®, located at 42nd and 6th Avenue in New York City.
ABOUT FENDER MUSICAL INSTRUMENTS CORPORATION:
Since 1946, Fender has revolutionized music and culture as one of the world's leading musical instrument manufacturers, marketers and distributors. Fender Musical Instruments Corporation (FMIC), whose portfolio of brands includes Fender®, Squier®, Gretsch® guitars, Jackson®, EVH® and Charvel®, follows a player-centric approach to crafting the highest quality instruments and musical solutions across genres. FMIC is dedicated to unlocking the power of music through electric and acoustic guitars, amplifiers, pro audio, accessories and digital products that inspire and enable musical expression at every stage, from beginners to history-making legends.
For additional information on new Fender products or to find a retail partner near you, visit www.fender.com or fendercustomshop.com. Join the conversation on social media by following @Fender and @FenderCustomShop.
Fender Custom Shop and HBO Create Game of Thrones Guitars first appeared on Game On Media.