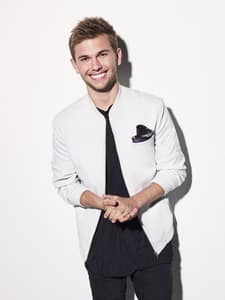 Chase Chrisley has been charming America since he debuted on the USA Network series Chrisley Knows Best. His sense of humor, winning smile and boyish good looks have made him a fan favorite on the show. 
Now he is embarking on a new adventure with his sister Savannah on the new spinoff series Growing Up Chrisley, which debuts tonight. The handsome twenty-two year old heads to LA  in hopes of starting a new career and life. He will also be living with his sister, which will make things very interesting for the both of them.
In a recent interview with TVGrapevine, Chase said that we can expect to see him pursuing his acting career. This is something he has always wanted to do and he is looking forward to making it happen. 
While he didn't give away much as to what happens in terms of acting,  he is excited to see how fans react to his adventure.
Chase also plans on continuing to work with his father, Todd. The two have spent a lot of time working together in the past and Chase looks forward to continuing to do so in the future.
As fans know,  Chase has a very special bond with his family,  which we will see on the show. Not.  Only will we see him working with Todd, but we will see him adjusting to living with Savannah for the first time in years. He admitted that the two of them drove each other crazy and bantered quite a bit,  but at the end of the day, their love and support for one another is obvious. 
He is also close with his Nanny Faye,  who is set to make appearances on the show. His bond with her is so special and always heartwarming to watch. The way he loves her shows that he has a huge heart and is a good reminder of how we all deserve to be loved. 
Growing Up Chrisley premieres tonight on USA Network. Check your local listings for showtimes. 
The post Growing Up Chrisley's Chase Chrisley Interviewed appeared first on TV Grapevine.