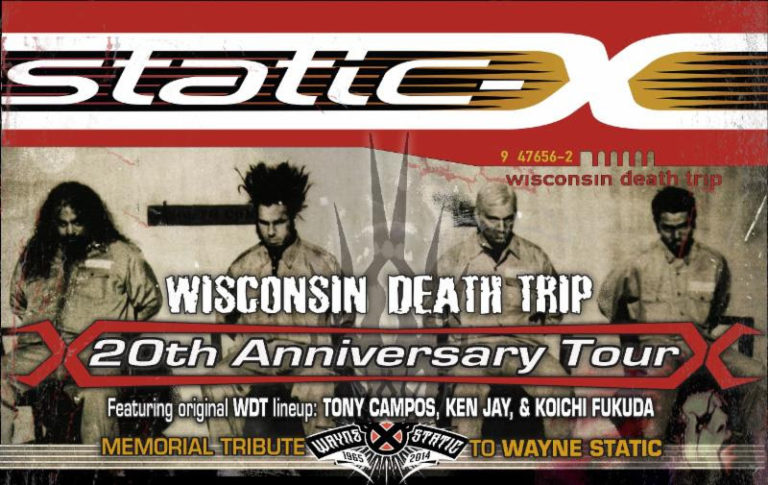 Los Angeles Natives Static-X and DevilDriver Return to Southern California for Two Co-Headlining Shows!
Catch STATIC-X & DEVILDRIVER July 25 in Santa Ana and July 26 in Los Angeles
SHOW INFORMATION:
Thursday, July 25
Static-X & DevilDriver @ The Observatory
Co-Headlining Wisconsin Death Trip 20th Anniversary Tour
w/Dope, Wednesday 13 & Raven Black
3503 South Harbor Boulevard
Santa Ana, CA
Doors: 7:00/Show: 8:00
Friday, July 26
Static-X & DevilDriver @ Catch One
Co-Headlining Wisconsin Death Trip 20th Anniversary Tour
w/Dope, Wednesday 13 & Raven Black
4067 W. Pico Boulevard
Los Angeles, CA
Doors: 6:00
More on Static-X and DevilDriver:
STATIC-X's highly-anticipated Wisconsin Death Trip 20th Anniversary Tour not only celebrates the 20th anniversary of the band's platinum selling debut, Wisconsin Death Trip, but also serves as a touring memorial for their late lead singer, Wayne Static. The original STATIC-X lineup introduced on their 1999 platinum-selling debut full-length album – bassist Tony Campos, guitarist Koichi Fukuda and drummer Ken Jay – have recruited a mysterious, unnamed vocalist for the tour. For a preview of STATIC-X performing the band's cult classic "Bled for Days" with the new vocalist, watch this:
STATIC-X is currently putting the finishing touches on their seventh studio album, entitled Project Regeneration. The album will feature 12 brand new STATIC-X tracks and contains several vocal performances and musical compositions by Wayne Static, along with a handful of high-profile guest vocal contributions.
Globally renowned, chart-topping band DEVILDRIVER may be one of the most notable groups in metal, but their personal taste in music reaches far beyond heavy music. Thanks to widely lauded albums like 2005's epoch-shredding The Fury Of Our Maker's Hand, 2011's ante-upping, ultra-brutal Beast and 2016's acclaimed career peak Trust No One, the band – led by iconic vocalist Dez Fafara – are firmly established as one of the most consistent and best loved bands in modern metal. That said, all expectations of who and what DEVILDRIVER had become were torched with the release of last year's Outlaws 'Til The End, which was a startling curveball and a ferocious statement of individuality from a band who have been a constant and effective force in the heavy metal world for the best part of two decades now.
Returning to their metal roots, DEVILDRIVER is embarking on a co-headline tour with the legendary Static-X, where the band – for the first time in their history – plans to throw in tracks from DEVILDRIVER vocalist Dez Farfara's seminal band Coal Chamber.
STATIC-X Online:
DEVILDRIVER online:
L.A. Natives Static-X and DevilDriver Co-Headline Two Southern California Shows first appeared on Game On Media.