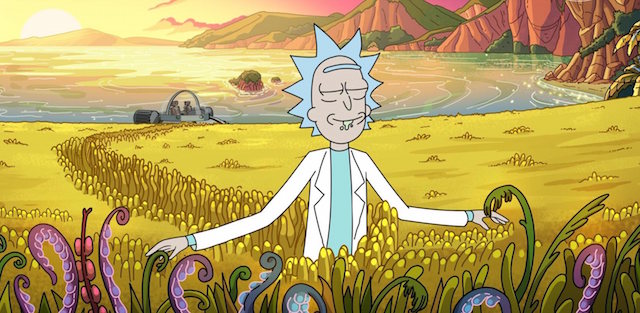 Welcome to Trailer Binge, a recurring feature where we get a chance to catch up on some of the recent trailer releases in the past week. Whether it be indie releases, or recent movie and TV trailers that may have otherwise slipped through the cracks, Trailer Binge allows us to catch up on the seemingly constant onslaught of new content being released each week.
In this super-sized edition of Trailer Binge, we're taking a look at some of the best TV trailers from San Diego Comic-Con 2019. We have brand new trailers for The Boys, The Expanse, Star Trek: Picard, His Dark Materials, HBO's Watchmen, The Witcher, Westworld Season 3 and Snowpiercer.
We also have trailers for CW's Arrow, The Flash, Supergirl & Batwoman, as well as trailers for The Walking Dead & Fear The Walking Dead, Harley Quinn, Preacher, and Agents of S.H.I.E.L.D. In addition, we also have clips and featurettes for Rick and Morty Season 4, Carnival Row, and The Dark Crystal: Age of Resistance. So without further adieu, let the binge begin!
Rick And Morty Season 4 Clip
*Ominous beeping noise* FIRST LOOK AT RICK AND MORTY SEASON 4 *Ominous beeping noise* Rick and Morty is Adult Swim's most scientifically accurate animated comedy. Created by Justin Roiland and Dan Harmon, it catalogues the bizarre misadventures of a bored scientific genius/drunkard and his socially awkward grandson, Morty. Their exploits tend to have unintended consequences for Morty's dysfunctional family, especially his unfailingly mediocre father, Jerry. Watch Rick and Morty battle everything from interdimensional customs agents to Cronenberg monsters now.
The Boys Final Trailer
People love that cozy feeling that superheroes give them, but if you knew half of the things they are up to…diabolical. Time to declare war. Full Season Coming July 26, 2019.
Carnival Row Comic-Con 2019 Featurettes
Philo tells the story of his life before the war and what or who he left behind. Watch Carnival Row Season 1 August 30.
Vignette tells the story of her life before the war and what or who brought her to the Row. Watch Carnival Row Season 1 August 30.
The Expanse Season 4 Trailer & Clip
Coming December 13, 2019, only on Amazon Prime Video. With the Ring Gates now open to thousands of new planets, a blood-soaked gold rush begins, igniting new conflicts between Earth, Mars, and the Belt. Meanwhile, on one unexplored planet, the Rocinante crew gets caught in a violent clash between an Earth mining corporation and desperate Belter settlers as deadly new threats from the protomolecule emerge.
Snowpiercer Trailer
Oscar® winner Jennifer Connelly and Tony Award® winner Daveed Diggs star in the futuristic thriller coming Spring 2020 to TBS.
Star Trek: Picard
The Journey is Far From Over. Debuted at San Diego Comic-Con 2019 during the Star Trek: Universe panel in Hall H. Watch the 2019 SDCC trailer for Star Trek: Picard. The new series stars Sir Patrick Stewart, coming early 2020 exclusively to CBS All Access.
Westworld Season 3
Season 3 is coming to HBO in 2020.
His Dark Materials
A new original series based on the global bestseller, premiering this fall on HBO.
HBO's Watchmen Comic-Con 2019 Trailer
The new series premieres in October on HBO.
The Witcher Teaser Trailer
Watch the first trailer for Season 1 of The Witcher, coming to Netflix.
The Flash Season 6 Comic-Con 2019 Trailer
At The Flash's Comic-Con panel on Saturday, July 20, producers treated fans in Ballroom 20 to a first look at the season six villain…Bloodwork.
Supergirl Season 5 Comic-Con 2019 Sizzle Reel
Supergirl premieres Sunday, October 6 on The CW. Stream free next day only on The CW App! SUPERGIRL is based on the DC character Kara Zor-El, Superman's cousin, who after 12 years of keeping her powers a secret on Earth, decides to finally embrace her superhuman abilities and be the hero she was always meant to be. Kara lives in National City assisting media mogul Cat Grant. However, Kara's days of keeping her talents a secret are over when Hank Henshaw, head of a super-secret agency, enlists her to help protect the citizens of National City from sinister threats.
Arrow Season 8 Comic-Con 2019 Trailer
The new season of Arrow premieres October 15 on the CW.
Preacher Season 4 Comic-Con 2019 Trailer
All hell breaks loose when the apocalypse comes to Preacher in Season 4. Watch the exclusive first look at the Preacher final season trailer, which debuted at San Diego Comic-Con 2019. The fourth and final season of Preacher launches with two back-to-back episodes on Sunday, August 4 at 9pm ET/PT. The remainder of the season will air at its normal time, on Sundays at 10pm ET/PT on AMC. The season synopsis reads: "As the series inches closer to the finale, God's endgame for the universe begins to click into place. Trapped between heavenly prophecies, hellish prisons, and all-out nuclear war, Jesse, Tulip, and Cassidy make their bloody way to the Most High. Whether they can reach God in time — or whether all this carnage is part of His divine plan — will soon be revealed as Preacher barrels towards the end of the world."
Creepshow
The Dark Crystal: Age of Resistance Comic-Con 2019 Sneak Peek
"The idea is you watch the show and you forget you're watching puppets". Fans at San Diego Comic-Con 2019 were given a glimpse of the artistry behind the scenes of the resistance by director Louis Leterrier and executive producer Lisa Henson. Darkness rises on August 30.
Batwoman Season 1 Comic-Con 2019 Teaser
Kate Kane (Ruby Rose) soars through the shadowed streets of Gotham as Batwoman. But don't call her a hero yet. In a city desperate for a savior, she must first overcome her own demons before embracing the call to be Gotham's symbol of hope.
The Walking Dead Season 10 & Movie
In the fight against the Whisperers, there's no going back.
Fear the Walking Dead Season 5 Comic-Con 2019 Trailer
We're not doing careful, we're doing right." Get a first look at the final episodes of Season 5. Fear the Walking Dead airs Sundays 9/8c.
Agents of S.H.I.E.L.D. Season 6 Comic-COn 2019 Extended Trailer
A surprise straight from Comic-Con! There are FOUR episodes left of "Marvel's Agents of S.H.I.E.L.D." Season 6, and we've got an EPIC look at what's to come before tomorrow's next installment! Watch brand new episodes Friday at 8|7c on ABC!
Harley Quinn Comic-Con 2019 First Look
She's ready to take on Gotham on her own! Check out this first look at new animated series HARLEY QUINN, coming soon to the DC UNIVERSE digital service.
The post Trailer Binge: Comic-Con 2019 TV Trailers appeared first on Age of The Nerd.