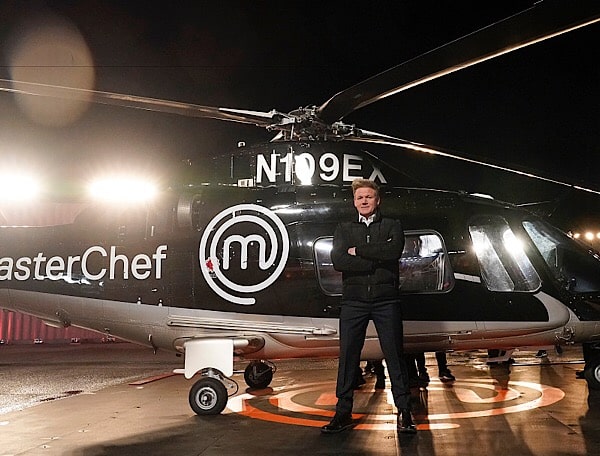 This week on MasterChef, the Top Nine contestants are showing off their cutting edge plating skills and bringing home the bacon- well, serving up some sausage in an attempt to wow the judges and become America's next MasterChef! This week's episodes feature two very special guests, ChefGrant Achatz and the incredible Marley the Pig.
8/14 – Episode 18: "Mind Blowing Food"
The MASTERCHEF set gets a futuristic spin as the Top Nine enter the kitchen, surprised to see laser lights and smoke machines. There, the judges blow the contestants' minds by introducing acclaimed chef and future of food connoisseur Grant Achatz. With Gordon's help, Grant shows the contestants the art of unconventional plating. The home cooks must use their newfound skills to cook and plate a dish of their choice using an array of props found in the magnificent MASTERCHEF pantry. One will win immunity and a special prize, while the others will face elimination in the all-new "Mind Blowing Food" episode of MASTERCHEF airing Wednesday, Aug. 14 (8:00-9:00 PM ET/PT) on FOX. (MCH-1018) (TV-14 L)
8/15 – Episode 19: "Pigging Out"
The contestants return to the MASTERCHEF kitchen for another unpredictable day. The judges introduce an unusual special guest to the home cooks to inspire the coming challenge: Marley the Pig. Judge Aaron then gives a demonstration on how to make his family recipe for chorizo sausage. Now it's time for the cooks to produce a dish with their own version of homemade sausage in just under sixty minutes. Find out who impresses and who will be forced to say goodbye in the all-new "Pigging Out" episode of MASTERCHEF airing Thursday, Aug. 15 (8:00-9:00 PM ET/PT) on FOX. (MCH-1019) (TV-14 L)
The post Masterchef Preview for Week of 8/14 appeared first on TV Grapevine.