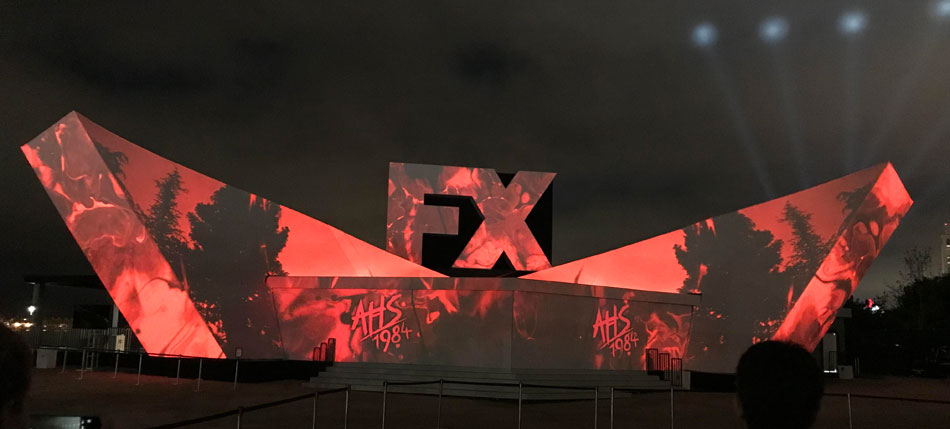 The FX Fearless Forum Activation was a strong highlight of Comic-Con for us, starting with the  "What We Do In The Shadows" experience. We spent a few hours sharing drinks in the vampire house, complete with an open bar in the home, filled with things you'd expect in an old gothic lair, sharing drinks with the vampires from the FX Show, based on the film of the same name.
Who doesn't want to share some time with some vampires who have lived together for hundreds of years? The character actors were in top form, and gave our friend Chicago Pete a new name – 'Craig the virgin'. Craig will live with his new name forever thanks to these amazing actors!
FX also shared a bit of a haunted campground experience with the activation for "American Horror Story: 1984". We had the best time exploring this themed activation which was absolutely terrifying. Believe us, our screams were real! The actors were once again completely on-point and the folks at FX put an amazing amount of detail into this experience. The sights and sounds of the forest theme were spot-on and the jump scares were expertly timed! Expect the usual hi-jinx, with a little 'camp' this AHS season. The series will premiere on September 18.
If we weren't excited about the upcoming season of "AHS" before, we most definitely are after touring this incredibly detailed activation!
Check out our gallery of images from the FX Fearless Forum below:
Click to view slideshow.
The post Our Exciting Adventure At The FX Fearless Forum At San Diego Comic-Con! appeared first on Age of The Nerd.