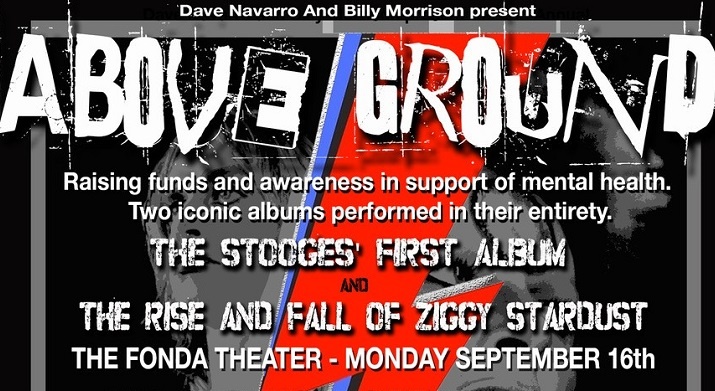 DAVE NAVARRO AND BILLY MORRISON
ANNOUNCE EXPANDED LINE-UP FOR
SECOND ANNUAL
"ABOVE GROUND" CONCERT
BENEFITTING MUSICARES®
JACK BLACK
AND MINISTRY'S AL JOURGENSEN
AND OTHERS ADDED TO BILL THAT INCLUDES
HOST TOM ARNOLD
WITH PERFORMANCES FROM
NAVARRO AND MORRISON,
BILLY IDOL,
PERRY FARRELL AND ETTY LAU FARRELL
(KIND HEAVEN ORCHESTRA),
GAVIN ROSSDALE (BUSH), STEVE STEVENS,
JULIETTE LEWIS, STEVE VAI, BILLY DUFFY (THE CULT),
WAYNE KRAMER (MC5) AND MIKE GARSON (DAVID BOWIE)
MONDAY, SEPTEMBER 16 EVENT
AT THE FONDA THEATRE
IN HOLLYWOOD
TO CELEBRATE
THE VINYL ALBUM AS AN ART FORM
WHILE ALSO RAISING AWARENESS AND FUNDS
FOR THE TREATMENT OF MENTAL HEALTH
As anticipation builds for the star-studded second annual 
"ABOVE GROUND" 
benefit concert, 
Dave Navarro 
(Jane's Addiction) and 
Billy Morrison 
(Billy Idol) are excited to announce that 
Jack Black
 and 
Ministry's Al Jourgensen
 have joined the bill for the 
Monday, September 16 
benefit at 
The Fonda Theatre 
in 
Hollywood
. Additional new guests also include 
Brad Wilk (Prophets of Rage), Carmine Rojas (David Bowie), Chris Chaney (Jane's Addiction), Franky Perez (Deadland Ritual), Twiggy, Dave Kushner (Velvet Revolver), Mixi Demner (Stitched Up Heart), Jason Christopher, Erik Eldenius 
&
 Paul Trudeau (Billy Idol), Donovan Leitch
 and
 Julie Mintz
. The immersive evening of art and music will celebrate the vinyl album as an art form, and at the same time raise awareness and funds for the treatment of mental health, with the profits being donated to 
MusiCares®
, a charity of the Recording Academy

 that was established to safeguard the health and well-being of all music people.
"Billy and I feel that this amazing group of artists will create an incredible event," Navarro says. "And we hope you will be a part of it with us for a night of art and music and support for mental health awareness and Musicares."
Listen to a podcast interview with DAVE and Consequence of Sound about the event 
here
.
Black and Jourgensen join a line-up that includes host (actor) Tom Arnold and musicians Billy Idol, Perry Farrell and Etty Lau Farrell (Kind Heaven Orchestra), Gavin Rossdale (Bush), Steve Stevens, Juliette Lewis, Steve Vai, Billy Duffy (The Cult), Wayne Kramer (MC5), Mike Garson (the legendary and longtime keyboardist for David Bowie including his role in the Spiders From Mars line-up). The performers will tip their hats to two of the greatest albums of all time: David Bowie's The Rise and Fall of Ziggy Stardust and the Spiders from Mars and the Stooges' self-titled debut album (celebrating its 50th anniversary this month), on which the world was introduced to Iggy Pop.
Tickets for the event are on sale now. Click here to buy 
tickets
. "
ABOVE GROUND
" is being produced with assistance from 
Law Rocks
, which promotes music education programs. During the intermission between performances, there will be speeches from people in the mental health field along with art items for auction, live graffiti from prominent street artists including @Teachr1, @PlasticJesus, @VYALone and @MegZany, and information booths.
Follow ABOVE GROUND
SRO Press Releases + Assets:
About MusiCares®
A friend and ally of the music community, MusiCares® was established by the Recording Academy to safeguard the health and well-being of all music people. A four-star charity and safety net in times of need, MusiCares® offers confidential preventative, recovery, and emergency programs to address financial, medical, and personal health issues. Through the generosity of our donors and volunteer professionals, our dedicated team works across the country to ensure the music community has the resources and support it needs.
About Law Rocks
Law Rocks' mission is to promote music education for underprivileged youth and raise funds for local nonprofit organizations by combining the power of music and the generosity of the global legal community. Law Rocks accomplishes this mission through epic battle of the band fundraising concerts in cities across the globe that star legal professionals-turned-rock-stars. Since its 2009 founding, Law Rocks has toured to 21 cities around the world, held more than 100 concerts, and raised 3.2 million dollars. For more information, visit 
https://lawrocks.org/
 and follow Law Rocks on 
Instagram
Jack Black, Al Jourgensen Added to Above Ground Lineup for Musicares first appeared on Game On Media.