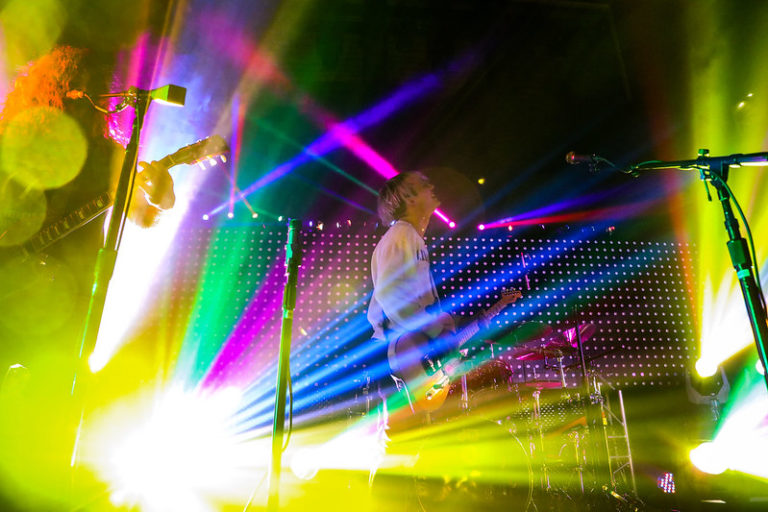 Images by Johnnie Crow
Words by Melissa Butterfly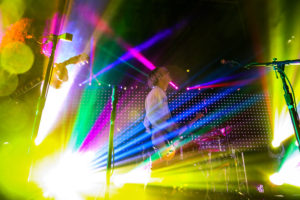 Badflower headlined the Music Box in San Diego, California on October 14, 2019 as part of 91X's Inspired by Music Series. A passionate crowd was anxious to connect with one of rock music's rising superstar bands. San Diego got a taste of Badflower at the KAABOO Festival this past September, but the Monday night set at The Music Box was a full show, which was a real treat for fans who had only seen their short festival and opening act sets. The Music Box is great little venue near iconic Little Italy — it is a modern upscale live-music venue with 3-levels serving craft cocktails & a variety of small plates and awesome acoustic sounds, which Badflower elevated to the next level with their badass performance.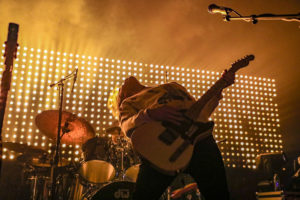 Badflower is currently on tour with special guests, Dead Poet Society and Weathers, who opened the night with their alternative and energetic rockin' beats. Both bands got the crowd jumping and ready — thankful to be in San Diego, gave very engaging performances, and brought fun vibes getting the crowd singing along and jumping on cue. The show was partnered with local San Diego radio station, 91X, as part of the "91X's Inspired by Music Series." The event was an "all ages show." 91X hosted the night, introduced the bands, and gave a special toast to local San Diego brewery Green Flash Brewing Company, for being a generous contributor to the San Diego music scene.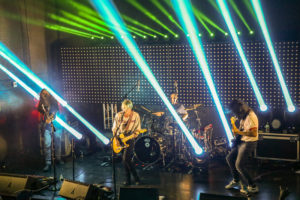 Badflower is a compilation of raw and intensity… transforming acoustic to heavy rock driven by their emotional and soulful lyrics to touching hearts. The boys in the band consist of Josh Katz, Alex Espiritu, Joey Morrow, and Anthony Sonetti. Their full-length album titled "OK, I'M SICK" debuted earlier this year and they performed songs from this album and their 2016 EP titled "Temper". Singer and guitarist Josh Katz commented about them literally getting sick while at the Aftershock Festival in Sacramento over the weekend before this show, which was so apropos for this tour name, "OK, I'M SICK" and said, "I'm feeling sexy like San Diego and we will do our best" and, their passionate performance that Monday night was nothing but sexy as hell and definitely the best ever!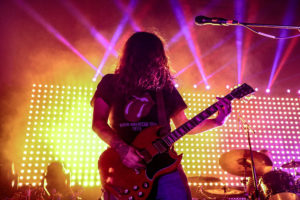 Badflower is not only bringing their musical therapy to people but they are helping out on a global level giving back. Their "OK, I'M SICK" album was released in 2019 and they kicked off their first ever "OK, I'M SICK" Tour hitting major and mid-sized cities throughout the U.S., and with every ticket sold, $1.00 will be donated to the Sea Shepherd Conservation Society (SSCS), a non-profit marine conservation organization based in Friday Harbor on San Juan Island, Washington, in the United States, in efforts to preserve the marine/aquatic life around the globe. In November, they will head overseas and hit Germany, Italy, France, and the United Kingdom and then back to the northeast United States wrapping up 2019 in Michigan… what a way to end this year and decade!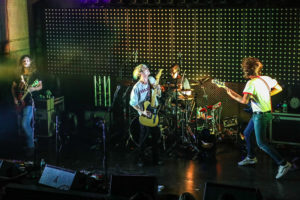 The night at the Music Box was full of raw acoustic sounds, heavy rock and awesome messages received in audible and visual forms… sensory overload, not at all, and totally therapeutic! The show started with an audio recording and visual of text messages being typed on the stage screen to set the tone and musical scene before the band came out to kick off the set. Lyrical messages were projected throughout the show with words and emojis… like Love, Even, Face, The, Truth, Grow, Up, Now, I, Have, To, Let, Go, Miss, You, So, Much, Heart ;( …  The concert was like an arena show with lights booming, alternating with acoustic sets morphing into heavy beats, heads banging, arms waving, and of course mosh pit dancing instigated by Josh Katz, which he dubbed the "circle jerks", engaged fans and Badflower alike until the very end. Josh Katz bantered with the audience throughout the night, and his stage presence was just like their music, so raw and human. Josh told the "circle jerks"… "There's some people who don't want bruises tonight. Some people do, some people don't. Just, just be mindful." Their physical performance from guitar and drum solos, guitar footwork, dancing and jamming on knees and backbends into the crowd was really impressive that night, especially since they were feeling sick and not up to par.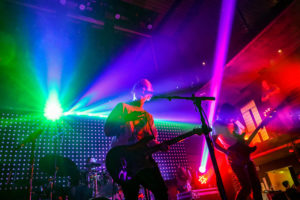 Visit https://www.badflowermusic.com/ for tour dates and news.
Badflower San Diego Set List:
Wide Eyes
x ANA x
Soap
White Noise
Die
24
Move Me
Drop Dead
Animal
Let The Band Play
Mother Mary
The Jester
bury a friend (Billie Eilish cover)
Girlfriend
Encore:
Heroin
Ghost
Promise Me
Badflower Shines in San Diego Headline Show first appeared on Game On Media.