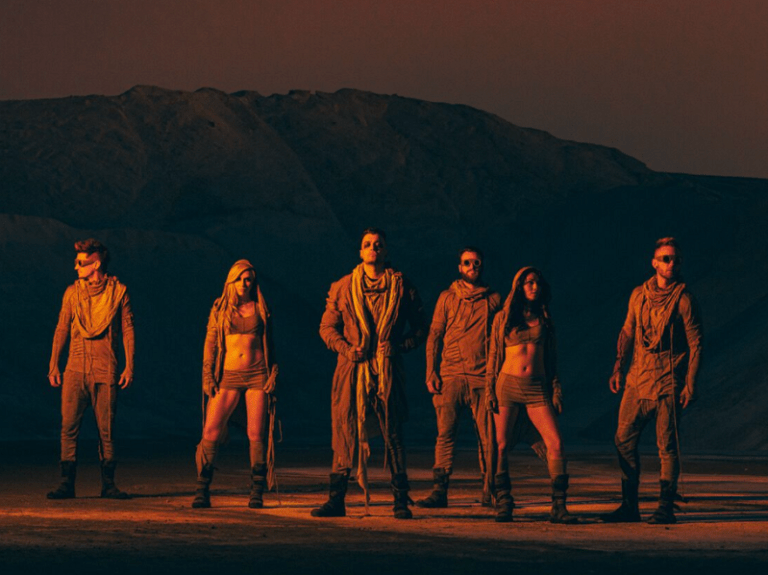 STARSET'S NEW ALBUM DIVISIONS OUT NOW
FORBES OFFERS A LOOK INTO THE MAKING + MARKETING OF THE ALBUM 
BILLBOARD PREMIERES "SOLSTICE" SPACE ASCENT VIDEO 
LIVE DEMONSTRATIONS TAKING PLACE NOW
Visionary media collective STARSET have carved out a unique path as part cinematic rock band, part conceptual storytellers, weaving an intricate narrative through multimedia and redefining the concept of a truly immersive entertainment experience. Led by enigmatic frontman and PhD candidate Dustin Bates, the band have made a mission to take fans on a journey through music, video, AR-integrated performances, a Marvel graphic novel, and online experiences, blurring the lines of science, fact, and fiction.
STARSET's third album DIVISIONS is out now and provides the soundtrack to the next chapter of their overarching narrative — one of a dystopian future world divided by the technology that has taken over in a war for human consciousness — those obeying and implementing it, and those fighting against it.
The band has shared insight into the making and marketing of the new album, along with a video of the 3D printing of the "MANIFEST" symbol, over at Forbes. Learn more here.
STARSET also teamed up with Billboard to premiere "SOLSTICE," which features the band's logo ascending into space. Watch the video and read the exclusive interview with here.
The band previously dropped the "MANIFEST" video. Watch it here.
Listen to "ECHO" here and "PERFECT MACHINE" here.
STARSET's live DEMONSTRATIONS, which offering a uniquely immersive experience for fans, are taking place now. All dates are below.
STARSET LIVE DEMONSTRATIONS:
9/25 – Houston, TX – House of Blues
9/28 – Dallas, TX – Canton Hall
9/29 – Oklahoma City, OK – Diamond Ballroom
10/1 – Phoenix, AZ – The Pressroom
10/2 – Los Angeles, CA – The Regent
10/4 – San Francisco, CA – The Regency Ballroom
10/5 – Sacramento, CA – Ace Of Spades
10/7 – San Diego, CA – House of Blues
10/8 – Ventura, CA – The Majestic Ventura Theater
10/13 – Seattle, WA – Neptune Theatre
10/14 – Boise, ID – Knitting Factory
10/16 – Salt Lake City, UT – The Complex
10/17 – Denver, CO – Summit
10/20 – Minneapolis, MN – Varsity Theater
10/21 – Chicago, IL – House of Blues
10/24 – Philadelphia, PA – TLA
10/25 – New York, NY – The Gramercy Theatre
10/26 – Hartford, CT – The Webster
10/27 – Boston, MA – Paradise Rock Club
New Starset Album "Divisions" Launched With Live Demonstrations first appeared on Game On Media.