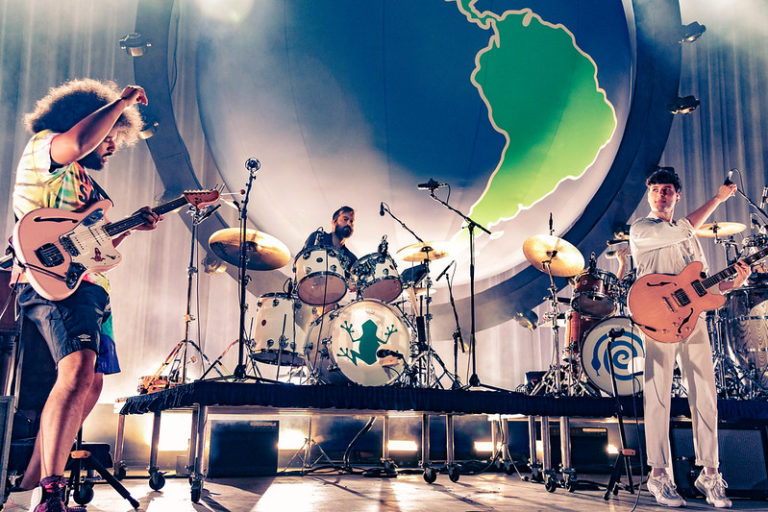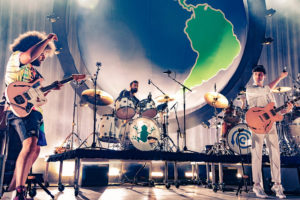 After six years of anticipation, indie rock band Vampire Weekend came back to San Diego, selling out Cal Coast Credit Union Open Air Theater at SDSU on October 3, 2019, with direct support from Soccer Mommy. Vampire Weekend is wrapping up their five month long Father of the Bride North American tour, making San Diego the last California stop. The band released their fourth full length album in May of this year, with 2013 being the last time they put out any new music. Making up for their absence, the band had a 28 song setlist, covering songs from each album for new and old fans to enjoy.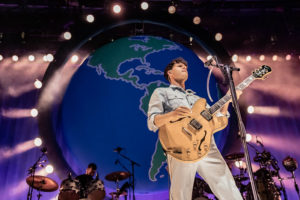 Fans gathered in on this perfect fall evening for a well deserved packed house. There aren't too many bands that sound exactly like they do on their albums during a live performance, but make no mistake, Vampire Weekend does just that. Frontman Ezra Koenig delivered immaculate vocals from beginning to end, starting the night with "White Sky". The seven-piece band, including two different sets of drums, came together seamlessly to create the vibe you'd expect when attending one of their shows. Vampire Weekend included popular new songs into the set like "Harmony Hall" and "Bambina" that have memorable and melodic sounds. During "Sunflower", newly added member Brian Robert Jones showed off his talent by giving an epic guitar solo that really had the crowd going. The band also gave San Diego something to remember when they preformed "Taxi Cab", a song they haven't played live in nine years. Keeping the energy high for the entire two and a half hour set, Vampire Weekend included other fan favorites like "A-Punk" and "Diplomat's Son".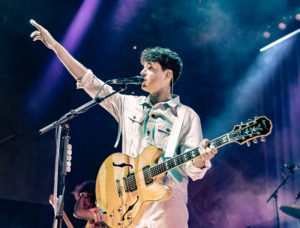 Wrapping up the night with "Flower Moon" as an encore, Koenig made sure to give beloved fans a full experience by taking four song requests. Songs included  a cover of " Don't Dream It's Over" by Crowded House, "Hannah Hunt", "Ottoman", and "Campus". The band played one last song "Walcott" to end the evening with a bang. Despite the band not returning to San Diego in years, fans showed their dedication by singing all the words the entire night, even to songs from the new album. Overall it was a pleasurable experience that definitely made up for lost time.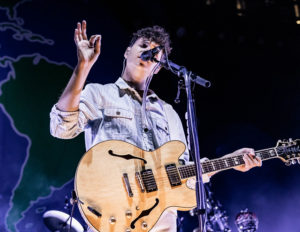 Setlist:
White Sky
Unbelievers
Bambina
Kwassa
How Long?
Everlasting Arms
I Stand Corrected
Sympathy
Holiday
Unbearably White
Step
Taxi Cab
Sunflower
This Life
Diplomat's Son
Harmony Hall
Diane Young
Cousins
A-Punk
2021
California English
I Think Ur A Contra
Encore:
Flower Moon
Don't Dream It's Over (Crowded House cover)
Hannah Hunt
Ottoman
Campus
Walcott
Vampire Weekend Returns For A Sold Out Show In San Diego first appeared on Game On Media.