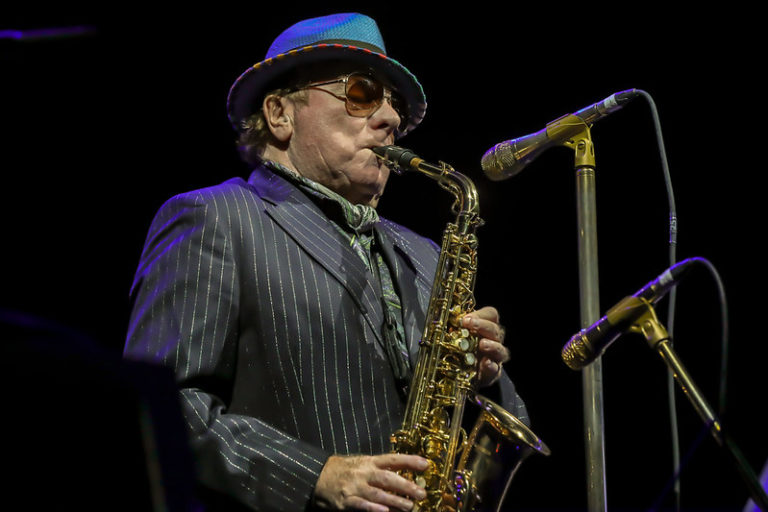 Images by Johnnie Crow
Words by Melissa Butterfly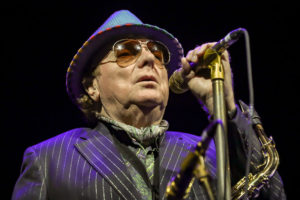 Van Morrison and Mavis Staples brought their soulful R&B sounds to San Diego for yet another night of classy live music at the North Island Credit Union Amphitheater in Chula Vista, California on October 8, 2019.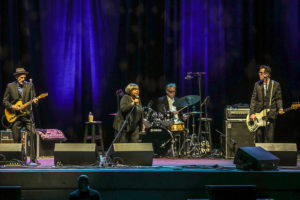 The show opened with the legendary songstress Mavis Staples. From the Windy City, she hit the stage not only with her rhythm and blues, but with her righteous presence, and it is no wonder that she is hailed by NPR as "one of America's defining voices of freedom and peace." She considers herself as a messenger and her musical storytelling is the perfect forum for her to deliver her messages. Her songs and soulful lyrics are like Maya Angalou's poetic justice about living life, struggles, freedom, and the work that still needs to be done — Mavis said she is tired of the ongoing issues of homelessness, gun violence, neglected children and family units… "something needs to be done and we gotta change to be free." She and her band clapped their way into song "We Got Work To Do," as she proclaimed, "You know, I might run for President myself!"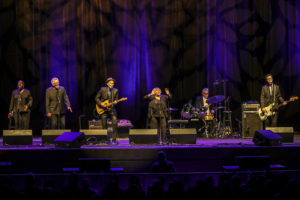 Mavis Staples' goal for this evening in San Diego was to bring joy, happiness, inspiration, and positive vibrations to feel good… she said she was not sure how long that feeling would last, but at least while she was up there on the stage. She is a songstress and a gospel music legend with rhythmic style that includes growls, hand movements, and her hometown "Chi-Town" blues where artists Muddy Waters, Buddy Guy, and the infamous Howlin' Wolf are from… she said she is still learning and will "keep practicing howling" like these great artists. She just turned 80 years old this past July and seeing her performance on stage in San Diego was so inspiring for all ages that were present at this show.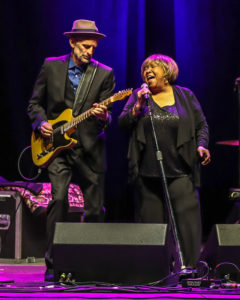 Aside from this special night in San Diego with Van Morrison, Mavis Staples is currently on a concert tour bringing her to major and mid-sized cities throughout the United States, Canada, and as far away as Brisbane, Australia — she will be breezing in to 2020 continuing to spread her musical messages, inspiration, and motivation at her age of 80 years young, taking the expression "You Go Girl" to its highest level!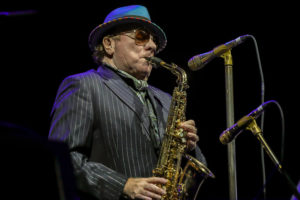 Now to the iconic Irish legend, Sir George Ivan "Van" Morrison, aka the infamous, Van Morrison. This was a special night for San Diego being only his third show in this city since 1973 and 9 years since his last concert. He opened his set with "Got To Go To Where The Love is," which was so apropos for the audience in San Diego, who have been waiting since 2010 for more of his musical love. Although the amphitheatre was not sold-out, it was a full house and people of all ages were present to see one of their favorite Rock and Roll Hall of Famer for a Moondance.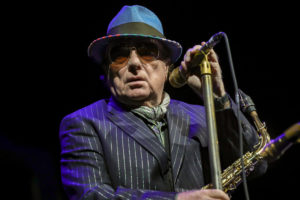 Van Morrison dressed to the nine in his typical fashion and wore a pin-stripped suit, hat, and sunglasses. He was definitely a cool cat up there on the stage as he belted out his tunes… in his zone and focused with not much banter, which is his normal stage presence. He performed with his 7 person band — 2 women and 5 men — playing multiple instruments from as small as the harmonica, maracas and tambourine to the big bass cello and bongos. He was the centerpiece of the stage clad with his gold microphone and saxophone with the band assembled around him in a tight knit group, like a drum circle, all collaborating with their melodic beats. The setlist included a variety of songs with new and old hits that covered a 90 minute show. After Van Morrison finished his last song, "Gloria" by Them, the band he fronted before going solo, he left the stage and the band closed the night with a rocking showcase to highlight each member, ending the night on an upbeat and higher note.
Van Morrison is currently on tour and will be heading abroad to the United Kingdom, and back to the States hitting New Jersey and Las Vegas, Nevada, which takes him and fans into 2020… such a great way to kick off the new decade and his new album, "Three Chords & The Truth" being released on October 25, 2019.
As seasoned singers and songwriters, Van Morrison and Mavis Staples alike shared the same page on the same stage in San Diego with their musical storytelling simply singing songs about life, making the night so profound. All of the tracks performed by both of these iconic artists made it such an outstanding show and this tour definitely brought classy to San Diego yet again. As they continue with their tours, either headlining their own shows or together again, they are a must see in a town near you! Check out their official websites for their current tour information and additional details:
https://www.vanmorrison.com/
https://mavisstaples.com/
Van Morrison and Mavis Staples Give San Diego a Night of Soulful R&B Storytelling first appeared on Game On Media.