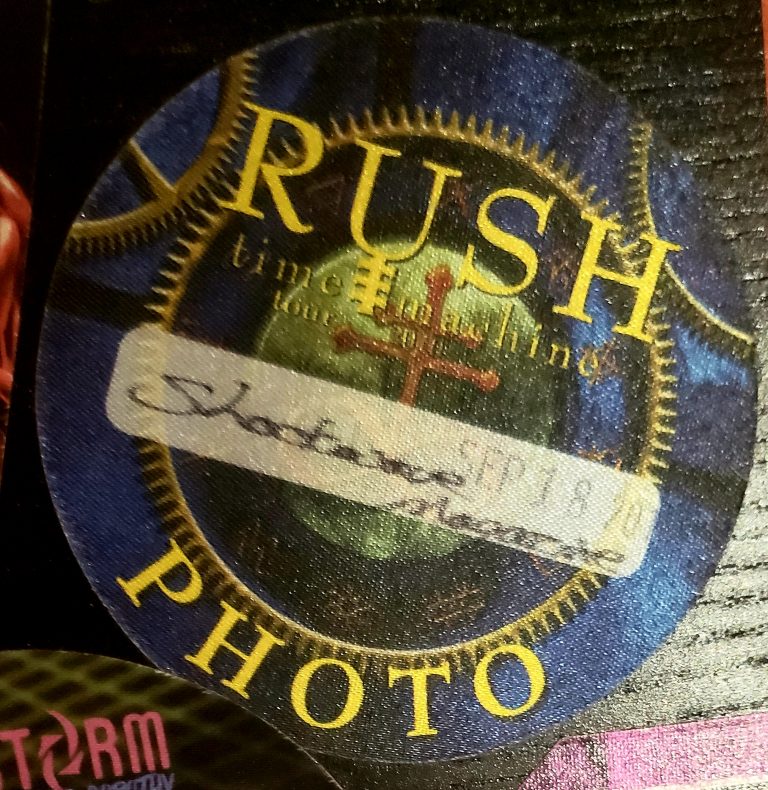 "I hear their passionate music; read the words that touch my heart." – Neil Peart, "Mission"
Hall of Fame Rush drummer and lyricist Neil Peart has died after a 3-1/2 year battle with glioblastoma brain cancer. Rush played the final show of their R40 Live 40th anniversary tour on August 1, 2015 at The Forum in Los Angeles, California. For the past 4-½ years, fans have been hopeful for one more album, or one more tour, from their favorite band of all time. While Peart lived his life privately, Geddy Lee and Alex Lifeson continued to deflect questions about a reunion. Sadly, that will no longer be possible. As the band had stated throughout their R40 Live tour, that was their final celebration of a lifetime of musical magic and a legacy of performance perfection.
"We've taken care of everything, the words you read, the songs you sing." – Neil Peart, "2112"
Neil Peart joined Rush just after their debut album was released, and was forever known as "the new guy" despite over 4 decades of service, pointing to the underlying sense of humour that the band shared amongst themselves and with their live audiences through hilarious video skits. Neil had always been an avid reader since his youth, and that continued on the road, leading Geddy to allow him to write the band's lyrics. Peart wrote about topics not often touched upon in rock and roll, translating his understanding of literary works and the human condition into deeply insightful pieces of art that educated and inspired listeners. 
"Driven to the edge of a deep, dark hole." – Neil Peart, "Driven"
In 1997, tragedy struck Neil Peart when his college-aged daughter died suddenly in a car accident. While dealing with the heartache, his wife Jackie got sick and quickly died. Peart's best friend and motorcycle riding companion was incarcerated, so Neil took off on a long, private 55,000 mile motorcycle ride across all of North America, a voyage he captured eloquently in the book "The Ghost Rider", one of 7 he published. He later met a woman who would become his wife, and they had a daughter together, providing him with a second chance.                                               
"The greatest act can be one little victory." – Neil Peart, "One Little Victory"
In 2002, the band returned with a new album and world wide tour, creating excitement and appreciation in their fan base that continues to this day. They did not come back as a legacy act, cashing in on past glory. They continued to write, record and tour until 2015. Peart gave his all on stage, then rode off on his motorcycle to spend time with loved ones, letting his lyrics do the talking. He shared his pain, his hopes and aspirations, his condemnations and criticisms, his darkest realities and his wildest fantasies. Those who appreciate lyrics as much as melodies continue to devour and digest his timeless observations.
"You can do a lot in a lifetime, if you don't burn out too fast." – Neil Peart, "Marathon"
On April 18, 2013, Rush was finally inducted into the Rock and Roll Hall of Fame, after years of fans demanding that the institution recognize their greatness. Rush fans were rewarded when the event was moved from the Hall in Cleveland to the Nokia Theater in Los Angeles, California, which provided upper level seating for the general public. I was blessed to be living in southern California and able to find tickets for sale. The entire evening was incredible and full of stars, starting with Tom Petty, John Fogerty and Jackson Browne singing "I Love L.A." with Randy Newman, and including Chris Cornell inducting Heart, Spike Lee inducting Public Enemy, Oprah Winfrey inducting Quincy Jones, Cheech and Chong inducted Lou Adler, and Dave Grohl and Taylor Hawkins of Foo Fighters inducting and performing with Rush. Geddy Lee gave heartfelt thanks to the fans, Alex Lifeson literally "blah-blah-blahed" to hilarious effect, and Neil Peart was as eloquent and poetic as we have come to expect. He seemed particularly proud to "receive this honour as a working band, in the middle of a tour, in (their) 39th year."
"Growing up it all seems so one-sided, opinions all provided, the future pre-decided. Detached and subdivided in the mass production zone, nowhere is the dreamer or the misfit so alone." – Neil Peart, "Subdivisions"
Rush was the most important band of my teenage years, and so many of their songs are forever burned in my brain, heart and soul. Growing up in the 80's, moving from record albums to cassettes to compact disks, growing from a shy middle schooler to a depressed high schooler to a productive, social college student, Rush was there every step of the way. Peart's words echoed in my head as I struggled to find my way and my place in a confusing, hostile world. From "Permanent Waves" and "Moving Pictures" on vinyl in my basement, through "Signals", "Grace Under Pressure" and "Power Windows" on cassette in my Sony Walkman while biking as far away as I could get from my hometown, right into "Hold Your Fire", "Presto", "Roll The Bones" and "Counterparts" on CD players in my college dorm and my first car, Neil Peart gave me validation that I wasn't alone and hope that changes aren't permanent, but change is.
"Why are we here? Because we're here. Roll the bones." – Neil Peart, "Roll The Bones"
Those that only know Rush from a distance may think of them as a classic rock band with science fiction lyrics, but that is only scratching the surface of the poetry in their lyrics. Each album has an underlying theme, and those themes touch on the very core of human existence. So many of Peart's lyrical poems offer keen observation and wry critique of the human condition, but also a roadmap to the stars of an ideal future landscape that so many of his characters race towards. This optimism in the face of injustice has truly been an inspiration to me in my darkest hours and most desperate times. The belief that things can get better and be better are central to a productive humanity, and the prose of Peart echoes in my brain on a daily basis, forming the core belief system that I have held onto for the last 40 of my 50 years on this planet. Ever since I heard through my one-speaker AM radio/alarm clock as a 10 year old "I will choose a path that's clear, I will choose freewill" and "It's really just a question of your honesty", I have been driven to manifest my own destiny.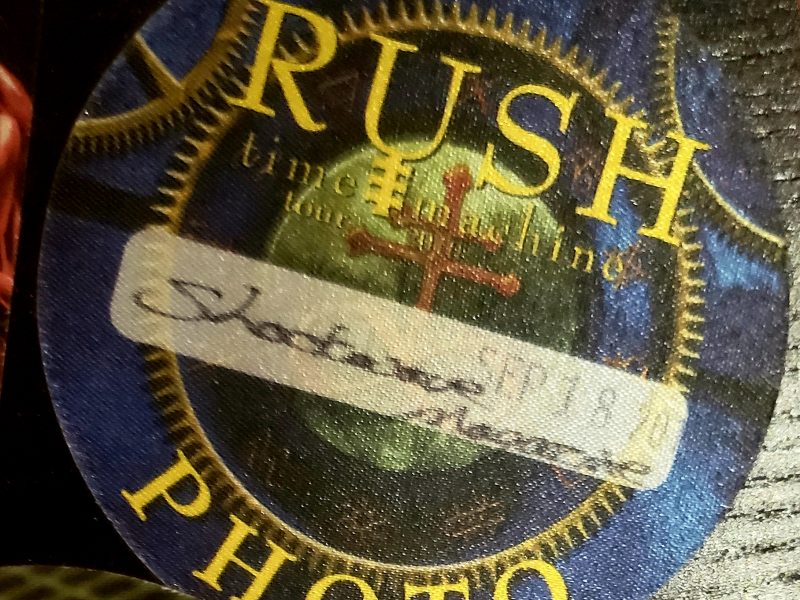 "All of us get lost in the darkness. Dreamers learn to steer by the stars." – Neil Peart, "The Pass"
Rush was also the most important band of the past decade of my life. After my 20 year high school reunion, I reconnected with childhood friends who I had lost touch with long ago. We began meeting in New York to see Rush together, anytime they played Jones Beach Theater or Madison Square Garden. I met up with other friends to see them play in Virginia and California. I was shocked to be granted a photo pass in September of 2010 on the Time Machine tour. It was my first year as a concert photographer, and when Geddy Lee looked straight into my camera eye, I felt like Wayne & Garth – "I'm not worthy!". I struggled to find Neil behind his 3,000 piece drum kit, yet this stands as one of my greatest photo pit experiences. These trips to see Rush through the years were a chance to catch up, to pass an evening with a drink and several friends, to witness an unbelievable live performance, and to stay up all night dissecting every part of the evening. After the final tour in 2015, I have started to lose touch with those friends again, without the shared celebration of a Rush concert to bring us together, and connect us in anticipation. 
"Suddenly, you were gone, from all the lives you left your mark upon." – Neil Peart, "Afterimage"
I have been fortunate to be a part of so many special events during my time in San Diego, making a point to travel to Los Angeles to take advantage of the opportunity to witness unique performances. The Hall of Fame induction will remain as the most unbelievable musical experience. I was also fortunate enough to attend the final R40 show at The Forum in Los Angeles, with some dear friends from college who I have rarely seen since college. Realizing that this was now the final performance for the power trio known as Rush, it takes on even more emotional weight. It draws me to compare to another intense show at The Forum, Temple of the Dog, who I never thought I would see perform, in what turned out to be the last time I witnessed Chris Cornell singing live. I attended the Chris Cornell tribute, also at The Forum, as well as the Chester Bennington / Linkin Park tribute at the Hollywood Bowl in Los Angeles. I share a birthday with Cornell, which is also the day that Bennington took his own life only months after Cornell had taken his, on the night before I was scheduled to photograph Soundgarden at the Rock on the Range festival. Realizing that Cornell was in attendance and performing at the same Hall of Fame ceremony as Rush all those years ago brings all of this full circle for me. 
"Try to hold some faith in the goodness of humanity." – Neil Peart, "Nobody's Hero"
Though I never met any of these artists personally, their words and delivery continue to affect me, and millions of others, on a daily basis on the deepest emotional levels. I am so grateful for the opportunities I have had to enjoy those live performances, and take comfort knowing that I can always play their magic music to make my morning mood. The roller coaster of emotions surrounding loss is a never ending ride, whether we lose our most beloved family and friends or a public figure who has burrowed into our subconscious. The important thing to do is celebrate the powerful emotions that they evoke, and take every opportunity to spend time with the ones we love. This goes for personal experiences with family and friends, and vicarious experiences with artists on stage and screen. When a band like Rush and an artist such as Neil Peart can bring both of those experiences together at the same place and time, that is a moment when time stands still, all the world's indeed a stage, and I feel I'm on top of the world, the way things ought to be.
"I learned your love for life, I feel the way that you would. I feel your presence. I remember." – Neil Peart, "Afterimage"
The band released the following statement:
"It is with broken hearts and the deepest sadness that we must share the terrible news that on Tuesday (January 7, 2020) our friend, soul brother and band mate of over 45 years, Neil, has lost his incredibly brave three and a half year battle with brain cancer (Glioblastoma). We ask that friends, fans, and media alike understandably respect the family's need for privacy and peace at this extremely painful and difficult time. Those wishing to express their condolences can choose a cancer research group or charity of their choice and make a donation in Neil's name.
Rest in peace brother."
"The treasure of a life is a measure of love and respect. The way you live, the gifts that you give." – Neil Peart, "The Garden"
What Neil Peart and Rush Mean To Me first appeared on Game On Media.