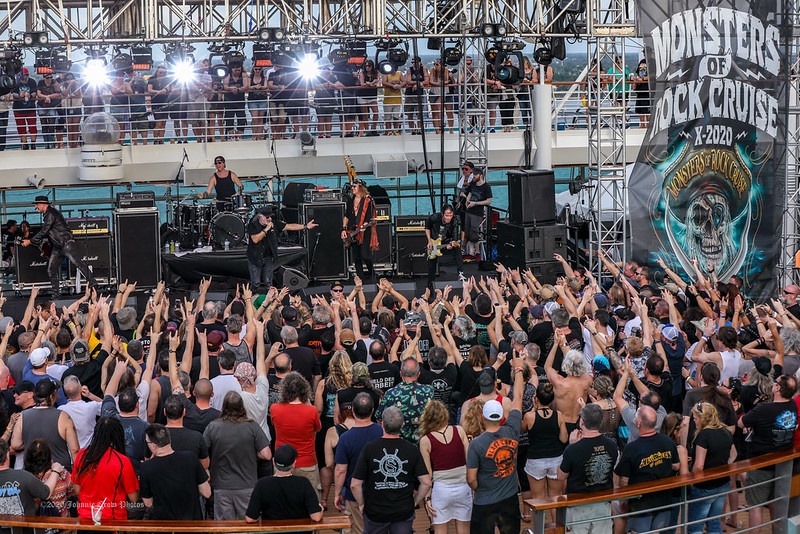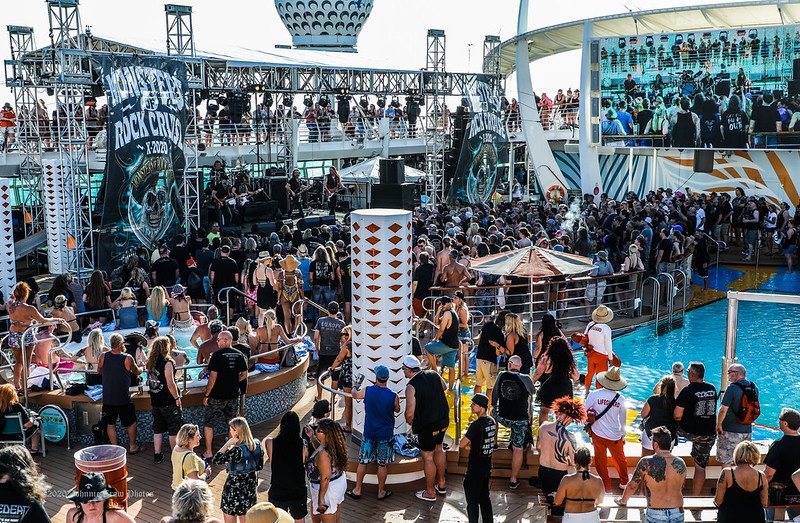 The holy trinity of guitar gods – George Lynch, Nuno Bettencourt, Reb Beach. The greatest voices in rock – Miljenko Matijevic, Gary Cherone, Kip Winger, CJ Snare, Jeff Keith. Legendary drummers – James Kottak, Brian Tichy, Rick Allen. Guitar clinics, comedy shows, artist Q&A's, late night karaoke with rock stars. What has all of this and more?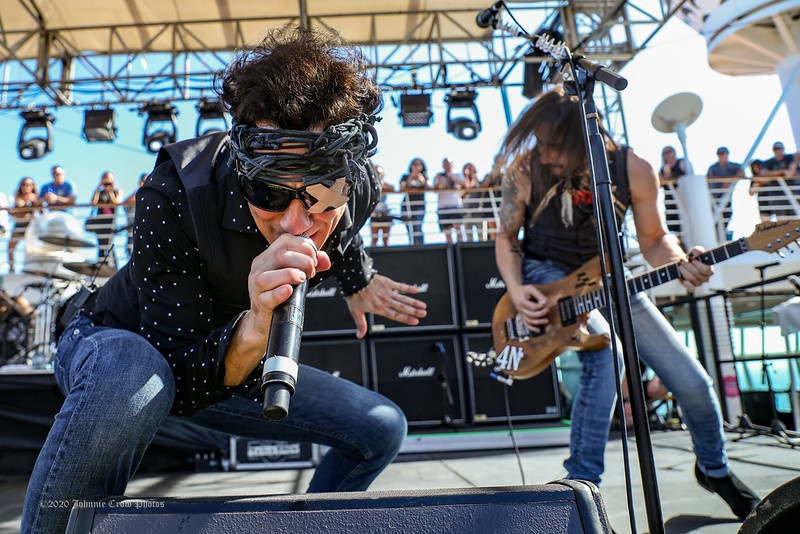 The 10th annual Monsters Of Rock Cruise (AKA MORC X) set sail from Ft. Lauderdale, Florida on February 8, 2020. The Royal Caribbean ship Independence of the Seas was the home to 50 rock and roll bands, and thousands of their fans, over 5 nights at sea. The cruise stopped in Belize and Cozumel, Mexico when it was not rocking through the high seas. There were a variety of stages to host the nonstop concerts, including the large 2 level theater, a smaller theater with a large standing area surrounded by tiered seats, a club lounge, and a special pool deck stage rapidly constructed for the event which allowed fans to watch shows from the pool, hot tubs, lounge chairs, pool bar or upper level deck.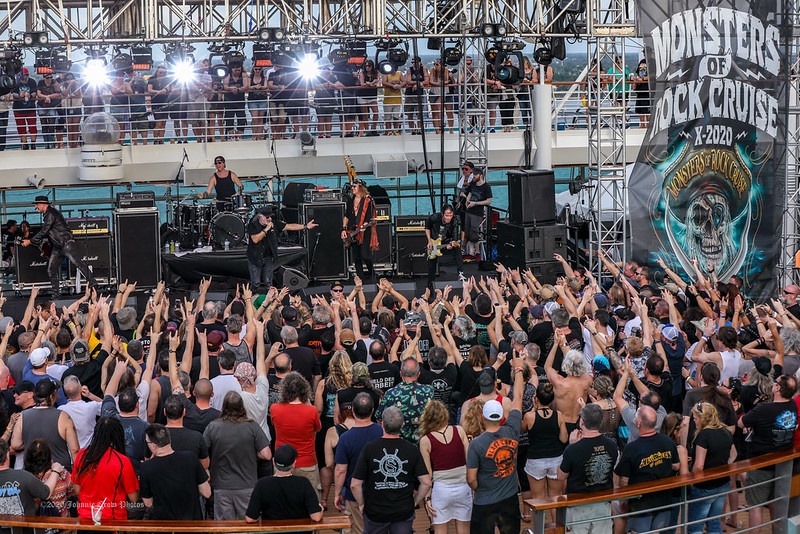 The cruise was headlined by Tesla, Krokus, Extreme and Winger, which is enough to make for a great concert right there, but that is never enough for a Monsters Of Rock Cruise. Take a deep breath, because there were 49 bands announced and one special surprise sailaway band that was only revealed when they took the stage as the ship left port. The insane lineup included Atomic Punks, Autograph, Ben Woods, Black N' Blue, British Lion, Burning Rain, Cold Sweat, D-A-D, Diemonds, Doro, Enuff Z'nuff, Faster Pussycat, Firehouse, H.E.A.T, Hardcore Superstar, Heavens Edge, Heavy Pettin', Honeymoon Suite, Joel Hoekstra, Keel, Kingdom Come, Kings X, KIX, Lizzy Borden, Lynch Mob, Mac Sabbath, Paradise Kitty, Raven, Richie Kotzen, Ron Keel, Russell Allen, Shiraz Lane, Simon Daniels, Slaughter, Steelheart, Stryper, The Quireboys, Thunder, Tokyo Motor Fist, Tyketto, Vixen, White Trash, Y&T, Jason Beiler, and Cold Gin.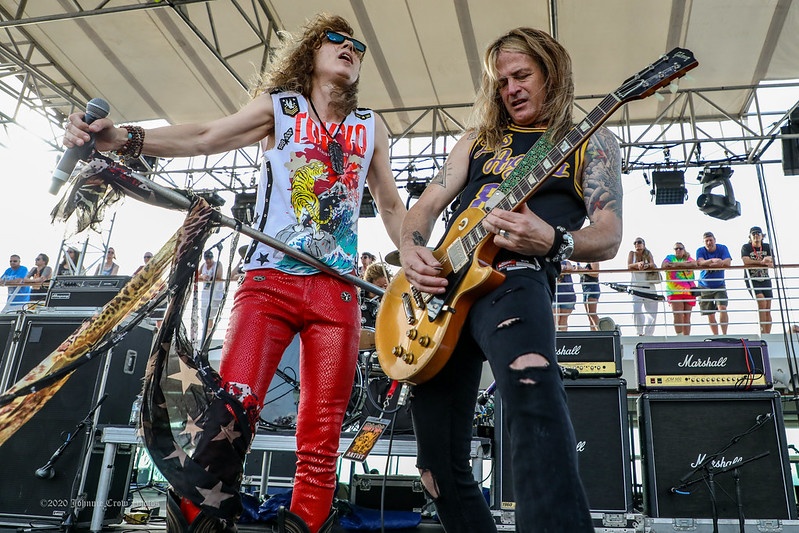 As rock fans from around the globe boarded the ship, found their room, purchased their drink tickets, waited for their luggage and figured out the lay of the ship, the MORC Crew worked feverishly to turn one of the pools into a full sized stage, complete with lightshow and perfect sound. All of the hosts came out to welcome everyone aboard – Eddie Trunk, Nikki Blakk, Luc Carl, Don Jamieson, Jim Florentine and Metal DJ Will. Then the surprise sailaway band took the stage – BulletBoys – featuring their original lineup of Marq Torien, Lonnie Vencent, Mick Sweda and Jimmy D'Anda. From there it was an endless musical orgy of classic guitar metal, unique events, once in a lifetime selfies and shared community.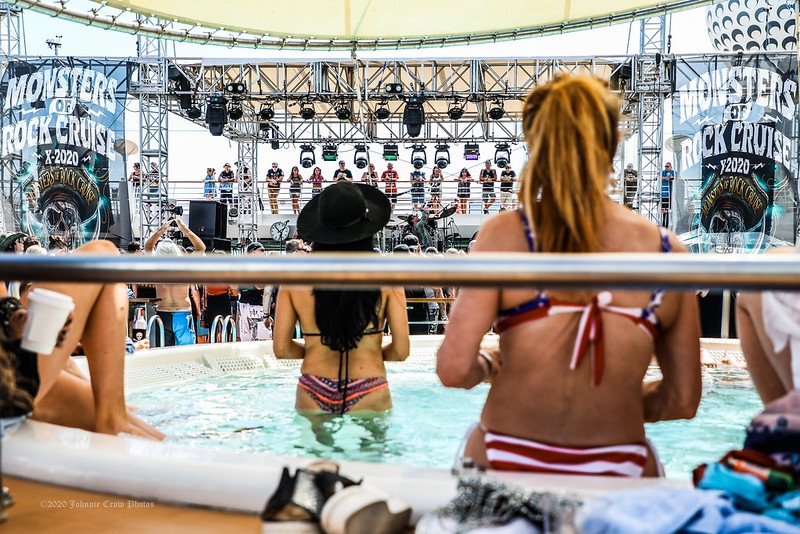 Every Monster had their own unique experience over the course of the week. On top of close to 100 concerts, MORC X offered photo opportunities with the artists, painting lessons, art exhibits from Def Leppard drummer Rick Allen and Tesla bassist Brian Wheat, dinner with bands, basketball games, surfing contests, costume contests, charity events and guitar raffles. Being a rock cruise, there were special music-themed beers available. Tesla guitarist Frank Hannon hosted a party in the promenade featuring his new Double IPA from Out of Bounds Brewing Company – Heavy Metal Hippie. Not to be outdone, Iron Maiden bassist Steve Harris hosted a pub party featuring 2 brews – Trooper Premium British Beer and Sun And Steel Sake Lager.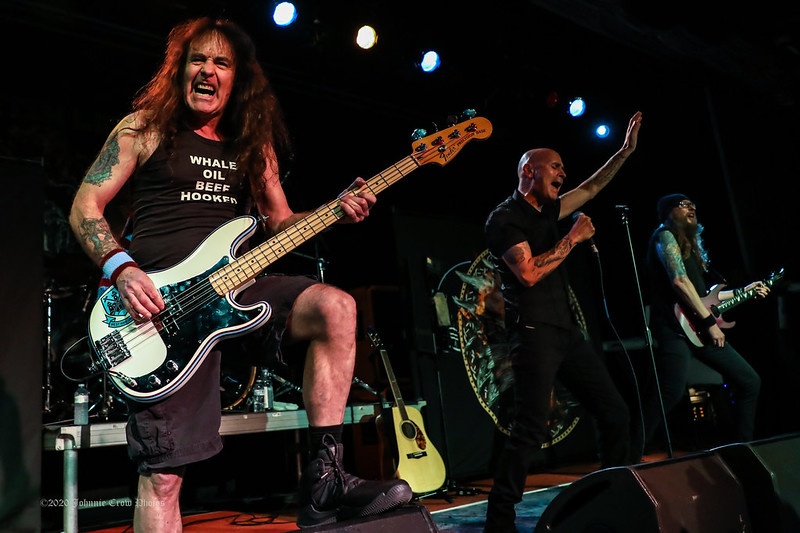 Most bands played two 1 hour sets during the cruise, sometimes on different stages, sometimes with different setlists, sometimes with special guests. Tesla and Kix are among the greatest live rock and roll bands in history and they never disappoint. Tesla played 2 incredible theater sets, and about half of the songs differed each night. They also brought out Rick Allen, who played along with "Little Suzi" and "Signs" on a drumkit with custom MORC artwork. During the second show, Allen surprised Troy Lucketta during the set by appearing behind him and drumming along. Def Leppard helped introduce the world to Tesla, taking them along on the massive Hysteria In The Round tour in the 80's, and has had them on numerous summer tours in recent years. It was really special to see the guys interacting and enjoying their time on stage together.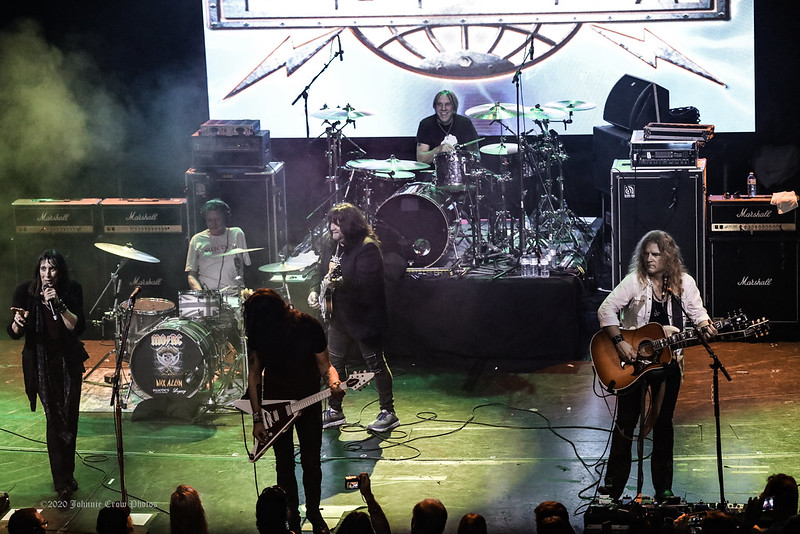 Kix is another cruise veteran who wanted to give their fans something special. Most of their set varied from show to show, with their theater show digging deep into the catalog, pulling out "Kix Are For Kids", "The Kid", "The Itch", "Baby Time Bomb", "Restless Blood", and "Rock & Roll Overdose". They went overboard next, bringing out the co-writer of "Bang Bang (Balls of Fire)" – none other than Kip Winger! What a treat for everyone involved. The joy that comes off the stage during a Kix show can be felt in the audience, and it gets radiated back onto the band and shows on their faces. There is no frontman more entertaining than Steve "Hey Fucker" Whiteman.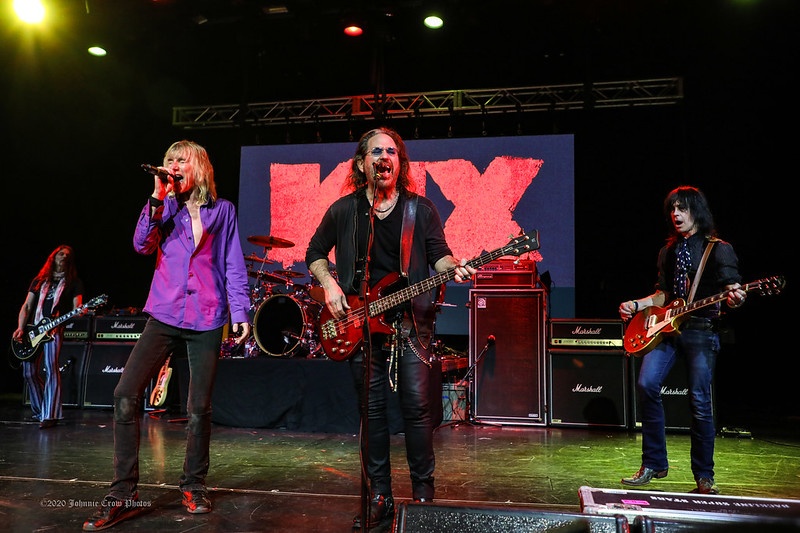 Many of the bands were celebrating the 30th anniversary of their best albums, which made for some special shows. 4 of the original members of Kingdom Come recently reunited, with Keith St. John providing vocals and a dynamic stage show. Lynch Mob was celebrating their debut album "Wicked Sensation" and vocalist Oni Logan rejoined George Lynch's band to play the entire album front to back, with Brian Tichy on drums and Michael Devin on bass. This landmark album remains one of the best in the genre and it was so special to see it performed twice on this voyage. Extreme's 2nd album "Pornograffitti", another of the all time classics, also turns 30 this year and the boys from Boston pulled heavily from it. They remain an incredible live band, with perhaps the most raw talent of any band on the ship.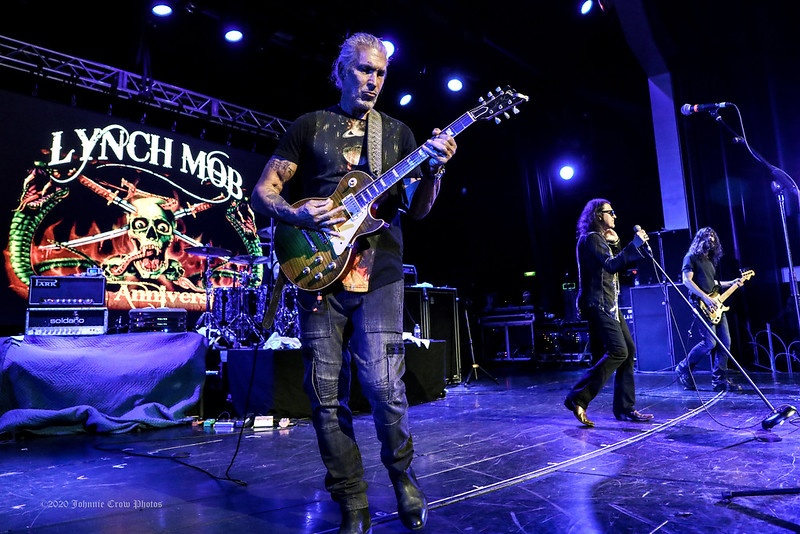 Really the only downside to the whole experience was #fomo – fear of missing out. I managed to photograph 30 of the 50 bands, and catch part of the sets of 5 others, leaving 15 bands missed completely. I heard great things about the peformances of Richie Kotzen, Lizzy Borden and Firehouse and would have loved to witness that. With so much going on, it would be nearly impossible to see every band, and it was important to find some time to eat a good meal once in a while and try to sleep a little bit.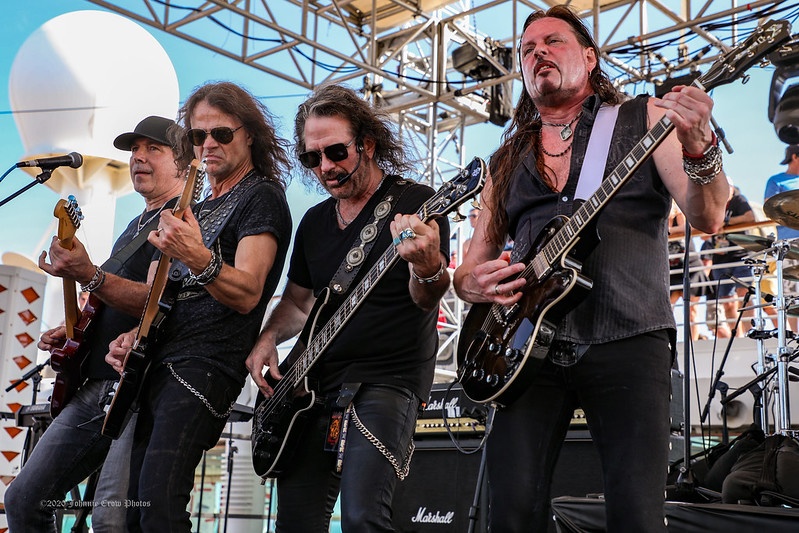 Perhaps the best part of an event such as this is the combination of singing along with every word from one of your favorite bands (Winger, Steelheart), mixed with the experience of seeing a band you have loved for decades for the first time (Krokus, Kingdom Come), and the joy of discovering something new to you. The Monsters Of Rock Cruise introduces fans to newer bands, sometimes featuring familiar faces, sometimes something completely different. We came away from MORC X fascinated by The Quireboys (from London), Burning Rain (with Doug Aldrich and Keith St. John), British Lion (with Steve Harris) and H.E.A.T (from Sweden).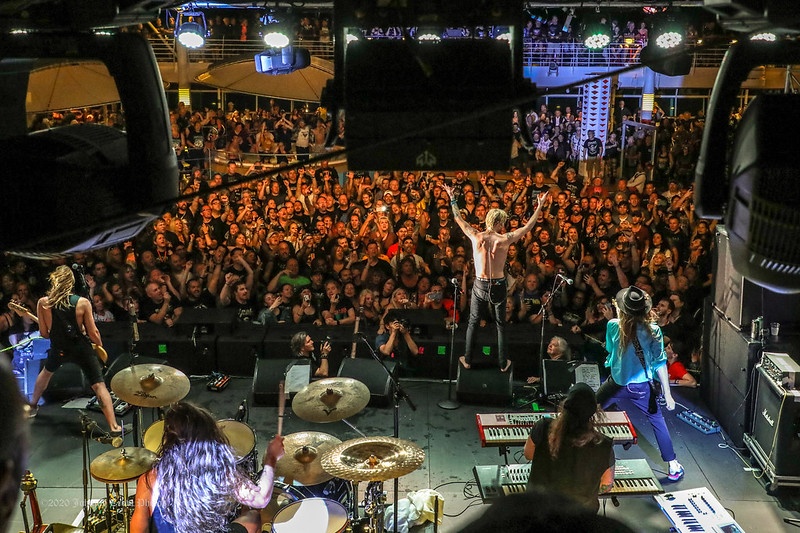 Next year's celebration will star Alice Cooper. Get all the details on sale dates and lineup announcements at https://monstersofrockcruise.com/
Monsters Of Rock Cruise X – 2020 first appeared on Game On Media.