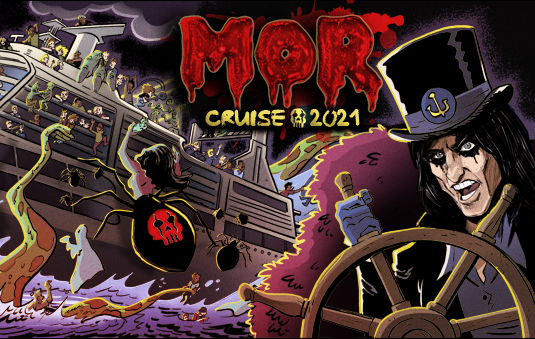 The 2021 Monsters of Rock Cruise is coming soon!
Have you heard? 2021 is going to be more over-the-top incredible than ever! With a great ship, great hosts, fantastic events and a lineup that may be our best ever! Not to mention, a spectacular new stop at Puerto Plata, Dominican Republic, a return to a MORC fan-favorite Labadee, and topped off with two thunderous days at sea…we are not exaggerating when we tell you…2021 will be off the charts!
Check out all the details below so you are armed, ready and prepared to book when it's your chance!
Prepare yourself for the 2021 Monsters of Rock Cruise, featuring one of Rock's most legendary stars, ALICE COOPER. But, that's just the beginning, as our supporting lineup will dazzle like never before! Plus more interactive events and those subtle differences that separates MORC from the rest. It's time for you to start planning for the greatest Rock 'N Roll adventure to ever hit the Seven Seas!Get ready to reserve your spot aboard…this will be the Greatest Floating Rock Experience of all time and we want YOU there!

In case you missed it, check out our initial starting lineup. This is already shaping up to be unbelievable!
Stay tuned for more announcements coming soon!
The 2021 MORC will be sailing on the Independence of the Seas out of Fort Lauderdale, Florida February 8 – 13, 2021 in celebration of the cruise that has become legend…It's the Hard Rock/Heavy Metal cruise by which all others are compared!
We will all come together once again aboard Royal Caribbean's amazing Independence of the Seas, featuring the greatest Hard Rock/Heavy Metal lineup on planet Earth! This is going to be a cruise to remember and should be attended by all!
Our new website is live NOW, with all the details on our 11th MORC Voyage! Be prepared with all the important information you need before you book by visiting: 
MonstersOfRockCruise.com
.
Please note that the "Book Now" function will be disabled until the General On Sale begins.
We are thrilled to announce that our home for the 
2021 Monsters of Rock Cruise
is Royal Caribbean's amazing 
Independence of the Seas
. 
With amazing music venues throughout the ship, there is truly no better place to have our 
11th Anniversary Monsters of Rock Cruise
!
Arguably the best part of the ship, the Independence of the Seas features the  Royal Promenade, the center and heart of the ship. Spanning the length of Deck 5, this naturally lit, four-story boardwalk allows guests to stroll into restaurants and cafés, stop in to do some shopping and of course, grab a drink before the next show. Not to mention, this vibrant and exciting hub will connect Monsters of Rock Cruisers to many of our Concert Venues, including not one, but Two Indoor Main Concert Venues to listen to the lineup we have planned! And of course…the Pool Stage is back!
To see more about the Independence of the Seas, Click Here.
| DAY | DATE | PORT | ARRIVE | DEPART |
| --- | --- | --- | --- | --- |
| Monday | February 8th | Fort Lauderdale, Florida | | 4:30 pm |
| Tuesday | February 9th | Day at Sea | | |
| Wednesday | February 10th | Puerto Plata, Dominican Republic | 7:00 am | 5:00 pm |
| Thursday | February 11th | Private Isle of Labadee | 7:00 am | 5:00 pm |
| Friday | February 12th | Day at Sea | | |
| Saturday | February 13th | Fort Lauderdale, Florida | 7:00 am | |
Nothing can prepare you for the breath-taking beauty that is Puerto Plata, Dominican Republic. Being the oldest city in the north, Puerto Plata offers not only views of the sea and mountains, but so much more. Choose the adventure for the day that is right for you. Whether you prefer to spend the day traveling 2,600 feet above sea level in a cable car or perhaps you would rather hike majestic trails – both options are available if you choose to visit Monte Isabel de Torres.
If the ocean is calling your name, visit Sousa Beach where you can sunbathe, swim, snorkel or grab a bit to eat at a nearby restaurant. For those of you who want to experience the culture of the Dominican Republic, consider staying in town to explore the unique architecture, enjoy delicious Dominican cuisine, or shop for keepsakes to remind you of the amazing experiences you had in Puerto Plata.
Take a look at what Puerto Plata has to offer!
Monsters of Rock Cruisers LOVE Labadee and we know you will too! It is the ultimate private destination for MORC Cruisers…and is exclusive to Royal Caribbean guests! 
Adventure, exploration, and relaxation are just the beginning of what Labadee has to offer. Hang with your new MORC friends at one of the many bars, swim in pristine waters and don't miss the complimentary lunch provided to keep up the blood sugar…Welcome to Paradise!
LOOKING FOR A THRILL?…strap on a helmet and harness, and soar 500 feet down on the Dragon's Breath Flight Line, the World's longest zip line over water. Want more action? Check out the Wave Jet Rides, Parasailing, Snorkel Safaris, Kayak Tours, Basketball, Soccer and much more!*
We are honored you allow us to be a part of your life year after year and we commit to continue bringing you the unbelievable lineup, sound, lighting, events and the fun you have come to know and expect from the cruise that trumps all other cruises. The one and only…
Monsters of Rock Cruise
!
We will continue to improve, innovate and strive for excellence and can say without any doubt that 2021 will be a testament to that commitment with arguably one of our most amazing lineups.
Don't forget to tell your family and friends about the Monsters of Rock Cruise,  as word of mouth from our fans is what keeps us growing. Spread the word…let's keep it going!
We hope you are as excited as we are about the 2021 Monsters of Rock Cruise and we can't wait to see you aboard!
Let the countdown begin…
QUESTIONS? Email us at [email protected]

The 2021 Monsters of Rock Cruise Starring Alice Cooper is Coming Soon! first appeared on Game On Media.