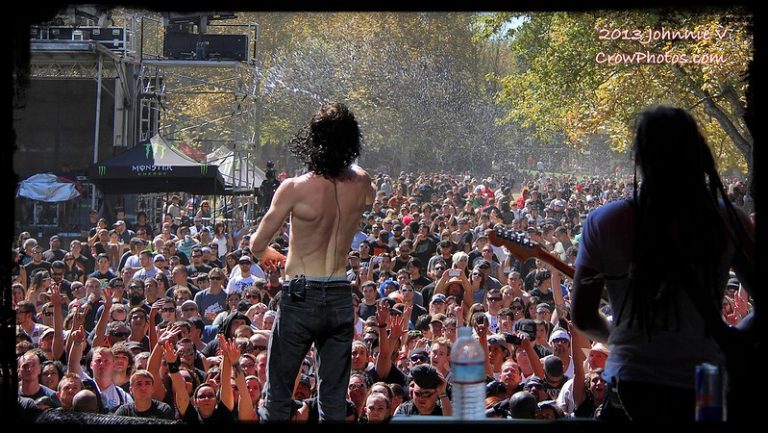 In the absence of new festivals to cover, GameOn.media is taking a look back at some of our favorite festivals, which we look forward to writing about and taking pictures of, just as soon as we are able to safely do so again.

Danny Wimmer Presents has become the leading producer of rock festivals in the United States, and one of their crown jewels is Monster Energy Aftershock Festival, which takes place in the fall at Discovery Park in Sacramento, the state capital of California. This event, held amongst the trees in the brilliant sunlight of the day, which fades into the cool crisp autumn evening, has become the biggest hard rock event west of the Mississippi. Fans travel from far and wide to catch up with old friends, check out the biggest legends in music, and discover the new artists which will become their favorites.
Aftershock Festival is perfectly curated to bring in the biggest acts of today, rare appearances by legends, and star-making sets by new bands. Headliners Slipknot, Tool, Blink-182, Korn, Rob Zombie, Disturbed, Shinedown, Limp Bizkit, Godsmack, Five Finger Death Punch, Avenged Sevenfold, System Of A Down, Deftones, and Slash always put on a killer performance. This fest also offers the chance for younger fans to experience legends such as Alice In Chains, Anthrax, Testament, Megadeth, Faith No More, Nine Inch Nails, Weezer, Tech N9ne and Ozzy Osbourne. You should always show up early, as you may get the chance to be introduced to rising stars like Nothing More, Volbeat, Avatar, Ghost, Fever 333, Starset, In This Moment, Badflower and Highly Suspect.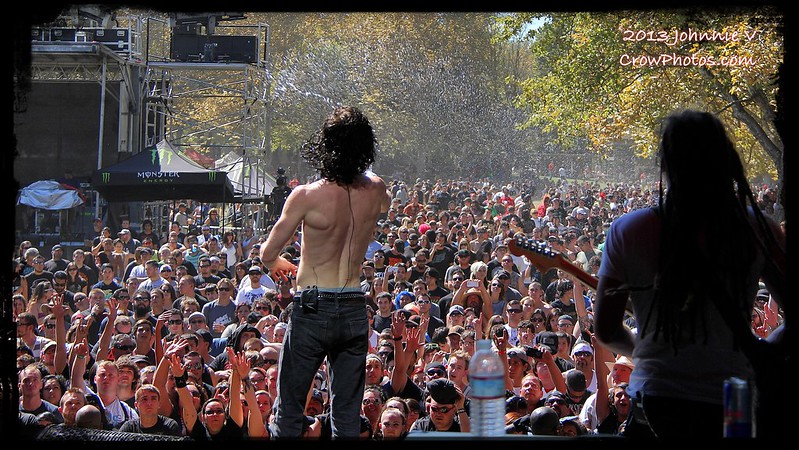 More than 200 artists have graced the stage of California's largest rock festival, including:
311
'68
A Day To Remember
A Perfect Circle
Airbourne
Alice In Chains
All That Remains
All Time Low
Amigo The Devil
Andrew W.K.
Anthrax
Anti-Flag
Architects
Art Of Dying
Asking Alexandria
At The Drive In
Atreyu
August Burns Red
Avatar
Avenged Sevenfold
Awolnation
Babymetal
Bad Religion
Bad Wolves
Badflower
Baroness
Beartooth
Black Label Society
Black Map
Black Stone Cherry
Black Veil Brides
Blink-182
Breaking Benjamin
Bring Me The Horizon
Buckcherry
Bullet For My Valentine
Burn Halo
Bush
Butcher Babies
Chevelle
Cilver
Clutch
Code Orange
Coheed And Cambria
Crossfaith
Dance Gavin Dance
Dead Posey
Dead Sara
Deadland Ritual
Death From Above 1979
Ded
Deftones
Device
Devour The Day
Disturbed
Dorothy
Dropkick Murphys
Eagles Of Death Metal
Emmure
Escape The Fate
Everlast
Eye Empire
Faith No More
Falling In Reverse
Fever 333
Filter
Fire From The Gods
Fishbone
Five Finger Death Punch
Fozzy
Frank Carter & The Rattlesnakes
Fu Manchu
Fuel
Gemini Syndrome
Ghost
Ghostemane
Girl On Fire
Godsmack
Gojira
Greta Van Fleet
Gwar
Halestorm
He Is Legend
Heaven's Basement
Hell Or Highwater
Hellyeah
Helmet
Highly Suspect
HIM
Ho99o9
Hollywood Undead
Hyro The Hero
I Prevail
In This Moment
Incubus
Issues
Jane's Addiction
Jonathan Davis
Joyous Wolf
Korn
Kyng
Lacuna Coil
Lamb Of God
Limp Bizkit
Love And Death
Marilyn Manson
Mastodon
Megadeth
Memphis May Fire
Meshuggah
Miss May I
Monster Magnet
Motionless In White
New Years Day
Nine Inch Nails
Nothing More
Of Mice & Men
Oleander
Otherwise
Ozzy Osbourne
P.O.D.
Papa Roach
Parkway Drive
Pennywise
Pepper
Philip H. Anselmo & The Illegals
Pop Evil
Power Trip
Primus
Puscifer
Red Sun Rising
Redlight King
Rise Against
Rob Zombie
Run The Jewels
Santa Cruz
Seether
September Mourning
Sevendust
Shinedown
Sick Puppies
Skillet
Slash
Slayer
Sleeping With Sirens
Sleepwave
Slipknot
Snot
Soil
Staind
Starset
Steel Panther
Stick To Your Guns
Stone Sour
Stone Temple Pilots
Suicidal Tendencies
Suicide Silence
Sum 41
System Of A Down
Tech N9ne
Testament
The Amity Affliction
The Crystal Method
The Hu
The Interrupters
The Last Internationale
The Offspring
The Pretty Reckless
Them Evils
Theory Of A Deadman
Thousand Foot Krutch
Tool
Turbowolf
Twelve Foot Ninja
Underoath
Volbeat
Wage War
We Are Harlot
We As Human
We Came As Romans
Weezer
Whitechapel
Yelawolf
Zakk Sabbath
Get your tickets and all info NOW for the 2021 edition, expanded to 4 days and featuring 2 sets from Metallica, as well as headline sets from My Chemical Romance and Limp Bizkit – https://aftershockfestival.com/
These are some of our favorite pictures, captured between 2013 and 2019:
Festival Rewind – Aftershock Festival first appeared on Game On Media.