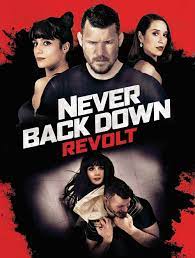 We had the awesome opportunity to talk to director, Kellie Madison about her new film Never Back Down: Revolt. Check out our interview below.
Never Back Down: Revolt revolves around a woman who is kidnapped and forced to compete in elite underground fights as she battles to way back to freedom.
AOTN: So what got you interested in making films like and doing all this stuff?
KELLIE MADISON: I always knew I was going to be an entertainment. Since I was a super young child, and I always knew, but it has had an evolution. It went from actor to writer to producer to director and that order, okay. And so I thought I wanted to be an actor. But then, once, I felt like I got good at it. I was like, Okay, this is I feel like I tackled it. You know, I studied and studied, but now I'm like, Ah, you know, it's not as fulfilling for me. So then I just got bit by the filmmaking bug. Still, I'm grateful for the acting background because it allowed me to have that dialogue with actors so well that some directors don't necessarily benefit from that skill set. Thank you for being interested in our lovely film.
AOTN: Yes, it was good. I just saw it yesterday, and it was very good, and I liked it a lot. I live right outside Philadelphia, and there is a lot that happens in Philadelphia. So yeah, there's a lot of wrestling, and like MMA, UFC comes to Philadelphia a lot. I'm a fan. It was interesting, you know, about the female underground stuff.
KELLIE MADISON: It's a unique storyline.
AOTN: Yes, it is.
KELLIE MADISON: Did you watch the other films in the franchise?
AOTN: No, but I want to now.
KELLIE MADISON: I'd be curious if you go back and watch the first one. I mean, people like Never Back Down Part One. But then two or three or like, maybe this, this fourth one is like, you know, so different than any of the others in the franchise just in tone and character and everything.
AOTN: Yes, some of my friends, we started messing around with cameras and software and code because I was off work due to Covid. And it's enjoyable to do. And I've never been involved in anything like that. But like, I was, like, helping, like with the grips, and the lighting and all that stuff. And, and my friends were like, you know, shooting or certain things. It's an exciting thing to do.
KELLIE MADISON: Are you kidding? Why do you think at the end of a movie, there are hundreds of people?
AOTN: Yes, I get it. I'm a very easygoing person. And I watch every movie with my wife. And I'm like, how does one person, like a director, control all that stuff?
KELLIE MADISON: Hey, thanks for that appreciation. Yes, it is incredible because you are the leader. A lot of people can find that it rather daunting at times, you know? You kind of have to be very brave.
AOTN: Yes, I agree. So how did you get involved in this film?
KELLIE MADISON: Oh, pretty much The Gate. It's really something I'm pretty proud of it. It's a martial arts film I did with some of the actors from The Raid. The Indonesians that are so challenged, and I flew them in from Indonesia did this project. The fight scenes were just so much fun and the characters.   And we got almost 4 million views on YouTube kind of blew up and went viral, and that got me this movie.
AOTN: That's awesome.
KELLIE MADISON: Yeah, I'm really happy and proud. And I met the producers who have owned the franchise and have worked on the franchise since the beginning, and they do a lot of fight movies. They work with many fighters. Craig Baumgarten reps Tony Jaa, wanting to work with Tony and John.
AOTN: I've heard that name before. Many times.
KELLIE MADISON: Oh, he's a badass. Oh my god, talented. He's a tie artist. Yeah, really? Incredible. So I'm trying to find something to do with him. And I've just been in this world, and I met these guys, and we've been in touch. And then when Never Back Down: Revolt came their way, they wanted to change it up and make it about female power. So they were like, Let's hire a female writer, and let's make the movie about a bunch of badass women as a female director, and they're like, I was the first person that came to their mind, so I just very, very blast super excited.
AOTN: Wow. That's awesome. How long did it take to for you guys to shoot this film?
KELLIE MADISON:  We got 20 days. Twenty days, and we got it all done.
AOTN: Wow, that's amazing for what was filmed. What does the future hold for you?
KELLIE MADISON: Just development on a lot of really exciting projects and all sorts of genres spaces. So from CAST, we're casting a horror film genre. Yeah, I love it, and I love elevated horror, brilliant horror. So we're casting on that. And then I'm doing a rewrite on a super grounded sci-fi movie I'm in love with, and then I'm working on a couple of other action films. So just getting stuff in the pipeline. But you know, development.
AOTN: Sounds super exciting and busy.
KELLIE MADISON: Yeah. Always. Well, let's make sure that we tell the viewers your viewers that the movie is coming out next week for 16 Digital blu ray on demand, and then it'll eventually hit a streamer, but everyone should run out and buy ten copies as stocking stuffers for Christmas.
AOTN: Most definitely.
We want to thank Kellie for the interview and we look forward to see what her future holds and be sure to check out the film which will be out November 16th.
Check out the official trailer below:
The post Exclusive Interview With Director Kellie Madison About Her New Film Never Back Down: Revolt appeared first on Age of The Nerd.