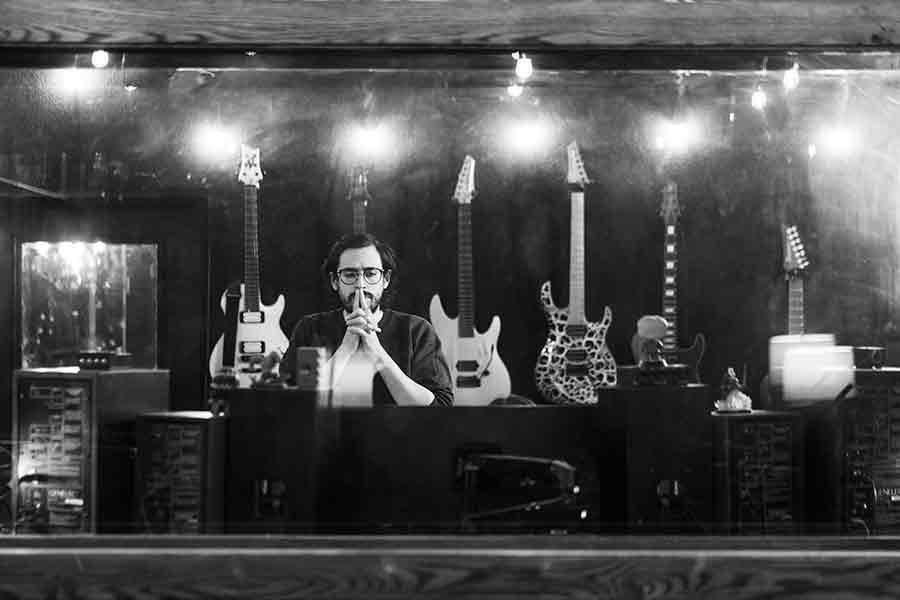 Will Wood Talks About His 4th Album: "In case I make it"
Singer/songwriter Will Wood recently released his fourth studio album "In case I make it" and unfortunately, it might be his last. The singer rose to prominence in 2020 with experimental and upbeat single I/Me/Myself which especially resonated with the queer community and music lovers in general that relished in the poppy sensations contrasting with melancholy lyrics. Since "The Normal Album" in 2020, Will has delved into some darker themes due to his newfound fame, which he shares hasn't always had the best mental effect. "In case I make it" serves as a farewell to Will as he heads into the next chapter of his career as well as delivering another set of thought-provoking, somber songs for fans to enjoy in the years to come. 
Q. I like many fans, first heard of you when hearing your song I/Me/Myself. How has your career progressed since the virality of that song?
A. That virality brought me my first real period of genuine success, which brought with it a lot of attention that I wasn't prepared for. While I've adjusted since then fairly well, the increased notoriety has led to some very difficult things. People developing antagonistic parasocial relationships with me, abusive behavior from a very small cohort of fans, increased difficulty navigating my personal life, and weird identity issues have all been present since then in ways they never were before. I'm grateful to see the turnout at shows and the financial benefits, and I love the feeling of connecting with an audience, but the negative aspects of it have become too destructive so I'm going to be taking an indefinite hiatus starting in the next couple weeks. I'll have a live album out on streaming services soon, and then I'm outta here.
Q. Your music has been described a myriad of ways. How would you personally describe/categorize your music?
A. I tend to think of it as singer-songwriter, pop, experimental sort of stuff. I never wanted to commit to a genre, and have always loved using genre as a tool for self-expression rather than a category for me to work in, so it's hard for me to say myself.
Q. You recently collabed with another band I spoke to a little bit ago, Human Zoo. What was that experience like? 
A. It was a lot of fun. The folks in that band and I go way back, and I'm really happy to see them get some more attention. Hopefully they'll find the success they deserve.
Q. Your latest single "Ferryman" is a collaboration with Shayfer James. How was working with him and putting this song together? 
A. It's really Shayfer's song, I can't say I had a hand in "putting it together" aside from writing my bridge and helping to lay down some baritone sax with Matt Berger. But he's such a kind, genuine, and relentlessly positive person. He really loves what he does and it shows while you work with him. It was a pleasure touring with him too.
Q. You do a lot more than create music. Talk about some of your other projects. 
A. I do a comedy podcast called "Life in the World to Come" with my friend and longtime collaborator Chris Dunne. I also occasionally write and do some visual art that I hope to create more of while I'm on my hiatus.
Q. What's a project or song that you've worked on that you really feel speaks to you and your career as a whole. 
A. I think my latest album does a good job sort of wrapping up the story so far. There's always a story you're telling in your discography, whether you intend to or not. The person your audience sees will always have a sort of mythos to it, and I like to think "In case I make it," does a good job laying things out. I hope it does anyway. I intended it originally as a farewell album in the event that I died, but when I started to recover from the dark period those songs came from, I changed the name from "In Case I Die" to "In case I make it." Now that I'm about to go on this hiatus, I'll be calling my upcoming live album what I was originally going to call the studio release, to re-contextualize the songs and act as a goodbye and a more raw look at what went into ICIMI.
Q. In the future, do you see yourself still engaging in music and other multimedia? Or do you see yourself heading in another direction? 
A. Sure, I plan to keep doing "Life in the World to Come" and may take on other projects, but I won't be doing music and I'll be limiting public appearances for the foreseeable future.